Thanksgiving 2012: What Are You Thankful For? (Professionally Speaking)
Image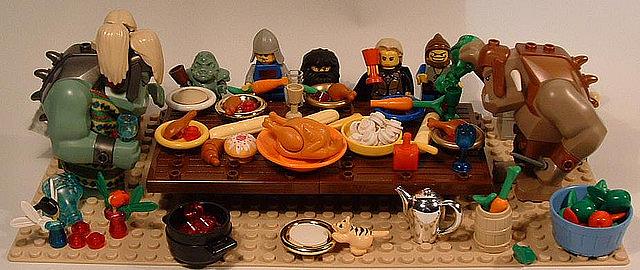 Published on
November 22, 2012
We asked health journalists of all stripes to tell us what they're thankful for today. For my part, I'm thankful for William Heisel, who works ungodly hours to write great posts for his Antidote blog despite a demanding day job, my great colleagues at the USC-California Endowment Health Journalism Fellowships, and for the opportunity to develop new digital skills while editing Center for Health Journalism Digital.
What are you thankful for, professionally speaking?
Christina Jewett, California Watch
I'm thankful for brilliant colleagues who inspire me to dig deeper, reach out to more people and to tell stories that advance the public interest. I'm thankful for smart, seasoned and supportive editors. I'm thankful for leaders who are willing to try new things, take risks and keep learning and growing. And I'm thankful for foundations and other supporters who believe in investigative journalism and support an embattled but important institution.
Pam Belluck, New York Times
I have had an incredibly lucky year and am tremendously grateful for many professional milestones and opportunities. My first book, Island Practice, was published, and reviewers have been wonderfully generous. The book is being developed into a television series for CBS, produced by Imagine Television and 20th Century Fox, and written by Amy Holden Jones, a talented feature film writer whose movies include "Mystic Pizza" and "Indecent Proposal."  Through book-related events and interviews, I've met so many admirable people (including the folks at Center for Health Journalism Digital), and have even been able to perform with my jazz group at a book event or two. I owe a huge debt of gratitude to all the people who helped make Island Practice happen and those who shared their stories for the book, especially the people of Nantucket and Island Practice's principal subject, Dr. Timothy Lepore, and his family.
It's also been an exciting year at my full-time job at The New York Times. Great editors and colleagues, and lots of fascinating stories to work on, ranging from Alzheimer's to the morning-after pill. Always something else to learn about. An inspiring bunch of people to be around. And never a dull moment, which suits me just fine. Heartfelt thanks to all.  
Charles Ornstein, ProPublica
I am thankful to work at a media organization that gives me time to work on deep-dive health stories and encourages creativity about ways to tell the story. I am also grateful for the wonderful network of health journalists around the country and the world who are committed to helping one another write the best stories possible.
Joanne Kenen, Politico
Two things quickly come to mind: A health law complicated enough, and opposition vigorous enough, to keep health care reporters gainfully employed — and intellectually engaged — for many years to come.
A Twitterverse big enough to house a sub-community of health care journalists and policy wonks that exchange ideas, stay connected, gently correct (and tell some pretty funny jokes) #ACA #HCR #OBAMACARE
Trudy Lieberman, Columbia Journalism Review (who recently had eye surgery)
This is a no-brainer for me. Being able to see reasonably well again. You don't know how precious sight is until you come close to losing it. 
Dr. R Jan Gurley, physician and blogger
I am thankful for the incredible professionalism of the health journalists I've met and had the honor of working with — especially given the overall struggling state of journalism as a field. I believe the people who devote their time and energy writing about the topic of how we live and die are driven by a passion for getting it right.

I am also thankful for the chance to speak on these topics, whether that speech is through blog, or article, or video, or photo. It is our common humanity that makes these issues compelling.
I am thankful that my writing and analysis skills have allowed me to support myself as an independent contractor through this recession without worrying about finding a salaried position.
One of the things I'm most thankful for is my colleagues. I have been truly blessed with friends and colleagues who are always generous with advice, can help find sources, and who even pass my name to editors looking for writers. They have been invaluable to me with my freelance career.
As a freelance writer, I'm thankful I have clients who see the value of what I do and who show it by paying me my rate, paying me on time, giving me feedback and being wonderful to work with. I'm thankful that, unlike when I started, I've had just the
right amount of work lately — enough to keep me busy but not (usually) overwhelmed. I'm thankful for the person who gave me my first big job and trusted me to do it, giving me the background to go off on my own eventually. I'm thankful I found a niche that needed filling and that is interesting to me, that I can work from home or wherever I choose, and that during the holidays I can visit family for as long as I want. This is a wonderful career, and I'm thankful it's mine.


Paul Raeburn, science writer
I've had the rare good fortune to report on science and medicine in almost all formats — newspapers, wire service, magazines, blogs, websites, television, radio, and books. I remain as passionate about journalism now as I did when I was trying desperately to collect my first few clips. All I try to do in my work is to replace myth and misinformation with fact. And that seems to be more than enough to keep me busy.
Photo credit: floodllama via Flickr