Thinking Big on the Future of Health Care
Image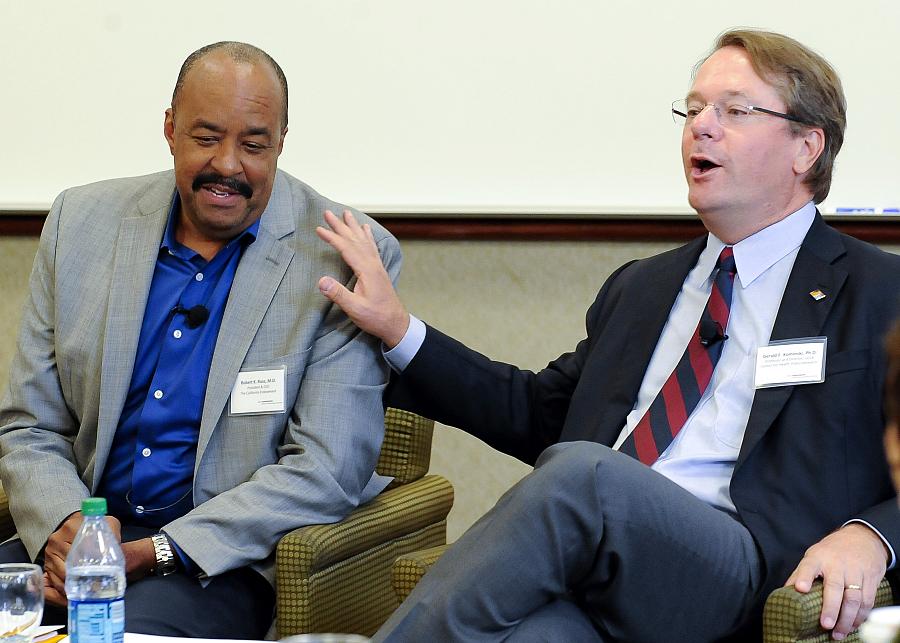 Published on
March 1, 2014
The horse-race style coverage of the Affordable Care Act's bumpy start has a way of obscuring the sheer magnitude of the changes underfoot.
Take it from Dr. Robert Ross, head of the California Endowment, who told a group of journalists this week at the 2014 California Health Journalism Fellowship at the USC Annenberg School of Journalism that the passage of the Affordable Care Act is the biggest development in the health care system since Medicare's passage nearly 50 years ago – and likely the biggest thing to happen for 20 or 30 more.
The political battles have been fierce and unending. "No politician in their right mind would try to do anything in health care on this scale again," said Ross, calling health reform "the unfinished business of the Civil Rights movement."
Ross was joined by Professor Gerald Kominski, director of UCLA's Center for Health Policy Research, for a provocative "big-ideas" conversation on the future of health reform, moderated by former L.A. Times health reporter Anna Gorman, now with Kaiser Health News, as part of a day-long exploration by 20 leading health journalists of health reform in California.
Both leaders describe Obamacare as a means of curbing poverty and creating a more healthy, equitable society. "I feel like we're in the Superbowl now," Ross said. "This is our shot to fix it."
[video:http://www.flickr.com/photos/health_fellowships/sets/72157641665390305/…]
But both thinkers said that if Obamacare doesn't pan out, or if Republicans were to succeed in repealing Obamacare post-2016, a single-payer system would be the next step. "If Obamacare fails, we go to single-payer," Ross said. "That's the next best idea for us. There's no market way to fix this other than Obamacare."
Kominski agreed with this proviso: "If you think that the Affordable Care Act is socialism, wait until we have the social discussion around a single-payer system: Medicare for all," he said, adding that "it will make what we've seen for the last five or six years look like a picnic."
Barring reform's complete unraveling, what are the big issues ahead?
Access to primary care doctors and specialists: "Is the system ready to absorb millions of more covered lives?" asked Ross. After the newly insured finally get that insurance card, "the next step is to ensure they get adequate access to care," said Kominski.
Ongoing shortages of primary care doctors, low Medicaid reimbursement rates, and expanded mental health and substance abuse benefits could all result in major growing pains in California (and elsewhere), as the flood of newly insured create demand that could easily overwhelm the existing supply of providers.
These problems – and a host of others – will take years, not months, to iron out, according to Ross, who compared the roll-out of the Affordable Care Act to California's far-smaller launch of its Health Families Program or the federal government's problem-plagued start for the popular Medicare Part D.
"The ACA is 15 times more complicated than either of those," he said. "I get a little frustrated when I see the breathless stories in the media. I look at my watch and say, 'Folks, we're 83 days in. Give us a minute.' … I think it's going to take us a couple of cycles of enrollment periods to begin to get in rhythm with this new law."
Both thinkers also expect a debate ahead on narrower options when it comes to picking a doctor. It's an issue that has existed in the private insurance market for some time, but it's only now getting attention due to greater transparency with the ACA. The controversial issue of narrow networks is now popping up in media coverage, as some patients discover the doctor they prefer isn't available in their plan's provider network. On this point, Ross faults President Obama for never having a conversation with the American public about the tradeoffs involved in broadly increasing coverage while trying to control costs. Ross gave an abbreviated version of what he'd like to have heard.
"America: we can't have it all," he explained. "You can't have it both ways. You can't bitch and moan about the cost of health care, and then bitch and moan about narrow networks. You can have both – it's impossible. The math doesn't work."
A video recording of the full discussion.
Kominski said he's paying less than he was for health care now, as a professor at UCLA, than he was three years ago because the state system providing benefits for UCLA employees has narrowed its network. Yet no media blitz ensued when it comes to either state employees or major private sector workers. "I don't think there's been a single newspaper story about narrow networks in the private sector," he said, largely because the private market doesn't have the same degree of transparency as do the state exchanges.
Narrower networks are one way to control costs, but what about more fundamental payment reform?
"The idea of payment reform is that we are bringing people more and more under some sort of bundled payment system, and putting the risk onto providers to figure out," Kominski said.
By giving hospitals a set payment for managing the care of a patient, doctors and hospitals would have new incentives to keep a patient as healthy as possible. The fee-for-service model, which currently dominates U.S. health care, pays providers for every test and procedure they order.
Kominski praised Maryland for developing a system over four decades ago for eliminating different tiers of hospital payment -- with private insurance paying the most and social programs for the uninsured paying the least. Today, the bill is the same whether a patient has Medicaid, Medicare or private insurance. That removes a hospital's incentive to see privately-insured patients over those with Medicaid.
Maryland's next move, he said, is to adopt a "capitated payment" model that says to a hospital: "You're responsible for a population in your geographic area." That creates incentives for the hospital to work on prevention, managed care and community health. "Hospitals are partnering with organizations outside to figure out ways to keep people from showing up at the hospital," Kominski said.
"If we can keep people healthy, we can actually make money and have a healthier population," he added.
That focus on community health and the idea that your neighborhood and zip code determines your health and life expectancy has long been a core belief for Dr. Ross and his organization. "Public health research tells us that 70 to 80 percent of what influences our life expectancy and the quality of our health has nothing to do with health care," he said.
As the ACE study and other research has shown, trauma, toxic stress and a host of other environmental factors can powerfully shape one's prospects of leading a healthy, full life. Curbing health care costs will require us to rethink not just how care is delivered once someone is sick, but how we can keep them healthier in the first place.
Or as Dr. Ross asks, "How do we begin to use the Affordable Care Act to move towards more population-based, community-based approach to health?"