Three ways the new infrastructure bill may protect kids
Image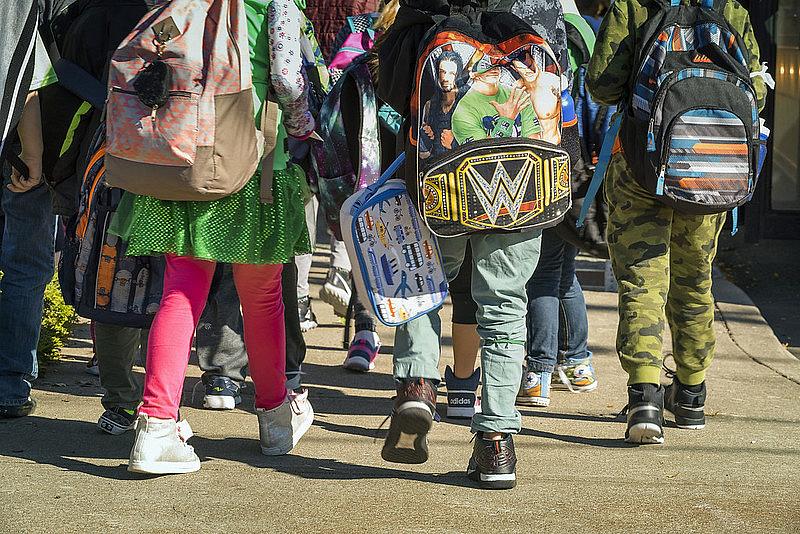 (Photo by Oregon DOT via Flickr/Creative Commons)
Published on
December 8, 2021
(This post is the second in a series examining the potential health effects of the newly passed infrastructure bill. Read the first here.)
Before the pandemic shut down classrooms nationwide, tens of millions of kids went to schools with poor indoor air quality. While some schools have upgraded their air filtration to reduce the spread of the coronavirus, many remain in need. Meanwhile, nearly 2 million COVID-19 cases among children have been reported since Sept. 1, and the numbers keep rising.
The new $1.2 trillion federal infrastructure bill includes $500 million in grants for school efficiency upgrades like ventilation systems. It's one of a few measures in the legislation focused on children's health that reporters might track in the years to come. 
"Cleaner air is good for cognition. It's good if you have asthma. It's just much better to have healthy indoor air," said Paula Olsiewski, an expert on indoor environments and contributing scholar at the Johns Hopkins Center for Health Security who co-authored a 2021 report on school ventilation. Studies have found that improved ventilation may lead to fewer student absences and higher test scores.
In late 2019, an estimated 41% of school districts needed new ventilation systems, a U.S. Government Accountability Office report found. But that was not a high priority for facility investments. Most schools' primary focus was improving security in the wake of mass shootings. 
Districts rely mainly on local property tax revenue or state funding for facility upgrades. As Lauren Camera reported in U.S. News & World Report, "the federal government hasn't made a significant investment in school facilities since the Great Depression — despite schools representing the second-largest infrastructure costs behind highways."
The infrastructure bill funding is a far cry from the $100 billion President Joe Biden originally sought for modernizing schools. Previous COVID-relief packages included $180 billion for schools that can be used for facility upgrades, though that money has tight deadlines which could prevent some of it from going toward bigger projects.
Indoor air quality fixes are fairly simple and can be economical for financially strapped school districts, Olsiewski said. Strategies include ventilation and filtration technology updates, portable air purifying units, and upper-room ultraviolet germicidal radiation. A cheaper but still effective alternative involves attaching an air filter to a box fan. 
"I wish every building I walked into, I knew what the status of the indoor air was," Olsiewski said.
This might not be the easiest story for journalists to tell. Unlike things like water, food and outdoor air, indoor air isn't regulated. "It's kind of a Wild West out there," Olsiewski said. 
That makes this topic all the more important for watchdog reporters to follow.
Journalists might survey local schools on the age of their ventilation systems, the use of high-efficiency particulate absorbing (HEPA) filters and air purifiers, and track whether any air quality testing has been done. Olsiewski said she keeps tabs on "indoor air Twitter" and recommends the website COVID Straight Talk, a resource for information on indoor air and COVID.
Walking and biking to school
The infrastructure bill increases funding by 60% for driving alternatives such as sidewalks, trails and bike lanes. One such initiative is Safe Routes to School, which tries to make it safer for students to ride their bikes or walk to class. Studies have found that walking or biking helps students concentrate better, score higher on tests, and have fewer behavioral problems.
The legislation also includes money for electrifying school buses. Emissions from diesel buses have been linked to health and cognitive problems among students.
The human story is right there at the local school, noted Melody Geraci, deputy executive director of the Active Transportation Alliance. Journalists can interview administrators, teachers and parents about how they navigate the daily chaos of pickup and drop off.
Then reporters can add context by determining the number of kids who walk or bike to school in their communities, talking to local metropolitan planning organizations about their student transportation strategies, and researching vehicle crash reports near schools.
But Geraci said major societal changes probably won't occur unless there is a shift in the way we think about land development, and reconsideration of the push toward suburban sprawl that necessitates so much driving. 
"We are a car society, we love our cars," she said. "But nobody's talking about eliminating automobiles. We're talking about building that '15-minute village where everything you need is within a 15-minute walk or bike ride."
Car seat safety improvements
The Infrastructure Investment and Jobs Act also aims to make vehicles safer for children. An estimated 50 kids die each year after front seatbacks collapse on them during rear-end collisions, while about 50 more die annually after being accidentally left in the back seat of hot cars.
The law's changes include improved seatback standards; a notification system to alert drivers to check the rear seat for kids after turning off the engine; updated hood and bumper guidelines to protect pedestrians, bike riders and kids in strollers; and a study on how to make child car seats more accessible to low-income and underserved families.
Jason Levine, executive director of the Center for Auto Safety, calls these measures "a good start." But regulators have years to either write the rules or study the issues, and manufacturers will then get years to institute the requirements.
"It's important to remember that most of the changes will not be on new vehicles for years, and even then will only be on new vehicles," he said.
He pointed journalists seeking resources on automobile safety to the National Highway Safety Administration's crash stats and child safety info, the Centers for Disease Control and Prevention's child passenger safety fact sheet, and advocacy group KidsandCars.org.