Treating Patients Without Tools: Haiti's Diabetes Crisis Day 3
Published on
February 28, 2011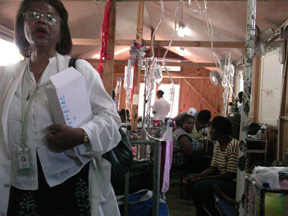 PORT-AU-PRINCE: Another incredible day. We went to the diabetes clinic at the Diabetes Association. It was filled to capacity with mainly older women. They waited hours to be seen and to go to a diabetes class/support group.
There was a 20-year-old man. He was like a skeleton and breathing like a chimney. He looked chronically ill.  He was seen two weeks ago and given insulin. However the nuns in the orphanage where he lives didn't give it to him because they feel he has TB not diabetes. So he was back to the clinic sicker than when he started with the diagnosis of diabetes.
I lectured to the pediatric society members for most of the afternoon. It is amazing that the longer we are here the more we are becoming resigned to the chaos, the extra hours to get someplace and the resignation. So in the midst of everything tonight is a Jazz Festival. We just heard two groups - one local and one from Berlin- play incredible jazz while we sat outside in the beautiful Caribbean night. I'm looking forward to coming home. I want a yogurt and a tea from Starbucks.
Francine Kaufman, M.D., is sending updates from her Blackberry during her visit to Haiti with a relief mission. Here are links to her other updates: