Twenty Years after the Rodney King Riots: Building a Healthy Watts
Image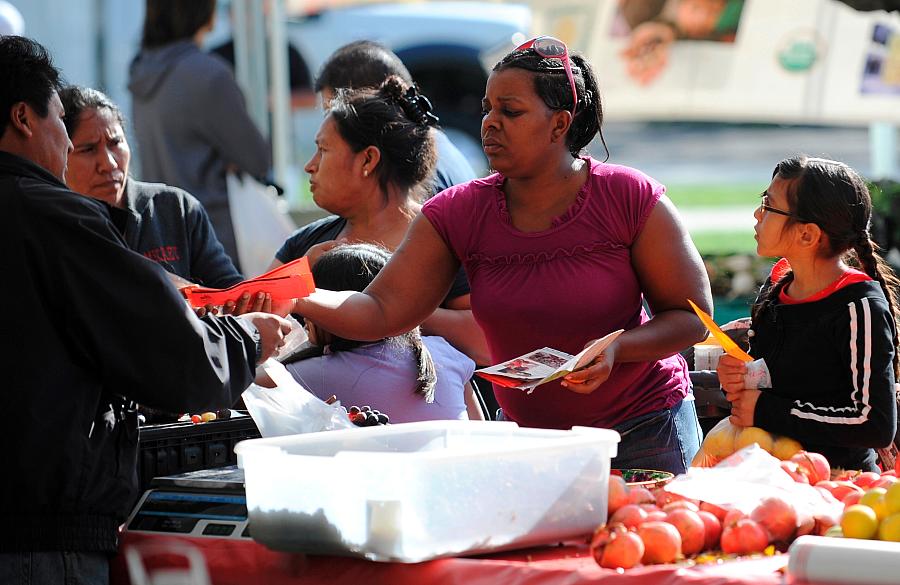 Published on
April 26, 2012
What does it take to make a farmers' market viable in a low-income community? The answer is complicated in a neighborhood like Watts, where some people still remember when 103rd Street, which now borders a lively Saturday Farmers Market, was nicknamed "Charcoal Alley" because of the fires that burned buildings to the ground during the Watts Riot of 1965. 
Many unhealthy conditions persist today that contributed to the powder keg atmosphere in South Los Angeles in the 1960s and again during the Rodney King Riot twenty years ago: high rates of unemployment, poverty and crime. Neighborhood schools continue to battle high dropout rates. Gang violence makes some people reluctant to visit unfamiliar territory – including the Farmers' Market.
[video:http://youtu.be/cBZr9gYRWaA]
In a neighborhood park on the corner of 103rdand Central Aves., an effort is underway to take steps toward a healthier South L.A.- by providing an affordable and welcoming place to buy fresh produce and to get good advice on nutrition. We took our most recent group of California Endowment Health Journalism Fellows to the Watts Healthy Farmers' Market to hear from market founders and vendors, who detailed the successes and challenges they've encountered since the market opened in July 2007.

With grants from the California Community Foundation and Kaiser Permanente, plus ongoing support from the Watts Healthy Farmers' Market Collaborative, the open-air market is held every Saturday in Ted Watkins Memorial Park.

This glimpse behind the scenes includes images by several credited photographers, including one who prefers to simply use the Flickr screen name "Asian Eater." For more on our visit to the Watts Healthy Farmers Market, see ReportingonHealth's "Vegetables and Violence: The challenges of operating a farmers market in South Los Angeles."
Or visit the Farmernet listing on the website published and operated by Sustainable Economic Enterprises of Los Angeles (SEE-LA), a private non-profit organization that operates several certified farmers' markets in the City of Los Angeles.