Undocumented and abandoned: Telling the story of Punjabi farmworkers in California
Image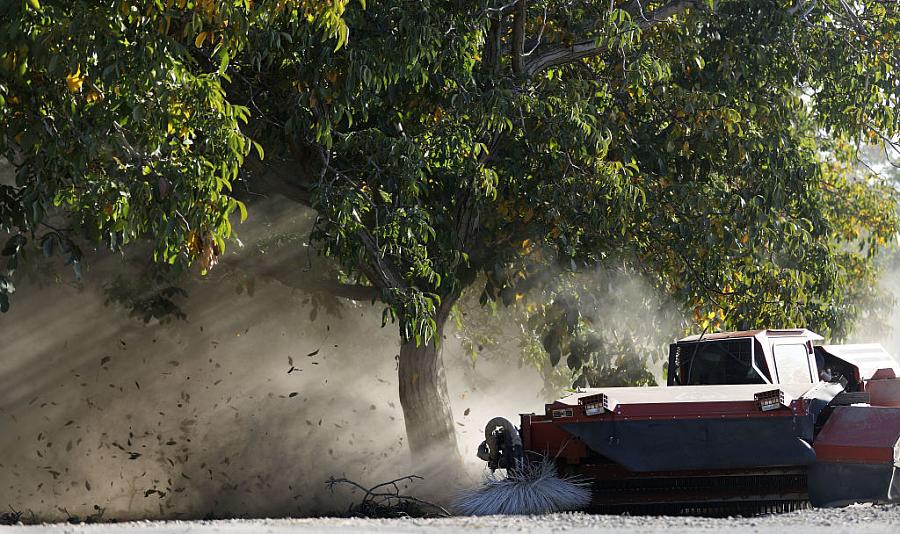 Photo by Mario Tama/Getty Images
Published on
August 22, 2023
At a fundraiser in Los Altos, California, I turned to the consultant seated next to me and asked him, "Do you know any Punjabi-speaking farmworkers?" My story on their health troubles was on my mind. I live in Silicon Valley and finding a farmworker near me was a long shot. "As it turns out," Christian said, "growing up in the Central Valley, my two best buddies were Punjabi-speaking boys. If you drive to Los Banos near 152 and Highway 5, there is a Punjabi strawberry farmer there who has a fruit stand." I was amazed by the response. What I thought was unexpected luck seemed to hold true on more than one occasion during my reporting. 
When I was writing my stories on Punjabi truck drivers in 2020, I had been amazed at the number of people that knew of someone in the trucking industry. "Wow, trucking seems to be a ubiquitous industry," I remember thinking. That experience was repeated in pursuit of farmworkers.
The lesson I learned was that by involving people I met — friends, family or neighbors — in my reporting and research, I received introductions and information from surprising quarters. It seems a good idea to elicit help from people around.
Having made the first contact with the farmworkers, what I found challenging was the second interview. At first contact they shared their troubles, thoughts, situations, journeys and even photographs. Then something would spook them. The second and third attempts at contact became formal, or they would not answer my calls.
My recommendation to fellow journalists would be: Don't hesitate to ask for help. And when you do find your subject, get as much information as you can at the first meeting.
Intimidated by the health care's alphabet soup
The minefield of regulations and their real implications was the second challenge I faced. I was intimidated by the number and complexity of health programs. The mere thought of Medicare and Medicaid, which I often mixed up, sent me into a panic.
Terms like "federally qualified health center" (FQHC) made me blink. I felt inadequate interviewing medical professionals. Data on Indian Americans was lumped under the Asian category. Given these challenges, there were moments when I felt inadequate. I thought I would not be able to write a cogent piece that would make a difference.
Medical professionals had little or no time to speak with reporters. There was a shortage of physician assistants and everyone seemed to be very busy.
Searching for farmworkers
I spent my weekends visiting places which I thought would be frequented by farmworkers who speak Punjabi. I visited three gurudwaras or Sikh temples on three weekends, in Oakland, San Jose and the Tri Valley area. At all three I met the congregation as well as the priest. Alas, I found no farmworkers at the temples. They don't have time or transportation to visit the temple regularly. The undocumented workers look for lodging, food and a job. The temple congregation I thought would be a good source for all three. "Not really," said Amarjit, the farmworker I spoke with.
I was also told that Sikhs are working in gas stations and corner stores like 7-Eleven, preferring not to work on farms. Disheartened, I turned my attention to dhabas or eateries on the highway frequented by truck drivers.
I struck gold when the owner of Punjabi Dhaba in Dixon, who has run the place for 16 years, had no hesitancy in introducing me to her nephew, who was working at a nearby walnut farm.
Unlike truck drivers, who are easy to interview while they are on the road, farmworkers find it hard to make time to meet. Their day starts at 4 a.m. and they are in bed by 9 p.m. I was fortunate to have met an articulate farmworker who wanted to share the pain that his brethren go through on their arrival in the U.S.
He introduced me to the owner of the farm, Ameet Sharma, whom he praised to high heaven. After an hour and a half interview with the farm owner, I was getting nowhere. Trained as a lawyer, he saw trouble around every corner. He put a stop to his staff talking with me.
The undocumented workers were lonely and wanted to speak with someone who spoke their language, but they were scared to speak with me out of concern it might jeopardize their asylum process. Their journey to the U.S. had taught them to be more safe than sorry and not trust anyone.
I made three trips to Napa, Dixon and Vacaville. My meetings with the farm owner, farmworkers, undocumented workers, medical professionals, and medical businesses serving the underprivileged helped me write my article.
Theirs was an important story to tell.