Use these data tips from KHN's Liz Lucas to bolster your COVID-19 coverage
Image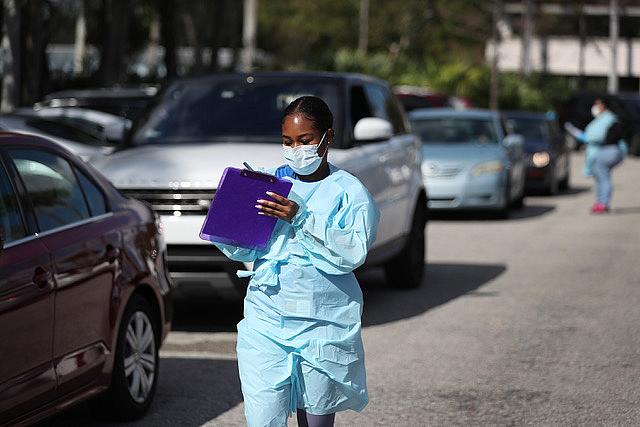 As the amount of COVID-19 data grows, so do the coverage possibilities for reporters covering the pandemic.
"We really need to put a lot of this information in context and help people understand what it means," data journalist Elizabeth Lucas said in a Center for Health Journalism "Covering Coronavirus" webinar this week.
Lucas, data editor for Kaiser Health News, gave journalists a roadmap to finding and using some of the best data sources available and offered tips and strategies for turning them into useful articles. Her data suggestions and ideas can spur new story ideas possibilities at a time when many reporters are experiencing coronavirus fatigue.
"It's not almost over," Lucas said. "It's our job to continue covering the pandemic and the disease in the best way we possibly can."
Navigating data sources
While there's more COVID-19 data by the day, it's still difficult to navigate often inconsistent and incomplete sources, Lucas said.  
In an environment in which federal agencies may not be the most reliable data sources, it's important to vet the methodology and viewpoint of the researchers organizing independent data sets. Lucas said she often turns to trusted researchers, asking which data sources they're using.
When writing about new deaths and case counts, it's important to give readers context. For example, show readers the difference between the pure case count and the case count per population – which can tell very different stories of how outbreaks are spreading.
With so many inconsistencies and gaps in official data, fellow journalists and leading news outlets have emerged as go-to data sources.
"The effort that journalists have put in to collect and curate and share data for free has really been amazing during the pandemic," she said.
She pointed to The New York Times, which is sharing data on this Github site, offering case counts and deaths going back to the country's first confirmed case. The Los Angeles Times is also doing its own coronavirus tracking in California, offering data at the city and county level as well as some demographic data.
Another great place for COVID-19 data is the COVID Tacking Project, a volunteer-led site that offers "the latest numbers on tests, confirmed cases, hospitalizations, and patient outcomes from every U.S. state and territory."
Amid all the numbers, The New York Times' The Upshot article offers reporters a useful guide on how to follow the outbreak in any U.S. metro area. It leaves out rural areas, though.
Reporting on death counts
One fresh way to report on a region's potential number of COVID-19 deaths is to examine the number of deaths above the yearly average that aren't technically designated as COVID-19 – even though many of these "excess deaths" are likely related to the pandemic. 
You can compare this year's figures to previous years using the CDC's provisional death data for states. To get a more local view, request data from your local medical examiner.
When reporting on deaths, keep in mind that the COVID-19 death rate likely appears higher in places with less testing. Reporters can provide context by asking who is being tested and who is eligible for testing in a community.
Covering the most vulnerable
Social determinants of health, or factors such as one's socioeconomic status and physical environment, are important to keep in mind when reporting on COVID-19 in your community, Lucas said. For example, it's hard to self-isolate if you have more people than rooms in your home or need to work outside of the home to support the family.
"We are going to continue see a greater burden of this disease born by people who are the most vulnerable," she said.
Take a look at the Centers for Disease Control's Social Vulnerability Index, which refers to "the resilience of communities when confronted by external stresses on human health, stresses such as natural or human-caused disasters, or disease outbreaks," according to the site. The challenge, she pointed out, is that census-track geography isn't well understood by readers, making this more of a reporting tool, rather than something to plug into a story.
Another good resource: This open-data spreadsheet shows which states are publicly reporting COVID-19 cases by race. For demographic background on your own community, check out Census Reporter.
It's also helpful to look at other reporting on at-risk communities. Jayme Fraser, who covered the topic for USA Today, wrote this "story recipe" as a reporting guide. Another source for guidance is this Kaiser Health News piece from Liz Szabo and Hannah Recht that looked at how social and economic conditions influence who lives or dies.
Despite the growth in data over the past months, though, there is still a lack of granular data, making it hard to correlate cases and deaths with factors such as household incomes.
"Everything we know, though, about the social determinants of health tell us that people living in poverty or who have preexisting health conditions are more likely to be affected and share undue burden of a disease like this," she said.
Other story ideas
As reporters begin to cover the opening-up process, public health departments are going to be critical, Lucas said, pointing to this Kaiser Health News article highlighting the importance of these workers.
Consider the COVID-19 plans your local public health department are creating and whether they're following them. Do they have capacity to follow the plans? How many contact tracers do they have? What types of public health programs did they operate before that they can't do now because they're swamped with coronavirus? If you can't get critical information from your local public health department, that might be a story itself.
As parts of the country shift to reopening the economy, hospitalizations become an important dataset to track. While it's hard to get a good sense for how many beds hospitals currently have – many have ramped up capacity amid the pandemic — this dataset gives a sense of what normal capacity would be.
Other good resources include this dataset on nursing homes from the Washington Post, this list of statewide policies on social distancing, Investigative Reporters & Editors webinars, the Center for Health Journalism's Covering Coronavirus webinars, Source's story recipes, and Stanford's Big Local News, where journalists can collaborate.
**
Watch the full presentation here: