What I learned talking to people on the frontlines of the overdose epidemic in one struggling Rhode Island city
Image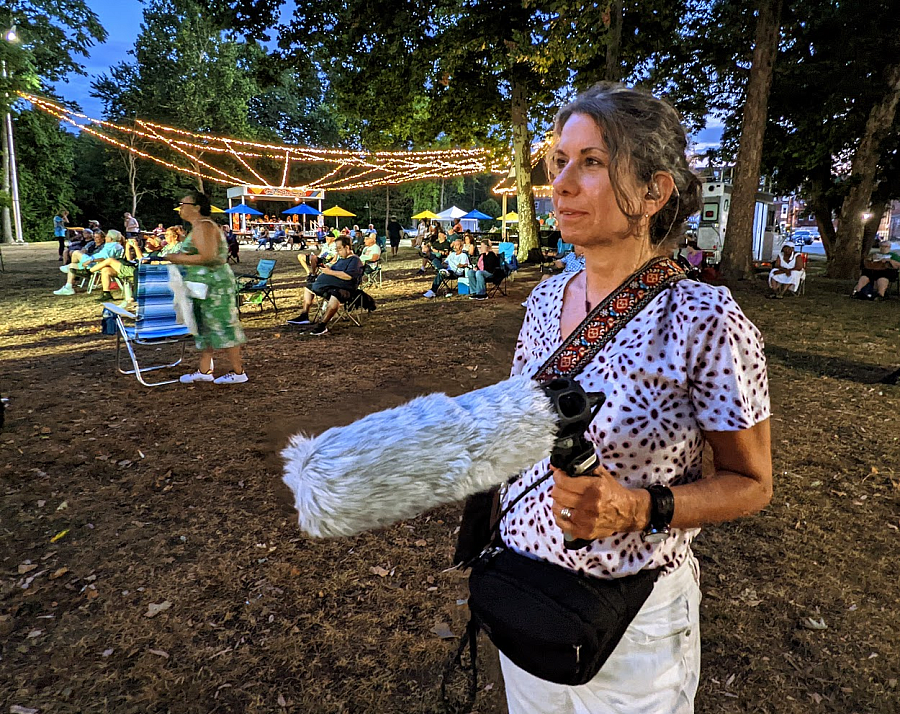 Published on
June 7, 2023
Sometimes, the best stories are the ones you didn't plan to write. That's what I was reminded of as I reported the stories for a three-day radio and web series, "Chasing the Fix."
The one constant in my reporting was the place: Woonsocket, Rhode Island, a former mill city with the state's highest per capita rate of drug overdose deaths. This was a city deeply divided over how to respond to the epidemic of drug overdoses, to the point where a group marched to City Hall in the spring of 2022 to protest the City Council's proposed ban on the opening of a supervised drug consumption site. 
My initial idea was to center the story around a family I'd met during the protests who had lost a young son to a drug overdose. When the story fell through, I felt like I was back to square one. So I plunged back into reporting. 
I left my house before dawn many mornings to meet up with a mobile van that rolled into Woonsocket offering addiction treatment medication for people who couldn't easily travel to the city's only methadone clinic. I kept coming back, usually once a week when the clinic's doctor was there, and listened to whoever would talk with me. That's how I met up with Cory. 
I found a physician who visited patients once a week at a local drop-in center for people who were homeless. The doctor agreed to ask his patients if they wanted to talk with me, which several of them did. That's how I found Mack. 
I spent many days just watching and listening to people in the community and those who worked every day to try to get them help. I followed Mack as he navigated, with patience far beyond anything I could have mustered, scrounging for a free bus pass and waiting in line at the Division of Motor Vehicles to apply for a new ID card after his wallet was stolen. I witnessed so many barriers to recovery for people with substance use disorders that it seemed like a miracle that any of them manage to do so. But as one tenacious social worker showed me, they can and do. And to prove it, she introduced me to some of those people at a peer support group. 
My project editor, senior editor for investigations Jeremy Bernfeld, smartly insisted that I work off a focus statement that we would revise as my reporting evolved. And that focus — an exploration of the barriers to addiction treatment among the unhoused in Woonsocket, R.I. — helped guide me throughout. 
I looked at lots of studies and data, but the most valuable reporting was what I discovered by talking to people on the front lines. For instance, I learned from Cory why he kept using illicit fentanyl even after he was enrolled in the mobile methadone clinic: the treatment dosage was too low. As the program's medical director later explained, the dosing regime for methadone — based on federal regulations set in the 1970s —meant it would take months before a regular fentanyl user like him would ramp up to the dosage needed to sate his cravings. 
The most exciting and challenging part of reporting these stories was being given the time to keep coming back — bearing witness as the stories unfolded. I'd never have imagined that Mack would get sober, get arrested, jailed and released all before the series aired and published. 
Nor could I have predicted that I'd wind up back in court with Mack after the story ran, when he was exonerated. Or that the city of Woonsocket would order the mobile van to leave. (Our Jan. 13, 2022 story was picked up by several other media outlets, and the city has so far allowed the van to remain in the same spot.) 
To help other journalists interested in reporting on people struggling with addiction or homelessness, here are a few tips: 
Don't launch out on your own. If you're looking to talk to people in a homeless encampment, unless they are on the front of the State House (as they were for a time in Rhode Island) think of the encampment as you would someone's home. Find outreach workers who know the people in the homeless community and ask them to accompany you and make an introduction.
Ask to shadow a provider. Doctors or clinicians who work with people who have substance use disorders are your best guides for finding someone who can consent to an interview. This can be especially problematic if someone has a major psychiatric disorder and is not getting the proper care (as is the case of many people who are homeless) and may not be in a sound state of mind to consent. (Poynter offers some guidance for reporters covering mental health.)
Listen more than you talk. Finding people to illustrate the story is a regular part of any reporter's process, but for people with substance use disorders who are homeless their injuries are often compounded by chronic depression and anxiety, and a history of trauma. You can't interview them the way you would a public official or you risk alienating them or, worse, triggering them. (Read more about trauma-informed reporting at NeimanReports.) 
Put down your recording kit. This advice, I know, is not possible for shorter-term radio stories where you get one bite at the apple. But if you plan to dig in for a while, it helps to spend some time just watching and taking notes. I also found that the cell phone recording app is less intrusive and can work well in situations where a recorder would feel intrusive. So if you have the time, put the kit away for a while. 
Walk in their shoes. Of course, not literally. But spend time with someone doing the things we all need to do to survive each day, like get food, bathe, travel to doctor's appointments, apply for housing, etc. This helps bring listeners and/or readers into the routine of their daily lives to get a glimpse of what it's like to be them. 
I could not have done this without the support of our chief content officer, Sally Eiesle, who cut me loose for almost six months to report the series. 
After we published and aired the series in December 2022, we worried that many of the people I'd reported might never read or hear the stories. How could we bring our reporting to the community? 
That's why we decided to host a community breakfast and listening session at the Woonsocket Harris Public Library in February 2023 for the unhoused community and their treatment providers. I'm grateful to the USC Annenberg Center for Health Journalism's Dennis A. Hunt Fund for Health Journalism, which supported my reporting and enabled The Public's Radio to host the community engagement event. We hope to build on this work going forward.