Youth reporters 'don't have the privilege' of neutrality when reporting on environmental hazards in their communities
Image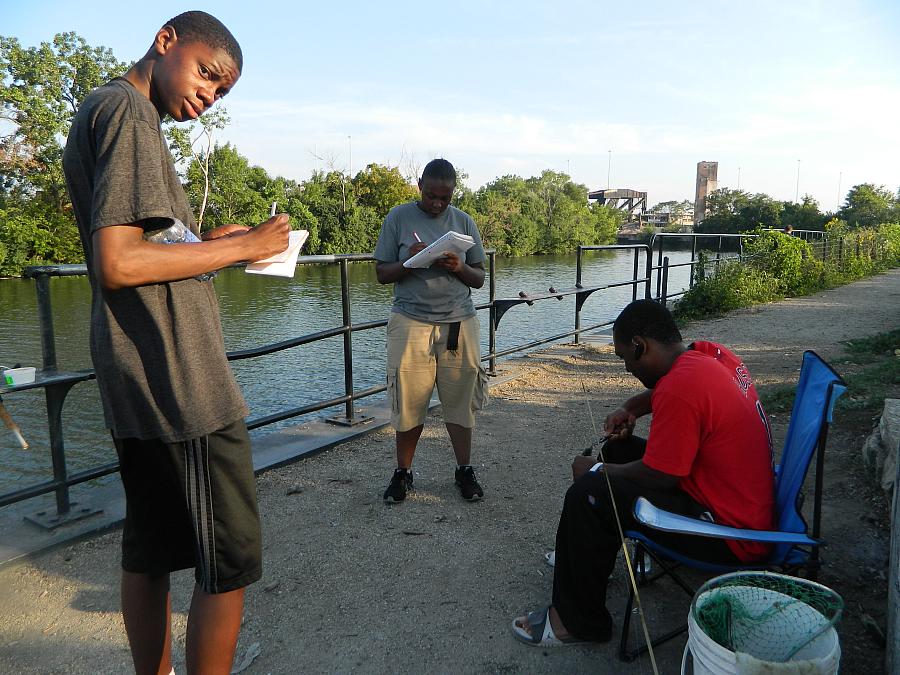 Published on
March 20, 2013
Ivan Delgado grew up in Coachella, a 97 percent Latino community in California's Coachella Valley. But it wasn't until Delgado became a reporter for the youth media organization Coachella Unincorporated that he learned of the environmental threats just 15 minutes away in Mecca.
As part of an assignment, Delgado interviewed Eduardo Guevara, a health advocate from Mecca. Guevara took Delgado to the Lawson Dump, which the EPA shut down more than five years ago and declared a Superfund cleanup site. Seeing the dump, with smoke still billowing out of the ground located near homes and schools, stirred Delgado.
In a video on the Coachella Unincorporated website, Delgado describes his experiences meeting advocates like Guevara and reporting on environmental hazards in his own community.
"My experience as a student journalist, being exposed to these new realities and meeting these rising advocates in our community, has changed my life forever," he says. "To think, they've just been down the road."
As I watched Delgado's video, I wanted to know more: What is it like for youth journalists to report on environmental health issues impacting their own communities? 
In a January post for Center for Health Journalism Digital, I spoke with reporters about their experiences covering environmental health hazards. They described the challenges they faced in balancing human anecdotes and science, or the lack of it. But, I asked myself, do youth journalists have a similar obligation to remain neutral on these issues, or do they advocate for positive change for their families and neighbors?
I posed that question to Delgado.
"We don't have the privilege of [neutrality], because we are community reporters, and we're invested in the community," he responded.
As a reporter, he said, his role is to inform residents about issues in their community, and spur change. "The goal is just to make the community aware of all the environmental health hazards that are happening right where they live," he said. "I figure, if I can tell that story, and let people hear about it and make them aware, it's going to make more people want to do something about it."
Tyreshia Black has also reported on environmental hazards impacting her community. She's a 16-year-old high school sophomore and participates in the Eco Youth Reporters program, conducted in conjunction with journalist Kari Lydersen, Michigan State University's Knight Center for Environmental Journalism and We the People Media. She's also a member of the youth organization Imagine Englewood If.
In a September 2012 article for Chicago-based We the People Media, she detailed the Chicago River's legacy of contamination. She also explained that the threat of contamination doesn't stop city residents from fishing in the waters. 
"I'm not for sure if it's contaminated, but I love coming here for the scenery and I love fishing," a 34-year-old man and avid fisherman told Black. "I eat the fish and I'm still here, so it's not really a problem to me."
When Black reports on environmental issues impacting her community, she said in an e-mail, "[M]y major role is to inform and advocate community health. I balance the roles by obtaining as much information as I can and dispersing all I've learned amongst the people." Her goal as a reporter, she wrote, "is to teach everything I know to people who don't know and to spur improvement."
Lydersen, a Chicago-based reporter who works with the youth journalists, said she encourages the young reporters to approach environmental stories from their own perspective.
"I actually encourage them to bring their own feeling and experiences, and the experiences of their family and neighbors into their story, because I think that's something powerful that they can offer."
Reporting on environmental health hazards, previously on Harvesting Health:
Reporters balance personal stories, science when reporting on environmental health hazards
Environmental reporter considers layers of health threats when reporting on hazards