4-year-old: 'Bee's got a gun'
Image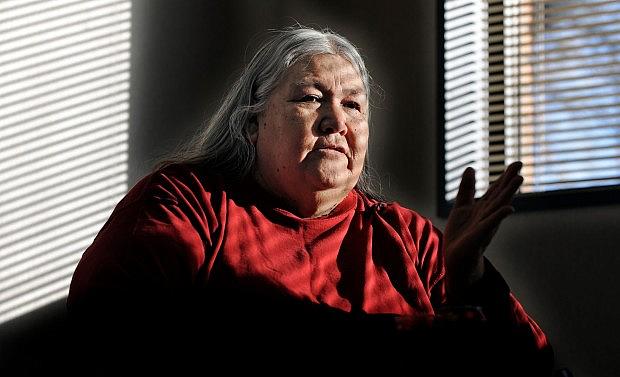 Published on
March 31, 2013
HARDIN – Letitia Stewart was exhausted.
She had spent most of her day knocking on doors, hoping to find her 21-year-old son, Edward Bee Fast Horse III, who had been partying the night before and not come home.
With each weary knock and phone call, Stewart learned a little more, but her son always seemed a step ahead of her.
Unsuccessful, the 59-year-old grandmother returned home where two hungry grandchildren, ages 4 and a toddler, waited. 
As she warmed up their chicken noodle soup, the oldest grandchild, Chance, ran to get her attention.
"Uncle Bee is home," he exclaimed.
Fast Horse stumbled into the house, still drunk. Stewart expressed her concern and related how she and his older brother had spent the day looking for him.
"Don't worry about me, Mom," he said. "I'll be alright."
He retreated downstairs where she followed him, advising him to sleep it off.
"Mom, don't worry about it," he said. "Everything's gonna be alright."
With her son home safe, Stewart went back upstairs to serve the soup.
Within a few minutes, her grandson Chance again demanded her attention.
"Bee's got a gun," Chance said.
"What?" she screamed.
Stewart sat both grandchildren at the table and ordered them not to move.
In the living room, her son sat on the love seat holding a .22-caliber rifle he had retrieved from the hall closet.
"What are you trying to do?" she asked.
"I was thinking of killing myself," he said.
"Are you alright? You're drunk. Give me that gun," she pleaded.
He refused.
She turned to grab the telephone and was dialing 911 when she heard the shot. She spun around to see her son fall over with the gun lodged in his mouth.
"I don't know what I was thinking," she said. "I was hoping there wouldn't be too much damage. We tried to sit him up so he didn't choke. Then I reached over and felt his pulse. I knew he was gone."
He was the youngest of her six children. It was about 5 p.m. Dec. 29, 2008.
Even now, Stewart isn't sure why her son would kill himself.
"I didn't think he would do it," she said.
What she does know is that he was drunk when he died, and had been drinking hard for several years. According to a toxicology report, his blood-alcohol level was 0.46. That's nearly six times the legal limit for adults in Montana and for most people a lethal dose.
Stewart said her son also worried about money.
She was unemployed, relying on food stamps and a federally funded grant program to keep food on the table. Another son, who worked for an Alaskan fishing company, would often send money and Fast Horse felt guilty about that.
"He didn't want to be a burden," Stewart said.
She is well aware that the image of her drunken son and her own unemployment play into society's stereotype of Indians. She offers no apologies. She makes no effort to sugarcoat the circumstances. She wants it to stop and there is no chance it will if it's not discussed.
Fast Horse's father was an alcoholic, Stewart said. And Fast Horse had spent half a semester on the Standing Rock Indian Reservation in North Dakota.
"That's all they do," Stewart said. "Drink and party."
She knows Native Americans are at greater risk of killing themselves than Caucasians. And, she still lives with the possibility every day. Her eldest son and two of her nephews have talked about killing themselves. One of her nephews owns the gun that Fast Horse used to kill himself.
"He said it was his fault because he left it there," Stewart said.
She is frustrated at the lack of resources and programs to help.
She called Indian Health Service to send a crisis team to help when another of her sons was drinking and she feared would harm himself. Instead, IHS called law enforcement, prompting a three-hour standoff.
"I know he's got a drinking problem," Stewart said. "I worry that he might try – and succeed."
This story originally ran in the Billings Gazette on March 31, 2013.
Photo Credit: James Woodcock/Gazette Staff