The Aftermath: 'She had so much to live for at that moment'
Image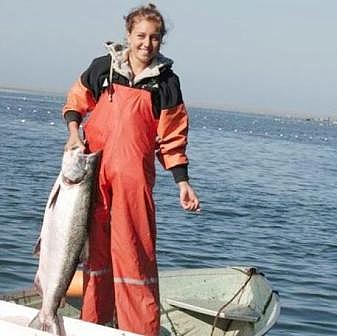 Published on
March 15, 2016
Domestic violence breeds shame and fear, which often keeps the abused from seeking help.
Shame and fear also feed family and social dysfunction, and violence can become a normal part of life, a curse that gets passed down from generation to generation.
This is the story of one family's struggle to escape that toxic legacy.
It's a sunny October morning near the mouth of the Klamath River when a Del Norte County Sheriff's deputy flips on his body camera. He's in front of a two-story house on the Yurok Tribe's reservation. He's met by a 30 year-old man named Cliff Moorehead.
Moorehead denies wrongdoing. He says his wife's emotions are out of control and that's why a passerby called 911.
The deputy leaves Moorehead with his partner, goes up to the house and knocks.
Twenty-six year old Tara Williams opens the door.
Deputy: "Hi Tara."  "Hello."  "Can I step inside and talk? What's going on today?"
"I don't know, I just …" Tara breaks down. "I don't know" becomes a refrain through her sobs.
She says she and Moorehead aren't married, but have three kids together. She says she's scared. The deputy goes through the questions, the ones he's required to ask victims of domestic violence.
"Did he hold you against your will inside at all or at any point?" the deputy asks.
Tara nods.
"I didn't necessarily want to leave," she tries to explain. "I just wanted to go outside and get away from the situation."
"Okay. And he wouldn't let you outside?" the deputy asks.
"No."  
The deputy asks if she wants a ride to the shelter. She says no, not again.
He asks if she's hurt. She says no.
He repeatedly asks if she wants a court protective order. She says she doesn't know. She doesn't mention she's gotten one of those before.
The kids upstairs turn up the TV as the deputy is about to leave.
"Take a minute before I leave" he says. "I'll ask you again if you want an emergency protective order."
"I'm just kind of scared of like, the retaliation," she says.
The deputy assures her Moorehead will be going to jail.
"But when he gets out, he's gonna be really mad," she says.
The deputy shrugs and goes back outside. He asks Moorehead to turn around, handcuffs him and places him under arrest.
The deputy then goes back inside. He says Moorehead will be in jail for the day, probably the whole weekend, and that they'll go to court on Monday.
But Moorehead bails out of jail within five hours. The court date is set a month after the crimes allegedly occurred.
By the time that court date rolled around, Tara Williams was dead.
*       *       *       *       *       *       *
"I think there was probably about 500 people at her funeral," Sandi Schwenk says.
Tara Williams called her Koochas, the Yurok word for grandmother. You can see a bend in the Klamath from her cabin along its northern bank. Schwenk points to an outdoor table where her granddaughter used to filet salmon caught from the river
"And when her dad and her mom would go fishing, they'd bring fish here and we'd process it out here and put it in that smokehouse right here."
After Tara grew up and started her own family with Moorehead, Schwenk says she noticed the bruises and the lies to cover them.
"I said 'Tara what happened.' She said, "Oh I fell, Koochas. I fell down the stairs.' I said, 'It looks like it.' And she knew that I knew. I'd ask her any questions, she would avoid the subject and if I started to say something, she would say something first to keep me from asking that question."
Between Tara's death and her funeral, the charges against Moorehead were dropped. Cliff Moorehead didn't respond to requests for comment. The district attorney later described him as a man with no history of domestic violence.
But Moorehead does have a history: restraining orders, civil complaints and alleged assaults spanning many years, not one resulting in criminal charges. Until, that October arrest for false imprisonment.
The day after those charges were filed, Moorehead called to report Tara missing. The next day, Moorehead reported finding her body, near a wrecked pickup off a lonely stretch of Highway 101.
The California Highway Patrol investigation recreated a pickup truck skidding and flipping down a hill between the highway and the ocean. Unseatbelted, Tara's body was launched through a broken window. She landed a good distance from where trees stop the truck. Her cell phone was found right beside her hands. CHP says her phone records haven't been obtained.  
In the weeks that followed, some of her friends suspected suicide.
But Phillip Williams says, no way.
"She had so much to live for at that moment. "
Williams is Tara's father. He recognizes that domestic violence affected his daughter long before she met Moorehead.
"Because I've always been a tough guy, when I was young I used to fight a lot, I used to be involved in violence."
He says he used to hate himself and wonder how he could inflict abuse on his wife, after seeing his own mother beaten.
Then, he got treatment. He thinks this is part of why his daughter tolerated an abusive partner.
"She seen her dad change and I believe she thought Cliff could change," Williams says. "She was waiting for the day when they were going to turn the corner and they were going to be who she had in her dreams."
Williams says he's not yet the man he aspires to be, but thanks to his daughter, he's better than who he was.
[This story was originally published by Jefferson Public Radio.]