An Aging State: The affordability gap
Image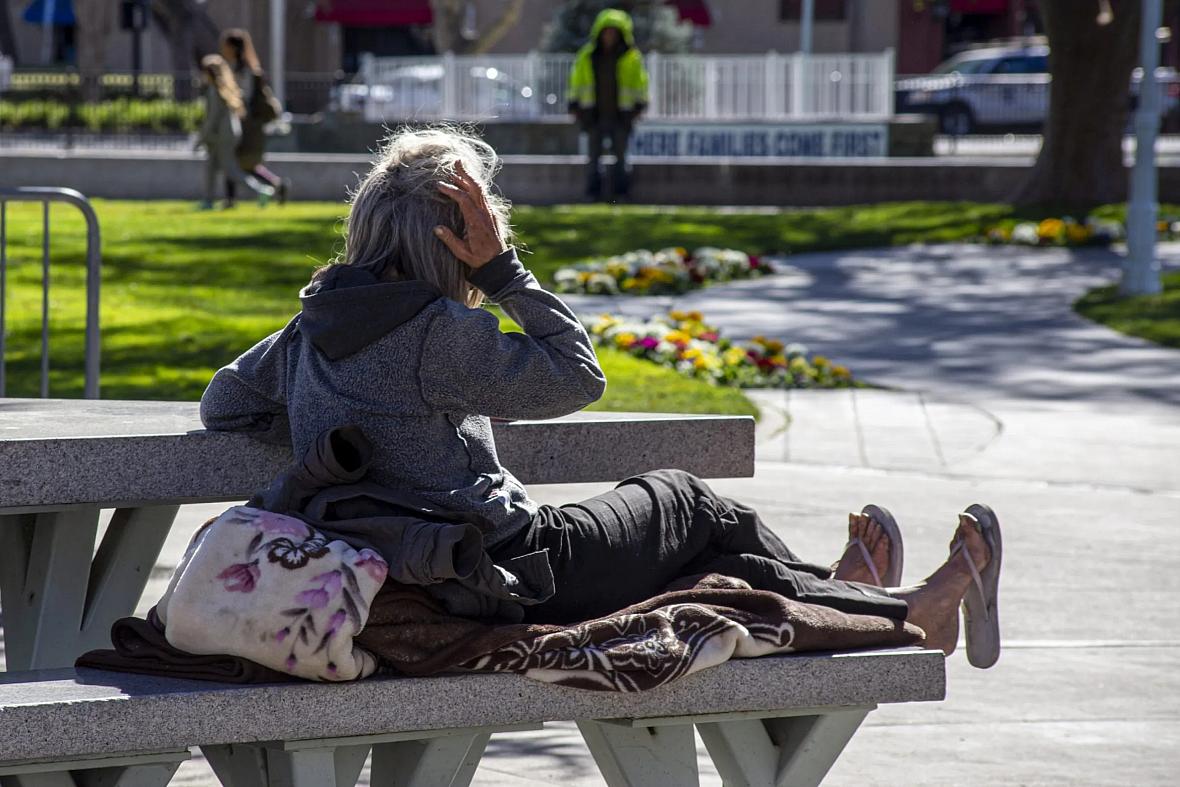 (Harika Maddala/ Bay City News)
Published on
March 31, 2022
Many Bay Area seniors worry about how they can afford to live out their retirement years here — and they have reason for concern.
Those with assets, insurance and a retirement nest-egg wonder whether their resources will last in today's inflationary environment, and those without are even more troubled. 
Priscilla Essert, the former executive director of Vintage House in Sonoma County, has seen countless seniors face these challenges.
"There's one story I'll never forget –- this woman came in and she was really, really agitated. She had been renting a house for $600 a month and all of a sudden her landlord said that he was raising the rent to $1200," recalls Essert. 
"She was sitting there completely frozen, hysterically crying, saying 'I don't know what I'm gonna do. Where am I going to go? I'm on a fixed income. I can't go back to work because of health issues.'
"We ended up being able to get legal aid involved and she resolved it eventually. But the stress that poor women went through for months! That was just horrible to witness, and it could be anybody."
Essert's story reflects some cold facts about the state of aging in California.
Today, the state has 6.7 million people aged 65 and over. According to the California Master Plan for Aging, established by Gov. Newsom in 2019, approximately 20 percent of those people live in poverty, unable to afford basic needs like housing, food, and healthcare.
Things get worse in the future. In 30 years, the number of people age 65 and above is projected to increase by 4.5 million, resulting in 11.3 million seniors statewide. That increase would raise the percentage of seniors in the total population from 17 percent in 2022, to nearly 26 percent in 2052. That shift is even more pronounced in the Bay Area, where housing is especially expensive and likely to place a burden on retirees with limited or fixed incomes.
With 1 in 5 seniors in California in poverty, and the population of seniors set to increase so dramatically, where will the economic well-being of seniors stand in coming years?
Unfortunately, research by the U.S. The Government Accountability Office indicates that problems are likely to worsen, as nearly 50% of all households in the U.S. are headed by an individual over the age of 55 with no retirement savings. 
"The data's there right, so you can see the balloon effect," says Essert. "I mean, you shouldn't be seeing 80- and 90-year-olds at homeless shelters. You just shouldn't. That's just morally, morally wrong." 
California's high cost of living 
According to the state's Master Plan for Aging, "California has the second-highest rate of poverty among older adults in the country, leading to high levels of hunger and increasing homelessness,"
Even for those who do not technically fall below a poverty line established by the U.S. Government, affording life in the Bay Area can be a major challenge. And with the rising cost of housing, health and personal care,  as well as additional challenges caused by the COVID-19 pandemic, even seniors with relatively high income compared to national metrics may struggle to get by.
Households in the Bay Area spent an average of $91,728 annually in 2019-2020, according to the U.S Bureau of Labor Statistics. And fewer than a third of Californians age 65+ make that much, reports the Census Bureau's 2019 American Community Survey.
The California Master Plan for Aging reports that, "One quarter of people over 65 rely almost entirely on their Social Security benefits, which average about $1,500 per month for retired workers and $1,250 per month for disabled workers."
The Master Plan also puts the fair market rent of a one-bedroom apartment in California at $1,522 – meaning that many retired Californians can't afford, or can barely afford, housing and lack the resources for such other essential costs as food, healthcare, and transportation. 
The California Elder Index produced by UCLA's School of Public Health is another metric of economic security for seniors. It calculates the cost of basic living expenses for shelter, food, medical care, transportation, and a minimal amount for other costs, such as personal care. According to the latest Elder Index report from 2019, the estimated annual basic cost of living in 2019 for a single elder in California is $27,816. 
According to the California Master Plan for Aging, the 25% of seniors relying almost entirely on their Social Security benefits fall short of that estimate by nearly $10,000 apiece.
And the cost of living in the Bay Area is even higher. Using data from the Elder Index, the annual basic cost of living in 2019 for a single elder in the Bay Area is $35,376 – approximately 25% higher than the California average and well above the estimated average income provided by Social Security. 
"I worked with a lot of seniors facing a tremendous amount of stress and housing insecurity and, you know, deciding between feeding your pets, yourself, or paying your rent," Essert said. "This got exacerbated during COVID. I helped a lot of very distressed people who were suddenly evicted because their landlords could get twice the rent for the place. And that's scary for fear of where do you go?"
Of the 12 counties (listed in the graphic below) used to calculate a Bay Area average, only two, San Joaquin County and Solano County, have cost-of-living estimates for seniors that fall below the state average. The Bay Area's most expensive counties – Marin, San Francisco, and San Mateo – report a basic cost of living nearly $20,000 above the average for the state.  Furthermore, some Bay Area counties- such as San Francisco, San Joaquin, and Alameda- report rates higher than the state average for the percentage of seniors unable to afford the cost of living.
For seniors of color, the rate of poverty is twice as much as the rate for the overall senior population.
According to a report published by the U.C. Berkeley Labor Center in 2015, people of color are projected to make up more than half of California's senior population by 2035. The fastest-growing segment is Latino seniors, who were almost three times as likely to be in poverty as white seniors.  The report also concluded that seniors of color have, on average, half the income of white seniors – with Asian and Latino seniors having the lowest average incomes. 
Affording Aging: what's being done by the state
Gov. Newsom's Master Plan lays out the major challenges facing seniors over the next decade and outlines strategies for public agencies and private organizations to tackle them. The plan is broken down into five core goals, 23 strategies, and 123 action-ready initiatives to be put into action in 2021 and 2022. 
Of the five broad targets set by the state's Master Plan for Aging, the most over-arching is Affording Aging. It seeks to tackle the issues of homelessness, income security, poverty and hunger within the senior population.
Along with the challenge of economic security for seniors, it also proposes to address gender and racial inequality.
In service of that goal, the Affording Aging target includes three core strategies:
Strategy A: End Homelessness for Older Adults
"California will continue to invest in innovative solutions to prevent older adult homelessness, reduce barriers to accessing housing programs and services, and promote the transition of those experiencing homelessness to affordable and accessible housing models, with supportive services."

This strategy details specific ways in which the state plans to make those investments and changes, including furthering programs like Project Homekey and the Community Care Expansion (CCE) program. 
These programs aim to provide support and housing options for those facing homelessness by funding the acquisition, construction, and rehabilitation of a wide range of housing options, including family homes and multifamily apartments, adult residential facilities, and adult and senior care facilities 
Strategy B: Income Security as We Age
"Challenges require multiple approaches: For income, California will pursue partnerships to assess and strengthen all three sources – individual savings, employer-based retirement, and Social Security – and to expand employment opportunities and economic security at all ages. For expenses, reducing housing and health costs will increase elder economic security."
A first annual progress report for the Master Plan, published in January of 2022,  documented a focus on  California's savings and investment program for individuals with disabilities, known as CalABLE.
CalABLE allows tax and penalty-free savings for people living with disabilities, as well as full access to those funds to pay for everyday expenses. According to the progress report, the number of new accounts in the program increased by 74% over the previous year, with a 118% increase in assets under management, which makes the CalABLE program the fastest-growing ABLE program nationwide.
This strategy also highlights other programs to increase the income of seniors in California, including California Earned Income Tax Credit, which is the only EITC available to people age 65 and over, and the Golden State Stimulus program, for which an estimated 1 million adults aged 60-plus currently qualify.
Strategy C: Protection from Poverty & Hunger
"The federal/state safety net for older adults and people with disabilities, Supplemental Security Income/State Supplementary Payment (SSI/SSP), has not kept up with poverty levels. A recent state budget agreement proposes to begin to address the SSP in January 2022. The hunger and nutritional needs of older Californians need greater assessment and coordination to provide affordable and culturally appropriate foods through CalFresh (SNAP), food banks, meal delivery at home, congregate meals at day centers and long-term care facilities, farmers markets, and medically tailored meals, among others."
This strategy focuses on providing seniors with basic income to bring them above the poverty levels and establishing programs to meet the nutrition needs of seniors, – through efforts such as CalFresh, food banks, and senior food box programs.
Targeting 2030
These three strategies for Affording Aging all include numerous "initiatives" to be undertaken by agencies within the state government. The timetables for these efforts vary from initiative to initiative, but the state has set a 2030 target for completing the entire Master Plan and transforming California into  "the most age- and disability-friendly state in the nation."
Whether that objective can be obtained is a fiscal and political question that remains to be answered.
Essert, for one, is glad to see the state putting a focus on these issues, but has concerns over whether enough is being done to combat these issues.
 "When you have a culture where people can't afford to retire until 80, something is really, really off. And it's not just the isolated people who maybe didn't plan for it right. There's much, much more going on," she worries. 
"These are real-life things that shake you to the core, because it could be anybody. It could really be anybody."
---
This article was produced as a project for the USC Annenberg Center for Health Journalism's 2021 Data Fellowship.
[This article was originally published by LocalNewsMatters.]
Did you like this story? Your support means a lot! Your tax-deductible donation will advance our mission of supporting journalism as a catalyst for change.