Alaska Native Medical Center a Model for Curbing Costs, Improving Health
Image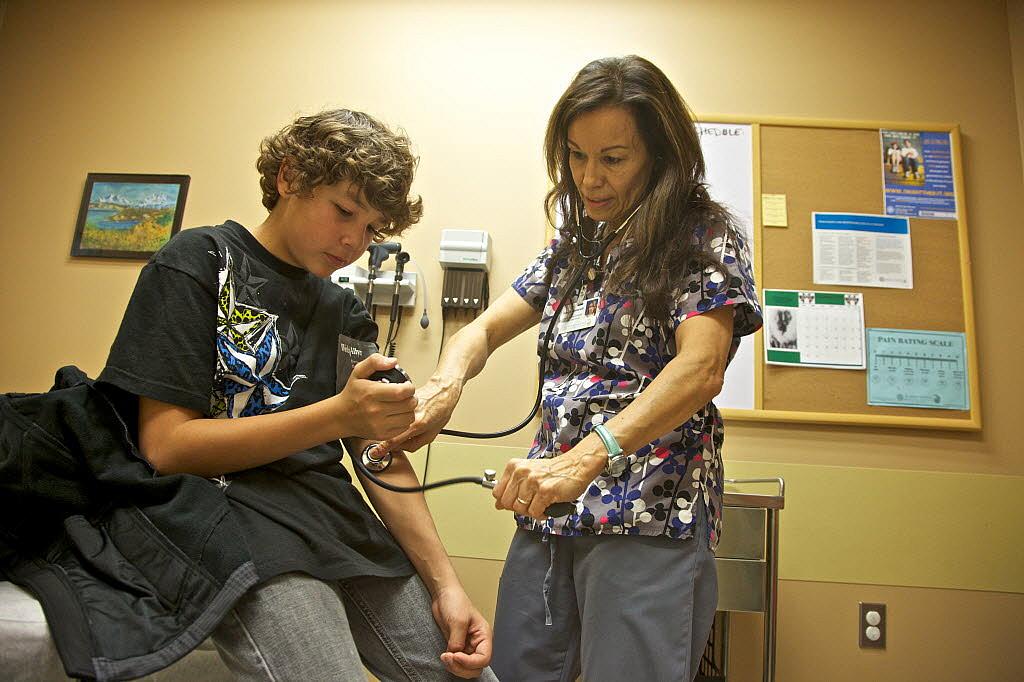 Published on
July 23, 2012
ANCHORAGE -- Thomas James, at his routine school physical, is immersed in a long conversation with a doctor and counselor who check more than just his vital signs. 

The lean, bushy-haired 13-year-old recently arrived to live with his aunt and uncle, Linda and Don Starbard, following the death of his father. 

"It's nice to meet another Starbard relative," says Dr. Laurie Zimmer, his aunt's physician for nine years. 

James has stumbled into the primary care center of one of the most effective and innovative health systems in the nation. Southcentral Foundation, run by and for Alaska Natives, assumes it improves health only by developing relationships with patients. 

It has dramatically reduced health disparities that persist among Native Americans and across the country, including the Portland area. The nonprofit has attracted health leaders from all over the world, including Oregon, which drew on Southcentral's design in making coordinated care teams the centerpiece of state health reform. 

If the nation adopted the Southcentral model, "we would see huge changes," says Katherine Gottlieb, president and chief executive officer. 

Leaders of the Native American Rehabilitation Association of the Northwest, a health organization serving about 30,000 Native people in the metro area, visited Southcentral this month. They found a state-of-the-art, relationship-centered, culturally sensitive system that pays attention to the smallest details, said Joan Bacchus, NARA's health clinic manager. 

NARA has long integrated its care, but with only a fraction of Southcentral's budget to serve half the patients. Nevertheless, Southcentral has practices that could help improve care while stretching dollars even further. 

James is assigned to Zimmer's team -- a nurse, two medical assistants, a behavioral health therapist, an administrative assistant -- and connected to a nutritionist, pharmacist and specialists. Zimmer will not get paid for this visit. Instead, her pay is based on team performance with its 1,200 patients. 

If James needs counseling, chiropractic care, acupuncture or traditional healing, the team will arrange it. He will see Zimmer's team any time he comes to the clinic and usually can get seen the day he calls. They know his name and call him a customer-owner, not a patient. 

In her no-rush, low-key interview, Zimmer learns James needs a dentist and an eye doctor and that his attention deficit and hyperactivity disorder medication has run out. She brings in the behavioral specialist for James, who has ties to Alaska's Tlingit and Athabascan tribes. 

By the time James leaves, more than an hour later, Zimmer and the therapist have learned he was knocked out recently after a bicycle crash into a tree; he says his mom in Washington has drinking problems; his dad, Linda Starbard's brother, died in the spring, about the time an uncle was arrested on a sex abuse charge. All this goes into James' medical record, available to his team. 



A ROCK, A BIRD, A JOURNEY 
The primary goal of Southcentral, says Dr. Douglas Eby,  vice president of medical services, is to improve the overall health of its people. 

"We are not trying to fix the car," he says. "We're trying to transport the people." 

Southcentral calls its care system Nuka, a Native word for strong living things. Eby compared it to a rock, a bird and a target. 

Western medicine has precise care: stitch a cut finger, prescribe an antibiotic, replace a heart valve. Those procedures are like throwing a rock at a target, Eby says. With enough practice, you hit the target every time because you are in total control.
But Southcentral realized such measured care accounts for only about 10 to 20 percent of what affects health. 

Nuka for James accepts that he has far more control over his health than doctors. 

"It is not whether or not we want him to be in control," Eby says. "He is in control." 

Doctors can prescribe medicine, but James decides whether to take it; whether he comes in for counseling; what he eats, drinks, smokes; whether he exercises or wears a bicycle helmet. The better that caregivers know James, the better their chances of helping him. He's more like a bird than a rock. 

To throw a bird and hit your target, Eby says, you need to know the bird. 



THROWING BIRDS
The federal government in 1971 granted Alaska's 229 federally recognized tribes corporations to settle Native land claims. One is Cook Inlet Region Inc., established with $30 million from the feds. The corporation created Southcentral as a nonprofit in 1982 with fewer than 100 staffers and $3 million. 

The government also promised health care. In the late '90s, the Indian Health Service turned over to Southcentral full ownership of a new three-story Anchorage Native Primary Care Center and joint ownership with Alaska Native Tribal Health Consortium over a 150-bed Alaska Native Medical Center next to the care center. 

Southcentral leaders spent six months "deep listening" with hundreds of interviews and thousands of surveys of patients and employees. Nuka emerged. 

Today, Southcentral operates a $202 million budget, employs 1,400 and serves 60,000 Native Americans in Anchorage, the neighboring Matanuska-Susitna Valley and 60 villages. It offers 65 programs to tackle domestic violence, suicide, obesity, substance abuse, diabetes, heart disease and other issues. 

The sleek primary care building is built with wood pillars, a grand lobby and atriums filled with sun and Native art. Teams sit in open work areas. Patients meet doctors in talking rooms, like living rooms with comfortable seating for a whole family and no exam table.
Off the main lobby are the traditional healing rooms, where on one autumn day, Myra Middleton, 50, relaxes on her back while Sarah Smith, 64,  gently runs her hands over her. Smith, an Aleut healer, presses an ankle, puts her hands under one side, strokes a forearm, walks her thumbs over Middleton's head. The healer says she's releasing blocked energy, clearing plugged filters, at key pressure points.

She sweeps her hands over Middleton, as though brushing cobwebs. 

"I feel better," says Middleton after a half hour. "If you believe in it, it works." 

In the nearby Wellness Center, nine people stand in a circle, twist and raise their arms during a strength and balance class. One is Marge Parker, 75, a recovering alcoholic and widow who comes twice a week, as she does for tai chi and Pilates. She also sees a Southcentral dietitian, tribal healer and counselor. She's lost 50 pounds. 

"I'm here because I want to be strong and healthy for as long as I can," she says. "There is everything I need." 

Over at the hospital, Juliet Blake, 33, rocks day-old Cedar in the neonatal intensive care unit. 

"She knows my voice," says Blake, "I love that." 

Four weeks early, Cedar weighed 11 pounds because Blake's diabetes caused the baby to grow too fast. Southcentral flew her from Naukati, a logging town on Prince of Wales Island near Ketchikan. Southcentral, with more than 60 percent of deliveries high risk, has become adept at such births, says Dr. Matthew Hirschfeld,  director of maternal and child health. 

It also launched a "new generations" program with home visits by a nurse and help with breast-feeding and to reduce neglect.
"Moms feel more support so they don't have to turn to drugs and alcohol and tobacco," says Hirschfeld. 

Thirty years ago, Alaska had the highest fatality rate in the nation for newborns to 28 days. As of last fall, it had moved from worst to best. In the education center, leaders for a group called the Family Wellness Warriors discuss domestic violence. More than half of Alaska women, and an even higher share of Alaska Native women, experience sexual or domestic violence, and the rates of child abuse are high, according to state surveys. 

"We have to talk about this," says one young man. 

After beatings at home, Marilyn Tom, 37, arrived at Southcentral's women shelter with only six teeth. The program sent her for dental work and gave her safe housing while she got her driver's license and prepared for the University of Alaska. 

"I want to live my own life without being told what to do," says the mother of four. 



COST CONTROL
Southcentral's approach has paid off. By keeping better tabs on patients, often with email and texts, doctors reduce unnecessary visits. And because patients usually get appointments the day they call, they turn to the emergency room less for primary care. 

Decreases in the last decade: ER visits, 40 percent; hospitalizations, 75 percent; specialty care, 65 percent; routine doctor visits, 30 percent. 

That's cut costs, allowed Southcentral to operate on an annual 2 percent increase in IHS funding, now at $94 million -- even with a 7 percent annual increase in patients. 

The organization also has made headway on its core goals. Binge drinking, strokes, heart disease and cancer rates all have plunged among Anchorage-area Natives to about the national average. 

Southcentral last fall was among three health institutions selected for the 2011 Malcolm Baldrige National Quality Award, the highest presidential honor to organizations of all kinds for performance excellence. 

Still, Gottlieb, the president, says Southcentral always looks for ways to get better. It's built on relationships, and they "are messy," she says. The system is now focused on giving more patients quicker access to its behavioral health services and gearing up for aging baby boomers with chronic health problems. 

"We know what is coming because we have all the data on our population," she says. 

Zimmer's team checked in with James to make sure he saw the dentist and eye doctor. He got glasses and will get braces. When his allergies flared into bronchitis, it was Zimmer who helped. 

James is home schooled, but he skied cross-country for his public school and throws the discus for track. He helped produced an award-winning TV commercial on suicide prevention. 

He sees a behavior health specialist once a month. 

"He's had a pretty tough life," says Linda Starbard, his aunt. So far, though, he doesn't want counseling. 

"They don't want to force him," she says. "You have to wait until he's ready."
This story was originally published on The Oregonian.