Arun Va: Narrow escape from becoming a killer
Image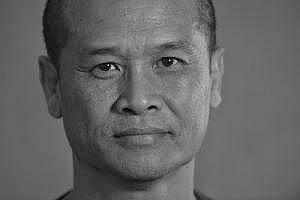 Published on
April 21, 2012
He can still see their scared eyes in the flicker of a lantern during an ink black Cambodian night more than 35 years later. The eyes belonged to four women who wouldn't live through the night. By the next day their throats would be slit, their bodies weighted with rocks and submerged in the Ton le Sap lake.
Arun Va was a young man at the time and recruited by a Khmer Rouge cadre leader to accompany him and four women to travel to the lake.
Today he almost shudders when he realized how narrowly he escaped becoming a killer.
After Va had been ordered to gather rocks - for what purpose he didn't know, and knew better than to ask - he remembers being stunned when "Captain asked me, `Can you kill people?"' Va recalls.
"You were expected to do it for Angka (the Cambodian state rulership)," Va said.
Va couldn't answer, and the captain did not press the subject.
Such was the fickleness of fate back in the mid-1970s under the rule of the Khmer Rouge, during the Killing Fields era.
The reed-thin difference between victim and perpetrator, death and life could ride on whim. A different cadre leader, a different day and Va could have been forced to choose to kill or join the women forever beneath the brackish water.
Va is thankful he was spared that decision. But he says he will never forget the fear in the eyes of the women as they awaited a fate he avoided taking part in. And today it pierces his heart.
The onset of the Khmer Rouge rise to power short-circuited the life plans of Va, who lived a peaceful life as the son of a prominent farmer with a love for reading.
"When I was small, my parents gave me a book, and I would sit and read, read, read. It made me happy, just to have a small place to read," Va says.
When the Khmer Rouge took power, that simple pleasure was denied to Va. It was replaced, instead, by a life of pure toil and near-starvation.
"I was just working hard to survive," Va said. "We had to do everything."
The new world order of the Pol Pot regime sought a pure agrarian state, and everyone was put to work on the farms.
Va's book education ended in April 1975. He wouldn't pick up a book again for years. To Va, the lack of mental stimulation was hard to fathom. More harrowing still were the things the people were asked and forced to do in the slaughter that became known as the killing fields. Events like the trip to the Ton le Sap were a part of everyday life.
Inexplicable violence and atrocities were merely a part of the fabric of life.
"I wondered why my country was so dark and why no one comes to rescue us," Va said.
Eventually, it was the Vietnamese who came to the rescue, invading the country and taking Phnom Penh on Jan. 7, 1979.
These days, Va helps educate elders in the Asian and Pacific Islander Older Adults Task Force. He leads a program that provides hot lunches and keeps a group of elder Cambodians active and stimulated. He helps them find resources for their health and welfare needs.
Helping the elder refugees has been therapeutic for Va as well. But he says his true healing came "when I opened to Buddha."
"When my mother passed away, I felt obligated to learn about my inside because I was so sad," Va said. "After that, I looked deep inside. I think Buddhism helped a lot. You learn how to deal with stress."
And he is at work building a library in his homeland to teach the younger generation.
"I don't want my country to be ignorant," Va said. "I don't want people to live like that."
He never wants anyone else to have to answer the question the captain asked of him.