With no licensing or certification, anyone can practice in-home elder care in California-and in wealthy Marin, opportunity for fraud abounds
Image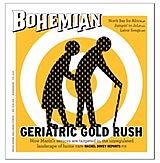 Published on
May 23, 2012
Richard was a Judge Judy fan, so whenever his wife's caregiver asked for a loan, he made her sign an IOU. The 83-year-old San Rafael resident stacked the caregiver's debts—$3,000 on April 24, $6,000 on May 12—on white notepaper and outlined a pay-back contract on his own letterhead. A Marin County notary witnessed their signatures.
Dated June 2008, the notepad shows $22,000 borrowed and $600 returned. When Cora Alingog left the couple, her IOUs became just that.
"He was really embarrassed, because everything seemed to be in order," Richard's Petaluma-based son, Scott, says about his father, asking that the family's last name be omitted from this story. Bank statements, notarized loans and a 2009 civil court judgment of $64,567.13 awarded in Richard's favor corroborate their account, but according to Scott, the family hasn't seen any of the court-appointed money. Multiple phone messages to the number Alingog gave her employers were not returned for this piece.
Richard's story illustrates how quickly a good caregiving relationship can sour. With no state regulations and a for-profit industry that places providers directly in the homes of elderly, disabled and dependent clients, the phrase "buyer beware" has never been more appropriate. According to many professionals, Marin and its aging community of great wealth, or at least perceived wealth, is ground zero for this booming business.
Still reeling from the aftermath of his misplaced trust, Richard reflects on just how easy it was to be taken advantage of while his wife Norma's severe Alzheimer's weighed on the family. The couple had employed 10 caregivers in roughly two years, so when they found Alingog, who seemed attentive and loving, their guard was down.
"You become really stressed when you have all these health problems, and you welcome help," Richard recalls. "You don't scrutinize."
According to his son, the financial loss paled in comparison to losing a trusted provider.
"My mom had the fragile carpet ripped from under her feet," he recalls. "She entered a horrific death spin." As her condition worsened, the family placed her in a convalescent home. She died soon afterward.
Look in the yellow pages under "Home Health Services" and you'll get a very different picture of the industry. Business names like "Gentle Care," "Precious Home Companion" and "Visiting Angels" deliver a pointed message of safety and security. But though agency websites tout self-referencing descriptors like "compassionate" and "trustworthy," it's little more than positive branding in some cases.
The problem in California is that often that's all there is. Many states—Nevada, Tennessee and Louisiana among them—require home- care providers to be either licensed or certified by a public agency, like a department of health. Not the Gold Rush state. To open a for-profit home-care company employing nonmedical workers—in other words, an agency for caregiving duties like feeding, bathing and transportation—all you need is a business license. Anyone with the ability to fill out an application and hand over a small processing fee can do it. Anyone.
Sometimes these caregivers are certified nursing assistants, but they don't have to be. Sometimes they have years of experience, fantastic references and the skill set to provide for clients with bewildering degenerative diseases like Alzheimer's, but they don't have to. Sometimes they're paid a living wage commensurate with their experience, but—you guessed it—they don't have to be.
Mary Lou Blount, the owner of In Your Home Care for Life and a member of the Marin County Commission on Aging, likens this employer-dictated market to the Wild West.
"California runs its own rodeo," she says, explaining that in Oregon, where she lived before moving to Novato, caregivers were required to be licensed with the Department of Health Services. State workers would drop in to her agency randomly to check financial records or investigate workers' compensation policies, she recalls. Charges of elder abuse, if there were any, would be reported to them.
Many counties, including Marin, have elder-abuse hotlines and task forces, and a handful of national and statewide professional organizations certify what they consider high-quality caregiving agencies or geriatric-care managers. But with business licenses as the only required paper trail, fictitious business names that may or may not contain the term "home care" and various municipalities overseeing licensing, getting a complete overview of the local industry, let alone monitoring it, is a challenge.
Richard's story is the perfect example of just how difficult researching an agency can be. According to his court testimony from May of 2009, he received Alingog through Quality Home Care Service. Listed as Quality Nursing Service in the phone book, Quality Home Care doesn't have a website, but its contact is listed on Google Maps. Reached by phone, a spokesperson for the San Rafael agency confirmed that Alingog had worked there in the past, but insisted she did not work for them at the time of the loan. The spokesperson repeatedly claimed that she couldn't remember which years Alingog had been employed by Quality Home Care, adding, "I don't want to talk about her. I can't help you." 
"The home-care agency industry is mushrooming in Marin," says Michele Boudinot, owner of North Bay Elder Care Options. She cites the county's relative age—21 percent over 62, compared to 14 percent statewide—and high median income—$89,000 in 2010—as potential incentives for the growth.
Boudinot is a certified geriatric-care manager through the National Association of Professional Geriatric Care Mangers, and she's also a member of the Marin County Elder Abuse Task Force. She cautions that this explosion in services should make Marin-based elders wary.
"People are buying franchises who, quite frankly, should probably be buying restaurant franchises," she says. "They don't realize what they're getting into, that now they're responsible for someone's healthcare. Sometimes the clients are very frail individuals; they're vulnerable with complex, chronic health conditions. These novice owners may not know anything about hiring good caregivers, and there are very few good caregivers around, so they put in caregivers without a lot of experience."
As Novato agency-owner Blount put it, in Marin "seniors are sometimes looked at as an easy way to make a buck."
With no centralized data source on the home-care industry, it's difficult to measure its growth. Census data on county business patterns from 2009 lists 24 home healthcare businesses, including medical centers. Boudinot says she's heard of more than 70. A survey of the Marin County website, several networking rosters and the yellow pages reveals over 50 nonmedical agencies, with at least four operating under multiple names. To quote Richard on his experience with Alingog's agency, this is an industry where it's easy to operate "under the radar."
Boudinot acts as a consultant to her elderly clients, charging an hourly fee ranging from $125 to $150. She gathers data on their needs, preferences and finances, and then refers them to either medical outpatient centers, self-employed care providers or agencies that fit their situation. She does not collect a referral fee from those she recommends, so in an industry where agencies and independent caregivers are often at odds, she has a unique view.
Still, she's cautious of businesses that take a large cut of a caregiver's pay, speculating that the worker's skill and experience might drop with his or her hourly rate. Some independently contracted caregivers that she uses have decades of experience and charge upwards of $20 an hour. And while that's comparable to most agencies' rates—a survey of businesses collected from the various sources described above revealed that the majority charge between $21 and $29 an hour for nonmedical caregiving—caregivers themselves only take a portion of that hourly fee.
Exactly what that portion looks like is debatable. According to the Federal Bureau of Labor Statistics, the average "home health aide" who is not self-employed in the metropolitan area encompassing Marin, San Francisco and San Mateo counties makes $11.50 an hour, or $24,450 a year. Marin agencies that would disclose their caregivers' earnings gave me quotes that generally ranged from $11.50 to $16 an hour.
But agency owners, particularly those that employ their caregivers ("full-service agencies") as opposed to simply referring them to clients for a fee ("referral agencies"), say that payment gap is built-in insurance.
Hourly care for Hired Hands, an agency operating out of Santa Rosa and Novato, is $24 an hour, with "live-in" round-the-clock care starting at $310 per 24-hour period. President Mark Winter declined to state how much the agency pays its caregivers, but he points out that companies like Hired Hands take on the responsibility of being their caregivers' employers—supervising them, providing them with insurance and workers' compensation and paying state and federal taxes, all of which figure in to the client's hourly or daily fee.
Hired Hands is a member of the statewide business association California Association for Health Services at Homes, which certifies members based on the evidence that they provide these regulations and a fee. "As a full-service industry, we provide many consumer protections," he says.
Sharon Smith of the San Rafael branch of national franchise Home Helpers reports that the agency charges between $26 and $30 an hour, and pays caregivers $14 per hour. Between workers' comp, insurance and franchise fees, the agency's profit margin is not the bloated 50 percent cut it looks like, but between 12 and 17 percent, she says.
As the head of Marin's public Division of Aging and Adult Services, Nick Trunzo oversees Adult Protective Services. He says there is no available data for reported incidents of abuse that can determine whether agencies or independent contractors are more adequate. "I personally would not say that one model is better than another; there are areas of concern in both," he says.
Trunzo's main concern with eldercare, however, is that it isn't really applicable to Marin seniors across the board. As this series has previously explored—and the Division of Aging has documented—Marin elders are generally not as wealthy as the county's high median income might lead one to expect. With the steep cost of living and the fact that many older adults live on fixed incomes and struggle with age-based disabilities, slightly more than half of Marin residents over 65 could be considered "low-income" based on the latest HUD and American Community Survey reports. Even if they live in homes bought and paid off years ago, paying $26 an hour for in-home care may not be an option for many of the county's seniors.
"Affordability is an issue," says Trunzo, explaining that although Napa's Agency on Aging requires home-care providers to be certified through the county—a creative fix to the lack of state-wide licensing, but one that charges caregivers a fee—Marin is reluctant to raise the bill on homecare any higher.
And this economic imbalance slices both ways. For caregivers, making it on an hourly wage of $11.50–$16 in a county where the median rent is over $1,500 isn't easy, either. For some, this means working for a higher, cash-only fee as an independent contractor and sidestepping agency benefits and workers' compensation. Others commute long distances; Boudinot says she's seen caregivers drive into the county from as far away as Sacramento. And with its decided lack of workforce housing, some simply pay rents far beyond their means and try to survive.
Maria Alarid pays $600 a month to split her canal-neighborhood one-bedroom with two roommates. A caregiver for the public agency In Home Supportive Services (IHSS), she says she's been working up to seven days a week lately to make ends meet at an hourly rate of $11.55.
Alarid doesn't have a long history in the industry. Since emigrating from Mexico in 1974, the 64-year-old San Rafael resident has worked as a housecleaner and been employed by a Spanish-language newspaper. But she's highly recommended by her government-sponsored place of employment, which serves lower-income elderly who qualify for Medi-Cal. And she loves her job, adding, "I respect anyone who does it, because it's not always easy."
Along with physical hurdles—like lifting elderly clients into their wheelchairs with an already strained back—Alarid says the fear of being taken advantage of in this intimate industry has led to false accusations. Once, an elderly woman reported that she'd stolen $1,000. The woman later found it tucked away in her own home, Alarid says.
"When they accuse you of something you didn't do, you feel really bad," she says.
But while many caregivers, like Alarid, may seem to disprove the notion that quality of care and pay scale rise together, Aneice Taylor of Woodacre says she's sometimes struggled to find good caregivers at a rate she can pay.
Paralyzed from the neck-down in a 1982 mudslide that destroyed her house, Taylor qualifies for Medi-Cal. She's used IHSS, which she describes as "generally a very good system," but the amount of care she needs—everything from help with meal preparation to help getting out of bed—has led her to seek out caregivers independently as well.
"I'm sad to say that I've had to hire really unpleasant, dangerous people out of desperation," she says. "If you have no one who's going to get you out of bed or get you dressed or feed you or take care of your bodily needs—believe me, I have had people living here who were not people I wanted to be living with."
Taylor says she's fortunate to have a home with extra rooms, so she can offer caregivers a place to live to supplement their pay. But this has forced her to let people into her home—not just on an hourly basis, but constantly—whose company she later regretted. She's employed homeless caregivers before, she says. Caregivers with substance-abuse problems. Caregivers who stole. She's known and employed many wonderful people at a relatively low wage, she adds, who have come to feel more like friends than employees, but when asked if it was financial desperation that led to the hiring of poor-quality employees, she replies, without pausing, "That was it."
Taylor is the founder of In Spirit, which helps quadriplegics like herself stay independently in their homes. Through her nonprofit, she's able to secure grants and donations for others who might need them, to supplement their caregiving, and she's currently using some inheritance funds her mother left to supplement her own care.
However, like Marin's vast aging and disabled population who may not be able to afford a high-quality agency, private caregiver or geriatric care manager, she's unsure of what the future holds. Speaking of her mother's money, she says, "I don't know what I'll do when that runs out."
This article was produced as a project for the California Endowment Health Journalism Fellowships, a program of USC's Annenberg School for Communcation & Journalism.