Bill Could Reduce Number of Texas Abortion Facilities
A bill advancing through the Texas Legislature could drastically decrease the number of legal abortion facilities in the state.
This story is part of an ongoing series that 2013 Dennis A. Hunt Fund for Health Journalism Grantee and National Health Journalism Fellow Becca Aaronson will write for the Texas Tribune on women's health care in the state.  For a complete look at Aaronson's extensive coverage, click here.
Image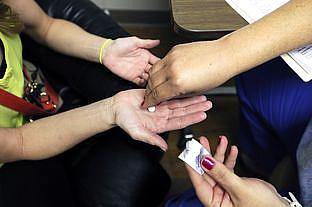 Published on
March 25, 2013
A bill advancing through the Texas Legislature could drastically decrease the number of legal abortion facilities in the state.
Supporters of Senate Bill 537, which would increase regulations for abortion facilities, say it will improve women's safety. But abortion rights advocates say that the bill is a thinly veiled effort to close 37 of the state's 42 abortion facilities, and that it would reduce women's access to legal abortion.
"I understand the suspicion, but this really is about improving health care for women getting abortions," said the bill's author, Sen. Bob Deuell, a Republican from Greenville who is a primary care physician.
The bill would require abortions, including those induced by drugs, to be performed in so-called ambulatory surgical centers. The regulations for such facilities include specific sizes for rooms and doorways, and additional infrastructure like pipelines for general anesthesia and large sterilization equipment.
The Senate Committee on Health and Human Services approved the bill on Tuesday, sending it to the full Senate for approval.
"There's no recent spike in risk or safety incidents that this regulation is responding to. It's pure politics," said Amy Hagstrom Miller, the chief executive of Whole Woman's Health, which operates four abortion clinics throughout the state and an ambulatory surgical center that performs abortions. "The thing we need to worry about is, when you take away women's access to safe abortion, then what's going to happen?"
Thirty-seven abortion clinics in Texas would not be in compliance under the new regulations. Of the 416 ambulatory surgical centers in Texas, five perform abortions.
Abortion rights advocates say Texas women will be forced to seek dangerous and illegal abortions because they will no longer have ready access to the procedure.
Ambulatory surgical centers cost more to build and operate than abortion clinics, which in turn raises the cost of abortions for patients. Whole Woman's Health, for example, says it spends $40,000 more each month to operate its surgical center than it does for an abortion clinic. Its patients pay $1,277 for an abortion at the surgical center compared with $540 at a clinic.
More than 72,000 abortions are performed annually in Texas. No deaths from complications related to abortion have been reported to the state since 2001. While there are risks associated with the procedure, there is less than one death per 100,000 legal abortions in the United States, according to the Centers for Disease Control and Prevention.
Dr. Mayra Thompson, an obstetrician and gynecologist, told senators during a committee hearing on Tuesday that serious complications could arise from surgical abortions.
"It shouldn't matter if you're pro-life or pro-choice," Thompson said. "The point here is the safety."
Texas passed a law in 2004 requiring women seeking an abortion after 16 weeks of pregnancy to undergo the procedure in a surgical center. At the time, no abortion facilities met the standards.
A study by Ted Joyce, an economics professor at Baruch College of the City University of New York, on the effects of the 2004 law found that the number of abortions after 16 weeks dropped in Texas to 446 from 3,642 in the first year, and that more women sought abortions out of state. Joyce said last week that he expected Deuell's measure would have similar effects.
Although surgical centers would eventually be established to meet the demand for abortion services, Joyce said, his research showed that, in the short term, existing surgical facilities would be flooded with patients and "it's going to force women either to go out of state or to carry to term."