Camden GPS works to cut health care costs by helping violence victims
A two-part series on the Camden Coalition of Healthcare Providers, which is seeking to reinvent health care and reduce costs in one of America's poorest cities. 
Part 1: Camden works to keep diabetics, others out of the hospital
Part 2: Camden GPS works to cut health care costs by helping violence victims
Image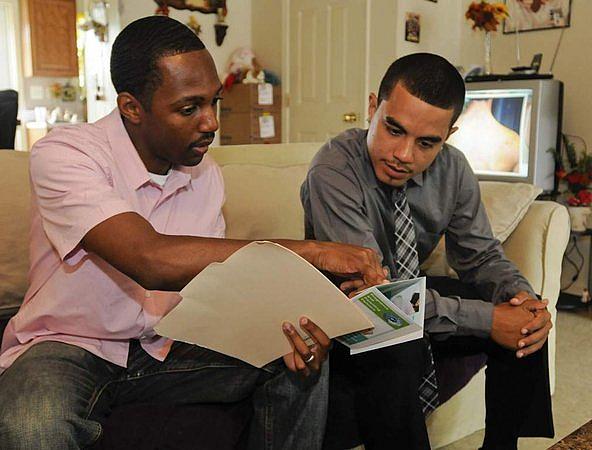 Published on
June 18, 2012
Turning points come at unexpected times in people's lives. For Miguel Malave, it was getting beaten up at age 21.
Malave was walking to his uncle's house in Camden about 9 p.m. on a weekend when three men set upon him, pummeling his face and leaving bruises all over his back. "They were stomping me and kicking me," he said. "I had to ball up and take it. It was the worst. I felt horrible."
A ninth-grade dropout, Malave said he never got a clear view of his attackers. He was angry and already struggling with depression. Another man might have pursued retribution, but Malave chose another way out.
He hooked up with Victor Murray, who runs the Camden GPS Program, a violence-prevention effort for the city's assault victims.
Murray helped Malave get counseling, apply for jobs in masonry and carpentry, and alter the trajectory of his life.
"Victor helps me a lot. I've been feeling relieved. I haven't been stressing. It's like a lot of weight off of me," said Malave, 22, who recently learned he will be a father for the first time. "I'm going to stay with the program and keep doing anything they want me to do."
In Camden, violence is so common that it has become a public health concern. With 77,344 residents, Camden is often ranked among the country's most violent cities. In 2010, FBI crime data documented over 1,000 aggravated assaults — more than 13 for every 1,000 residents, five times the national rate.
Those assaults lead to much medical misery. From 2002 to 2009, Camden residents made 9,361 trips to the hospital due to injuries from assaults, data show.
In what could be called preventive medicine for assaults, the Camden Coalition of Healthcare Providers launched Camden GPS in 2010. Murray became the nonprofit's intervention specialist.
Funded by grants, Camden GPS is poised to become part of an ambitious effort, an accountable care organization (ACO), a three-year Medicaid project that seeks to improve care and drive down costs. The coalition offers many strategies to keep people healthier. They collect data to discern trends and work to improve care of the sickest and most costly patients, among many others.
The coalition's executive director, Jeffrey Brenner, a physician with Cooper University Hospital, was instrumental in getting state legislation passed last year to authorize the ACO.
Camden GPS tries to stop the cycle of violence and help assault victims avoid future hospital stays. The effort usually begins when a young gunshot or stabbing victim comes through Cooper's emergency room. If the victim is a city resident and 24 or younger, hospital staff members alert Murray, who visits the victim, usually in the hospital, to talk about how he got there.
This real-time response catches victims in the moments of reflection that often follow a violent episode. "They realize they need something better," said Murray, 27, who grew up in Camden.
Isaiah Jones fits that description. By his own admission, he was in the drug trade as a teenager, and a 2009 arrest and subsequent guilty plea to a lesser charge made him want to get out. A man he knew was unhappy with Jones' decision and shot him once in the left knee while he stood in front of his Camden home, court records show.
"It was either 'you get down with me or you lay down,'?" Jones recalled.
The shooting had left him feeling vulnerable in his own neighborhood, and he wanted to get his life on a better track.
Jones told Murray how he ended up jobless, on probation, and recovering from a shooting.
When he was 10, two men fatally shot Jones' parents in their Wilmington home. After living a few years with family in Virginia, Jones moved in with an elderly aunt in Camden. For the 13-year-old, the drug dealing and shootings in his new city were surreal. "It was like a movie to me when I came here," he said.
But within a few years, Jones said he became part of that culture. "My aunt gave me $5 a day," he said. "I'm 16. I'm not going to survive on $5 a day. By the time I get home, I'm hungry."
Jones said he began selling drugs, and was arrested in July 2009. "After I caught my charge, I slowed down," said Jones. He pleaded guilty to fleeing arrest and served a few weeks in jail.
His girlfriend gave birth to their daughter in March 2010, and seven weeks later Jones was shot. He had been stabbed in a melee several years before, but the shooting shook him. He started talking in his sleep. He'd dream that he was trying to run away from his assailant but that his feet moved so slowly he couldn't get away.
After hearing his account, the Camden GPS team knew Jones was an ideal candidate for the program. "We want to grab the kid and hold their hand while they're going back out in their life," said Judyann Gillespie, senior program director of adolescent counseling at the Center for Family Services, which works with Camden GPS. "He's a classic example of where systems should have intervened many years ago."
Like Jones, most participants in Camden GPS have had run-ins with the law and become parents at an early age. Many are high school dropouts. Some were the victims of wrong-place, wrong-time violence, but most were targeted.
"We don't discriminate," Murray said. "A victim is a victim."
In most cities, victims are released from the hospital without much guidance on how to reenter the world. "Historically, they have just sent them back out on the street," said ER physician Patty Vitale, the Cooper liaison for Camden GPS. "We are saving the system a lot if we can keep these kids out of trouble and get them to be productive in society."
As with the coalition's medical programs, a major goal is to save taxpayers money. "Projects that touch people's lives individually can make a substantial impact on the city," Brenner said. "If you target the right people who are at transition moments in their life, the resources can be really well used."
Those resources differ for each participant. One assault victim needed transportation to a medical appointment in Sewell to have sutures removed, Murray said. Murray got him a ride, averting a much more expensive ER visit.
For a participant who needed furniture, Murray found some on Craigslist and enlisted friends to help deliver it. When another yearned to play the piano, Murray set out to find an instructor. "It's more than just the gunshot or the stab wound that needs to be healed," Murray said. "It's the person as a whole."
For Jones, Murray battled to secure public assistance and funding for violent crime victims. He arranged counseling and drove him to the appointments in Haddonfield.
He connected Jones' girlfriend with a part-time job and watched over Jones' shoulder as he filled out job applications. A temporary bakery job Jones secured didn't last in part because he still can't stand for long periods due to the shooting.
Undaunted, Murray smelled the fried chicken Jones was cooking during a home visit one day, and encouraged him to consider cooking school.
Murray worked with 30 victims for eight months after the program's inception in February 2010. Funding problems forced him to stop taking referrals for a time, but now he has 21 participants and is slowly growing the group.
Camden GPS is one of at least a dozen programs nationwide — including Healing Hurt People at Drexel University in Philadelphia — that try to help victims of violence beginning in the hospital. Research on their effectiveness is promising but inconclusive.
A study of Caught in the Crossfire, an Oakland, Calif., program, found that young people served by the program were 70 percent less likely to be arrested and 60 percent less likely to have any criminal involvement in the future compared with the control group.
The Violence Intervention Program in Baltimore found no significant difference in the number of arrests between those helped and a control group, but those in the control group were more likely to be arrested for and convicted of violent crime.
Since the Camden GPS launched, Murray said, only two participants have landed back in the hospital. Brenner said there are not enough cases yet to measure the project's success.
So far, the approach has helped Jones, who has resisted old habits. Now a father of two, Jones, 21, has had no more violent incidents. He asks Murray to avoid certain streets when they drive together, fearing former associates will spot him and pressure him back into drugs.
Christina Hernandez Sherwood can be reached at christinahsherwood@gmail.com. Christina Hernandez Sherwood's reporting was supported by the Dennis A. Hunt Fund for Health Journalism, which is administered by the California Endowment Health Journalism Fellowships, a program of the University of Southern California's Annenberg School for Communication & Journalism.
This article was originally published in The Philadelphia Inquirer.