Can transit, parks improve worker health?
Health impact assessments (HIAs) are behind an emerging idea that public transportation — or even a state park — can be part of a prescription for good health.
Image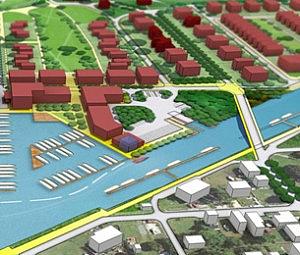 Published on
February 19, 2013
Health impact assessments (HIAs) are behind an emerging idea that public transportation — or even a state park — can be part of a prescription for good health.
Urban planners are using these assessment to line up a new kind of evidence to justify spending taxpayer dollars on community upgrades. At the same time, new rules, passed in 2012, let federal transportation funders consider additional health-related criteria.
AT&T Station, near the sports stadiums in South Philadelphia, is the last stop on SEPTA's Broad Street subway line. About 10,000 people work just south of the stadium complex the road at the Navy Yard, and right now most of them drive to work.
Some members of the Philadelphia Planning Commission would like to see some of those employees switch to public transportation, or maybe bike or walk to work.
"There have been a lot of great studies that show if you commute — really by any form other than a car — even public transit, you are going to get more physical activity per day," said Clint Randall, Philadelphia city planners.
Before 2010, Philadelphia's planning and health agencies had no formal ties, but Randall's position now straddles those two worlds.
"City planning is about guiding the orderly development of cities," Randall said. "That was very much a public health issue due to the fact that cities were industrialized and overcrowded. What I like to tell people is that city planning sort of started a public health mindset, and now basically a 100 years later we are really getting back to that from the perspective of chronic disease, which are basically the new public health facing the nation."
Most of the activity at the Navy Yard is nearly a mile-long trek from SEPTA's last stop-past heavy truck traffic from Interstate 95 and Broad Street. Randall says right now most commuters are not willing to make the hike.
Extending the subway line to the Navy Yard could cost $400 million dollars.
Pricey. So, the city planning commission conducted a health impact assessment to demonstrate some of the public health benefits of a new SEPTA stop, and a smaller proposal to add a separated biking and walking lane along Broad Street.
The study included a survey of workers in the Lower South District:
"If there was a train that would take you there, would you take it? Would you take it all of the time, some of the time? And the same thing for walking and biking," Randall said, listing some of the questions asked.
With the proposed transit investments, planners estimate the percentage of workers in the Navy Yard sector who take the train would increase to 57 percent, up from 18 percent now.
The employee population in the Lower South District could grow to 22,000 in the next decade, according to Philadelphia's analysis.
With that growth but without any transit improvements, Randall said in 10 years the number of vehicle miles travelled could increase to 89 million each year. Navy Yard commuters travel 55 vehicle miles now.
"It's a whole lot of CO2 emissions, motor vehicle emissions," Randall said. And those pollutants that can worsen asthma, respiratory and heart disease, he said.
The theory goes that safe streets, wholesome food and exercise options are not just neighborhood niceties but necessities. Randall said the spatial decisions urban planners make can influence behavior.
"Are you in a neighborhood that enables you to walk to a corner store and get a pint of milk instead of driving 20 miles down the road," Randall said. "Not to say that it's the only factor but it's really going to affect your inclination, your willingness and ability to make certain choices."
City design is a balancing act. The new Broad Street line could cost $400 million; Philadelphia already has $5 billion in backlogged projects to maintain and modernize the infrastructure that exists now.
Planners seem to be courting young, urban professionals, among them workers in the retro offices at Urban Outfitters and those at GlaxoSmithKline's new modern building. Many younger workers say they want live in places that are walkable, in cities that are easy to navigate without a car.
The health impact assessment is still a relatively new tool and even big supporters debate how to measure accurately the links between health and transportation, for example.
"We're trying to get people excited, get public officials excited, about the project, and hopefully produce data that's going to help us build our case for federal or state funds," Randall said.
Last year, the Federal Transit Administration Regulations expanded the criteria funders can consider to include: "... direct and indirect benefits to the natural and human environment ..."
A community group in Delaware is doing that state's first health impact assessment. It's a study of the redevelopment plans underway at the Fort DuPont complex, the old military installation near Delaware City.
The Delaware HIA is not an official state project, but an independent analysis from members of the Delaware Coalition for Healthy Eating and Active Living.
It seems obvious to do a health analysis on the pollutants that might spew from a refinery or new highway beside a school, but why bother studying the health effects of a park?
"We questioned the same thing when we found out they were going to do a health assessment," said Delaware City Planner Richard Cathcart.
Andrea Trabelsi, an urban planner with Delaware Greenways, is leading the health study. She says health was not being explicitly considered in the Fort DuPont master plan.
"But, parks can be a great starting point for getting people more active and even promoting social interactions that can foster better health," she said.
The Fort DuPont State park is the most underused park in Delaware.
Lee Ann Walling, chief of planning at the Delaware Department of Natural Resources and Environmental Control, said a makeover at Fort DuPont was conceived as a way to put people to work and bring more dollars to the merchant district just across the canal in Delaware City.
"We're looking at ecotourism, we're looking at a new marina," she said.
Some people would like to see new homes built or perhaps an upscale conference and camping retreat.
"There used to be a bustling community here and we'd like to rebuild that," Walling said.
She says the HIA from Delaware HEAL is welcome.
"They want to make sure that any development we do here is healthy development and we couldn't agree more," she said.