Checking the Health of Clinics
Published on
February 2, 2009
Image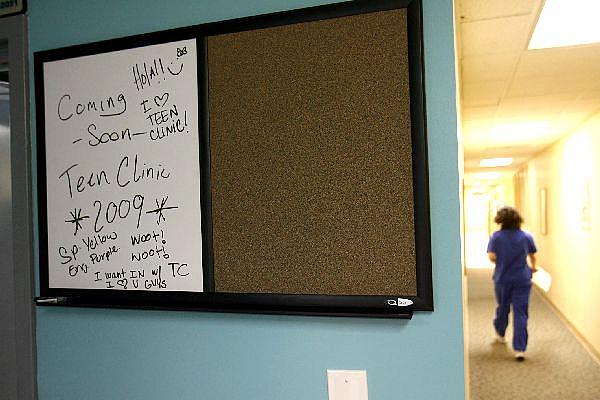 The hallways smell of new paint at Valley Community Clinic — one of the signs that change is on the way.
The Valley's first clinical program devoted to adolescent medicine is about to open, and much of the credit goes to a man who wasn't exactly deemed a champion of health care: former President George W. Bush. Bush freed up federal funding to help community clinics across the nation, including Valley Community.
"We sort of turned up our noses at his policies, but this funding was huge," said Paula Wilson, president of the North Hollywood clinic. "It offered us a chance to gain stability. With that stability we were able to expand and grow to the needs of the community."
While the number of uninsured nationally
has risen to 47 million and health care remains tattered, Bush left office having delivered billions of dollars toward the expansion and creation of community health centers. Some 1,200 clinics expanded or were built from 2002 to 2007 within rural areas, according to the federal department of Health and Human Services.
In Los Angeles County, community clinic organizations added 27 clinic sites from 2003 to 2008. Another 11 are awaiting approval of federal funding grants.
At first, Bush's Health Center Initiative was viewed with skepticism by some providers. They wondered if his faith-based philosophy on community services, for example, would intrude on the way they could provide services, such as handing out birth control.
But that never happened, said Chris Patterson, spokesman for the California Primary Care Association.
Since 2002, total health center funding to California has increased by 90 percent, from $96 million in 2002 to more than $184 million in 2007, Patterson said.
"There were various constituencies that actively lobbied President Bush to move toward more faith-based approaches," such as undoing the 51 percent patient-run boards that have always governed community clinics and health centers, Patterson said.
"Given their mission and roots in the social justice movement, clinics actively and successfully opposed all such efforts and compromises," Patterson said. "And in the end, President Bush recognized that clinics were a smart and cost-effective investment as they are."
The federal funding helped clinics buy lumber, cement and paint; and hire new staff for primary, pediatric and dental care, as well as mental health services. The reputation of health clinics also blossomed — from so-called "doc in the box"-type facilities, to legitimate safety nets, with primary care for those on Medicaid as well as the uninsured.
"The clinics had an unlikely champion," said Louise McCarthy, vice president of governmental affairs for the 120-member Community Clinic Association of Los Angeles.
Once called the North Hollywood Free Clinic, Valley Community Clinic, for example was able in 2002 to move out of an 8,000-square-foot facility and into a 40,000-square-foot center at Vanowen Street and Coldwater Canyon Avenue.
"In the midst of all the terrible stuff that has happened in Los Angeles County, with all the hospitals that closed, community clinics became gems that have managed to survive and improve," McCarthy said. "The impact (of the funding) has yet to be maximized."
Unfortunately, the clinic-expansion movement comes just as the state budget verges on collapse. Gov. Arnold Schwarzenegger has said unless California legislators come to
some agreement to fill a $42 billion shortfall, the state will run out of money this month.
That means the newly opened teen center at Valley Community Clinic will operate without funds, and its staff will be paid in IOUs, Wilson said.
Call it the typical "push-pull" of government spending, said McCarthy.
"It's one of those things where you're being very much encouraged at the federal level," McCarthy said. "But at the state level, they are saying you can build it, but we can't pay you for it."
Community clinics also continue to feel the strain of an increase in patient loads as more unemployed workers lose health insurance. A survey released in December by the UCLA Center for Health Policy Research found that one-fifth of all Californians under age 65 were without health insurance for all or some of 2007.
Prior to the economic downturn, some clinics already were seeing increases after Martin Luther King Jr.-Harbor Hospital closed in 2007. In addition, there has been an increase in patients with diabetes; a growing and aging population; and the closure of 30 hospitals in the past 10 years, all of which resulted in spillovers to clinics.
In fiscal year 2006-07, the association saw an additional 21,600 uninsured patients, up 10 percent from the previous year.
"Our member clinics would need to increase their capacity by 7 percent just to serve their current patients," McCarthy said.
The community clinic movement began in the 1960s as a grass-roots effort to serve migrant workers, the homeless on Skid Row and families in dense urban areas. Since then, the number of clinics that became federally recognized has increased. Many now also operate as community centers, where patients register to vote and pick up information on social topics such as domestic violence.
But clinics were experiencing increases before Bush, thanks to advocates such as Sen. Ted Kennedy, D-Mass., said Dylan Roby, assistant professor of health services at the UCLA School of Public Health.
There were 550 federally recognized clinics in 1990. That grew to 750 by 2000, and finally, to 1,067 by 2007.
"Bush ... saw them functioning in Texas efficiently, and he thought this was a good way to give care to the uninsured. He wanted to double the sites to deal with the uninsured," Roby said.
"We could say that, without the federal funding, the uninsured would not have been seen," Roby said. "The expansion of this program has allowed more people to access care."
But there are limits to the care a clinic can give, Roby and others say, including access to specialty care.
"If someone has cancer, then you need a specialist, but it's difficult to refer the patient because a lot of providers don't want to see Medicaid patients or the uninsured," McCarthy added.
Clinics also have trouble hiring and retaining workers.
A study released by the Community Wellness Foundation last month found that eight in 10 clinics reported challenges in keeping allied health positions filled with qualified, trained personnel.
"Finding a provider who will come to these communities where there could be a high rate of violence, who a clinic can afford to pay, and who can speak the language and can operate in the culture comfortable to the patients" is a challenge, McCarthy said.
But despite those challenges, clinics will play an important role in health care reform, McCarthy and others say.
Which is why community health care operators hope President Barack Obama will keep some of the momentum of Bush's legacy going.
They point to Obama's appointment of former South Dakota Sen. Tom Daschle to the post of Secretary of Health and Human Services as one clue that he will continue to expand federal funding toward clinics.
Obama's stimulus package also includes $1.5 billion in funding for community health centers, Roby said.
"In years past, before we were federally recognized, we would have to follow the whims of the funding sources," said Valley Community Clinic's Wilson. "I worry about (the continuation of federal grants) because that was a big Bush initiative. I don't know why or how they wouldn't continue it because it's such an effective way to provide services."