Diverse trio offers perspective on organ donations
Dozens of organ and tissue donors will be honored on a float sponsored by Donate Life America in the 2011 Tournament of Roses Parade.
Published on
December 31, 2010
Image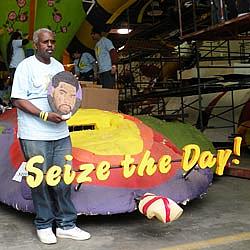 Ann Lopez, Devron Lewis and Mia Adriano come from diverse backgrounds but share a common link that will be on display during the annual Tournament of Roses Parade in Pasadena on Jan. 1: The three were selected to join dozens of other organ and tissue donors on a float sponsored by Donate Life America.
Ann Lopez, 49, donated a kidney to her husband, comedian George Lopez in 2005. She will walk ahead of the float, which is titled "Seize the Day." The aim of the float's design, according to supporters, is to encourage each viewer to enjoy every day on earth and to agree in advance to be an organ and tissue donor at the end of life.
Ann, a producer and actor in her own right, has a particular interest in raising awareness of what is known as "living donation." Her donation to her husband meant that he did not have to go on a hospital waiting list with no guarantee that a compatible kidney would become available.
Ann and George first underwent a series of medical tests to assess the risks and benefits of the procedure. Doctors gave the green light, and one of Ann's kidneys was surgically removed and transplanted into her husband. She said she suffered no ill effects, calling the procedure "easier than having a baby."
George, she said, "was out playing golf in 10 days, feeling better than ever."
The Lopezes, who recently began divorce proceedings, founded the Ann and George Lopez Foundation, which promotes organ donation and provides information about preventing kidney disease.
The Donate Life America float will include a portrait of Devron Lewis among its 60 "floragraphs."
Lewis will be honored posthumously, and his path to organ donation started far from Hollywood. In 2003, the 28-year old bus mechanic for the Metropolitan Transportation Authority (MTA) was shot in Los Angeles while driving to his home in Inglewood. He was declared brain-dead at Cedars-Sinai Medical Center a short while later, and his homicide remains unsolved.
Officials at Cedars-Sinai Medical Center asked Lewis's father, Herbert, about donating his son's organs and got a quick rejection. Herbert said he changed his response after he learned something he hadn't known about his son.
"One month before his death, he made his mother promise that if anything happened to him, she would donate his organs," the father said.
The Lewises consented to the donation and Devron's heart, two kidneys, liver and pancreas helped save the lives of five people.
Herbert Lewis said he takes some consolation in the positive aspect that organ donations brought to his son's death. He now volunteers for OneLegacy, a nonprofit organ donation agency for the Los Angeles area. He works to help members of the African American community learn more about organ donation.
Doctors diagnosed Mia Adriano, part of a Filipino American family from Pasadena, with a blood clot in her brain last January. Adriano, a financial aid counselor at Pasadena City College, underwent several surgeries before her death on Jan. 25 at age 42. Her organs and tissues were recovered for donation. Little did anyone know that her tissues would soon help a member of her family.
Months later, her twin sister, Irene, tore a ligament in her right knee, according Sabrina Ho, a OneLegacy staff member who works with the Asian community. Mia's tissues were still being held for transplant to appropriate recipients. Doctors placed ligaments from Mia into Irene's knee to help repair the injured tissue.
Irene, who will be on the Donate Life float along with her twin's floragraph, said: "I am forever grateful for this wonderful gift."
Click here for information on other donors and organ recipients.