End-of-Life Bill Sparks Anger, Accusations
Political powerhouse Texas Right to Life is working overtime to try to defeat a compromise measure aimed at improving state laws governing "end of life" medical decisions. But with time running out to get Senate Bill 303 passed, the fight over the legislation has shifted from political to personal.
This story is part of an ongoing series that 2013 Dennis A. Hunt Fund for Health Journalism Grantee and National Health Journalism Fellow Becca Aaronson will write for the Texas Tribune on women's health care in the state.  For a complete look at Aaronson's extensive coverage, click here.
Image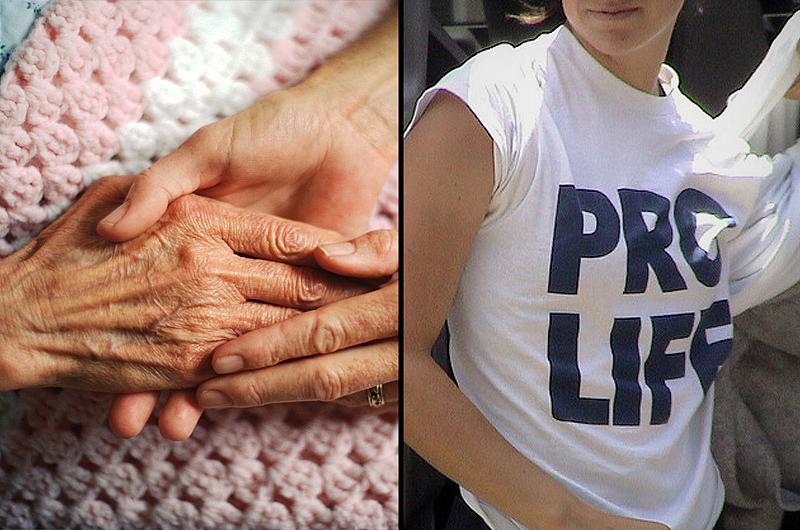 Published on
May 17, 2013
Political powerhouse Texas Right to Life is working overtime to try to defeat a compromise measure aimed at improving state laws governing "end of life" medical decisions. But with time running out to get Senate Bill 303 passed, the fight over the legislation has shifted from political to personal.
Sen. Bob Deuell, R-Greenville, a family physician who has worked for years to craft legislation acceptable to faith-based groups, the disability community and medical professionals, said Texas Right to Life is acting like "the woman that went to Solomon and wanted the baby to be cut in two."
"Rather than have something that's better," he added, "they want nothing at all."
Elizabeth Graham, the group's director, accused supporters of the bill of "engaging in dirty politics to discredit the opposition."
"It's a distraction from whether or not the bill protects the lives of patients," she said, "and our assessment is that the bill doesn't."
The legislation, which the Senate approved in April, was left pending in the House Public Health Committee on Monday after more than six hours of testimony. 
Supporters of SB 303 include 
the state's other leading right-to-life group, the Texas Alliance for Life, as well as 
the Texas Medical Association, the Coalition of Texans with Disabilities, Texas Catholic Conference of Bishops, the Christian Life Commission and the Catholic Health Association of Texas. Among the opponents: th
e conservative Texas Eagle Forum, the American Life League and 
ADAPT of Texas, a grassroots advocacy group for disability rights.
State Rep. Lois Kolkhorst, the Brenham Republican who chairs that committee, said on Thursday that she doesn't expect the bill to make it to the House floor, despite hard-fought efforts by the bill's House sponsor, state Rep. Susan King, R-Abilene, to craft a substitute amenable to the warring factions.
"There are times when a chairman has to make a tough call," Kolkhorst said. "It's a very fragile bill." 
Texas law currently allows physicians to discontinue treatment they deem medically futile. If a physician's decision to end treatment contradicts the patient's advance directive or the judgment of the patient's surrogates, patients or their families have 10 days to find an alternate provider and appeal the physician's decision to a hospital ethics committee. 
SB 303 sets up a longer process — 28 days — during which time the physician would be obligated to continue treatment. The bill would require medical facilities to provide the patient or surrogate with medical records and a liaison to guide them through the review process. It would also allow patients to have up to five representatives at the medical ethics committee hearing. The measure also forces health care professionals to notify patients and their families before putting a "do not attempt resuscitation" order on anyone. 
In emails sent to supporters, Graham has argued that the measure would "strengthen Texas' death panels," "give even more power to hospitals" and allow doctors to issue "do not attempt resuscitation" orders "even against your protest!"
Deuell, who has grown increasingly impatient with this messaging, alleges that Texas Right to Life is spreading misinformation about his bill. He said the opposition from the group — and Graham in particular — is personal; he thinks it's sour grapes because he went to National Right to Life to complain about her. 
"I don't want to turn this into a me vs. her thing, but I think that's part of the opposition," he said. 
Deuell isn't the only one who has raised concerns about the group. When similar end-of-life reform legislation was under discussion during the 2007 session, Texas Right to Life requested public tax information on hospitals that were backing the bill. State Rep. John Zerwas, R-Simonton and an anesthesiologist, says the organization circulated information about his salary at Memorial Hermann Health System to some House members "as a reason that I would want to see these futile cases terminated, to support the cost savings that we would realize by further facilitating that."
"My relationship with Texas Right to Life has been strained, and it's directly related to Elizabeth Graham and her style of politics," Zerwas said. "She concocts stories out of things that are not real, publishes them and then tries to get people to donate to her cause by creating a false crisis."
Graham said there's absolutely no misinformation on her end: "Big medicine and hospitals victimize patients so frequently that we don't ever need to make stories up," she said.  
She said Deuell attempted to have her thrown out of Texas Right to Life, calling it "laughable." And she said there was no personal information about Zerwas distributed by Texas Right to Life. "Any information that was circulated was about facilities," she said, adding that she believes there may be "conflicts of interest" if hospital executives and administrators advocate for cost-cutting policies that curb patient care.
Texas Right to Life's work against SB 303 has been dogged; the group sent a letter to state legislators in April signed by 17 people opposed to the bill, most of whom represented organizations that identify as "pro life." Among them: Dr. Steve Hotze, a major Republican campaign donor, radio host and alternative medicine physician, and Bobby Schindler, executive director of the Terri Schiavo Life and Hope Network.
What Texas Right to Life wants is "transfer to treatment" legislation to require physicians and hospitals to continue treatment until they can find another willing provider. Bills to do just that never moved out of committee. 
Deuell says that if Kolkhorst lets his bill out of committee, he believes it has the votes to pass the House, though he worries that "there are still people that find it difficult to get that bad mark from Texas Right to Life." Zerwas said he supports the bill because sometimes it is in the best interest of the patient to discontinue medically futile care that prolongs pain or suffering.
"There is only so much that we can do with the technology and the advancements in pharmaceuticals," he said.
But John Seago, the legislative director for Texas Right to Life, said that if SB 303 became law, it would solidify a process that would put "the family at a disadvantage — even more than the current law."