Every Year 0.4 million children die in Pakistan due to diseases
HYDERABAD SINDH: Every year 0.4 million children died in Pakistan during or after birth. Most of them can't celebrate their 1st birth day, among them 80,000 thousand died due to Pneumonia, which is the leading cause death. Dr. Salma sheikh, Director Mother & Child Division Liaquat University of Medical and Health science in Press conference at Hyderabad press club.
Published on
November 4, 2009
Image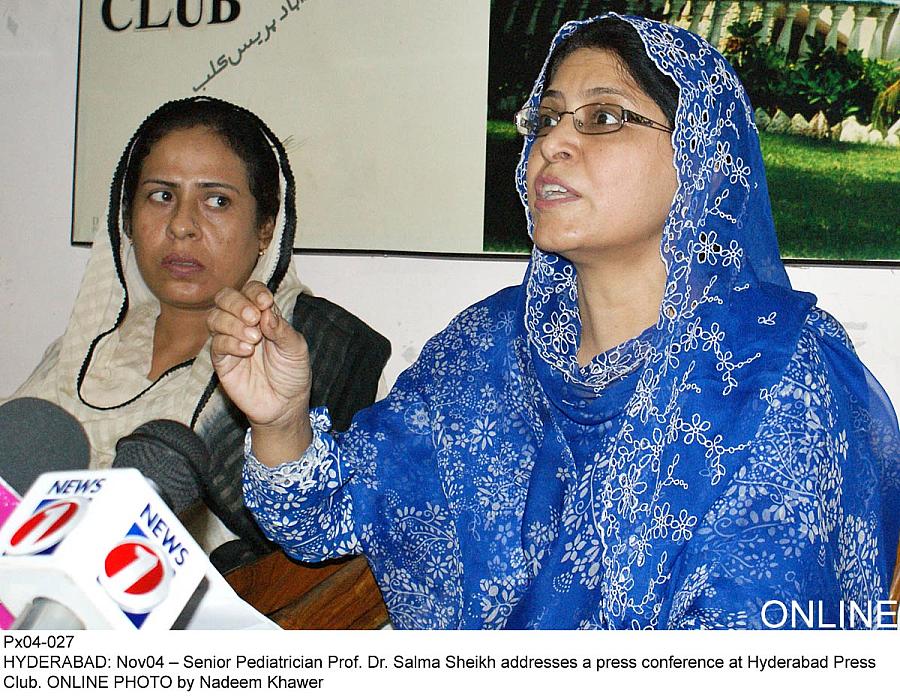 Dr Salma sheikh is a child specialist and also professor at LUMHS Jamshoro sindh, one of the biggest research based institute in Pakistan .She is working on child health since last 30 years, she observed that 7 million children became sick every year due to Pneumonia in Pakistan and making it immense burden on economy.
Pneumonia is preventable and treatment is not expensive, but unfortunely due to unawareness every year thousands children lose battle of their life's. Children be protected from Pneumonia by maintaining good health, good immunity and clean environment. All of these can be achieved by breast feeding, proper nutrition and promoting hand washing and controlling indoor pollution. Dr. Salma said.
According to UNICEF, Pneumonia is the one leading cause of vaccine preventable disease and deaths in the World .Almost 1 Million children under age of 5 die of Pneumonia every year. 75% cases occur in the 15 countries and Pakistan is 3rd biggest among them.
Pneumonia can be prevented by available vaccines, like Hib, Measles and Pertusis, but unfortunately these four vaccines only reach about 50% of population. Vaccine for pneumococcal Pneumonia which is commonest cause of death world wide can be prevented by pneumococcal vaccines, which is proven to be safe and effective in developed countries, but unfortunately it is very expensive and not available in Government hospitals, it is about 150 dollars. We are searching donors, who support us to save thousands of children life and hope we will be get it till 2011. Dr. Salma said.
Pakistan government trained more then half million Lady Heath Workers (LHW) to provide door to door basic health knowledge and awareness in society. And also started Pneumonia campaign from 2 to 9 November 2009, every year this week have been celebrated.
More ever. Dr. Salma said Pneumonia, Malaria, Dharia Measles and weakness is common 5 diseases in children and 50% Pneumonia occur in rural areas, where mostly people cook food through woods and its smoke is very dangerous for children. To prevent Pneumonia deaths, proper and timely recognition of symptoms and treatment is important. LHW trained to recognize symptoms like fast breathing, difficult breathing, poor feeding and other s, so that children can be given appropriate antibiotics and refer children with severe pneumonia to hospitals.
Director General Health Sindh Dr.Korai has said we are providing education about Pneumonia to all Schools Teachers, and also going to start vaccine in all children's at schools. We all want to focus prevention and treatment of Pneumonia; it should not be a one killer in our children.
MOTHER HEALTH.
In Pakistan 30,000 women die every year during or after pregnancy - one every 17 minutes. The mortality ratio in rural areas is very high, where health facility is very poor, mostly no lady DR. and Maternity Homes. Dr. Ghaffar Billo , Professor and child specialist at Agha khan University and Hospital Karachi , one of the biggest research based institute in Pakistan .He is working on child health since last 40 years, he observed that 80% pregnant women give birth at home, where un traditional " Daies''(local elder women, who usually perform the duty of delivering Childs) do deliveries. So for that mortality ratio is high among women and children. Mostly these "Daies" are uneducated, unskilled, they don't use globe, even the can't use new blade due to this dangerous virus inter in body of babies and mothers and mostly they die during first week of deliveries .second thing anemia is common disease in pregnant women, 25% new born babies weight reported less then 2 and half Kilo gram, but it should 3 kg. He said.
More ever, Dr Ghaffar said that in Pakistan 30 millions women have age is 15 to 49 years and they are able to be a mother. While even every mother be pregnant five times in life .Every year 30 thousands women died after or during deliveries. One every 17 minutes. He accepted that situation in rural areas is very dangerous, where mostly no facility of lady doctors and Maternity Homes, only unskilled "dies" do deliveries.
The population of Pakistan is almost 16 millions, the male female ratio is 108:100 .Women constitutes 48 percent of Pakistan's population; their health and social development indicators are poor as compared to males, both urban as well as in rural areas of the provinces. The average age at marriage is 22 years for women. The overall literacy ratio in Pakistan is 49.9 percent, at the same time female literacy ratio is only 36 percent. Urban areas have a higher literacy ratio both for males and females, Literacy levels for rural women is only 20 percent