Family, friends mourn tragic death of Castlemont student
A high school senior's future was cut short falling victim to gunshots fired near his Oakland home. His fellow students and teachers reflect on his life and share how they are coping with their loss.
Image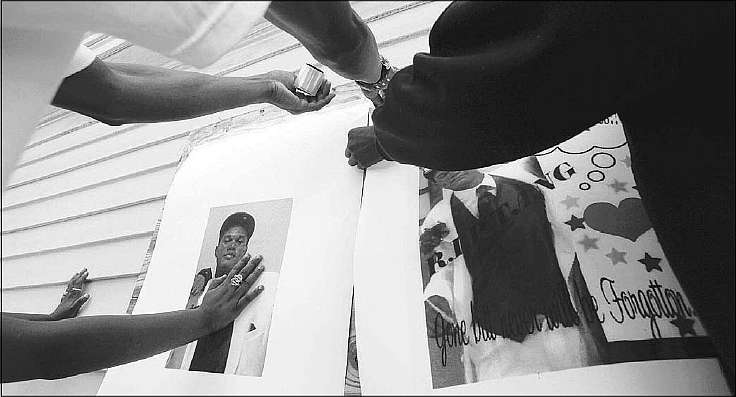 Published on
May 26, 2011
OAKLAND -- Ditiyan Franklin was a B student with college aspirations and a big, dimpled smile. Just last week he went to his senior prom, dressed in an impeccable white suit -- a memory stored in a key chain photo his father now carries in his pocket.
Had he lived another month, Franklin would have experienced another rite of passage: high school graduation. But on Wednesday, gunfire cut his future short.
"He was on his way out there to pave his life," said his father, Twon Robinson, who said he sprinted to the scene as soon as he heard about the shooting. "He had two weeks to go. I wish he could have made it."
Franklin, 17, was killed in broad daylight Wednesday by Arroyo Viejo Park, just blocks from his house. Robinson said his son had been riding a bike when the shooting started, and that he was hit in the back as he tried to run away.
Oakland Police Department spokeswoman Holly Joshi said investigators believe the teen was the intended target, but that they haven't determined a motive for the shooting or identified a suspect. The teen was not armed, and no shootout occurred, Joshi said.
Students at Castlemont's Leadership Preparatory High School sobbed openly Thursday morning after learning of the tragedy.
Dion Ingram, 18, leaned against the wall outside his English class, his black baseball cap pulled low over his eyes and tears running down his cheeks.
Ingram and Franklin had worked for weeks to produce their senior projects, both about gang violence.
"He was just a cool person," Ingram said. "He was supposed to present (his) project today. Just the other day he watched mine. And now he's gone. It's crazy."
Betsye Steele, the school principal, said Franklin was one of the least likely students to be involved in gangs or any other kind of trouble.
"This was one of the most precious students you would ever want to meet -- very quiet, respectful, focused," Steele said. The teen worked as an aide in the front office, filing papers and running errands.
Franklin was not at school on the day he was killed, students and school officials confirmed. Students said a field trip for younger students prompted many seniors to stay home and put final touches on their senior projects.
News of Franklin's death brought grief counselors and school psychologists from the Castlemont Health Clinic, Restorative Justice for Oakland Youth and the Oakland school district's crisis response team to school well before the 8 a.m. bell rang.
Counselors organized a grief circle in English teacher Marsha Rhynes' room, with a white orchid, four small votive candles and a giant purple sheet of paper for students to write down their feelings.
But the students gathered there remained silent. One girl cried quietly, head in her hands. Counselors moved the meeting to another room after they learned students were avoiding it.
It was where Franklin had his first-period class.
"They're saying that this room is really impossible for them to come in because he would always be here in the morning, smiling," said Kimblyn Bryant, family and community coordinator for Restorative Justice for Oakland Youth, a nonprofit group that serves Castlemont.
Transcripts provided to the Oakland Tribune show that Franklin had a B-minus average and had passed the high school exit exam. He had just earned an A in his digital video class, where he was working on his senior project.
Franklin's father and grandparents said he wanted to attend a historically black college. His classmates graduate June 17.
Amado Soriano, Franklin's grandfather, had been planning to celebrate the milestone with the family at his Stockton home. Now, instead of toasting to his grandson's future, he is preparing to deliver his eulogy.
"He was just an average kid, but he was a good kid," Soriano said. "Every time you'd see him, he had a smile. You'd think he was in a perfect world, every time you saw him."
Police Chief Anthony Batts appeared with Mayor Jean Quan at her weekly press briefing Thursday to address the killing. He said police believe there were dozens of people around the area at the time of the shooting, and he urged them to come forward.
"Mr. Franklin was, by all accounts, a fine young man," Batts said. "I'm putting out the cry for people to have courage to stand up and come in and tell us who did this. We need the community's help to solve these things."