Finding Future Parkland Where There Isn't Any Now
Image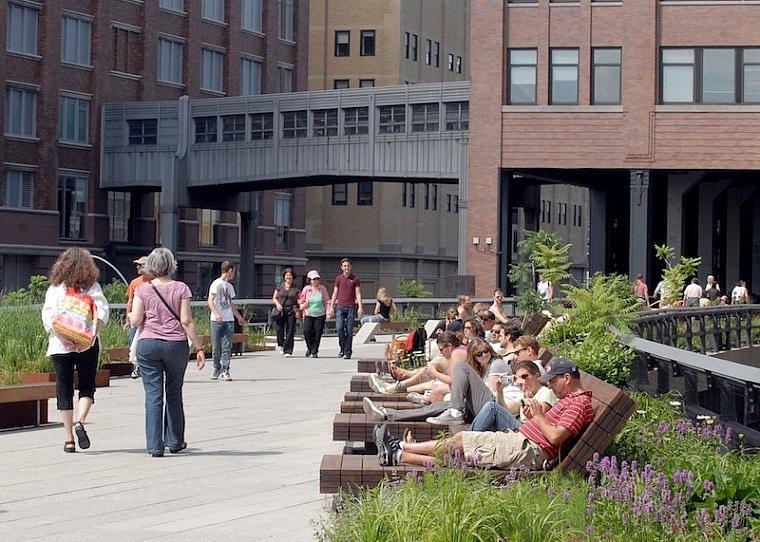 Published on
June 15, 2011
It might be roof-top green space. Perhaps a reconfiguration of streets that permits walkable medians and wide bike lanes. Or it could be a supercharging of current joint-use plans between cities and school districts.
The most likely scenario would be a combination of these solutions and many more as community leaders in North Orange County try to overcome a dearth of city parkland.
One thing is clear: These planners and policymakers will not solve their future green space problems by looking to the past.
It is easy to imagine that a generation from now the South County cities of Laguna Niguel, Lake Forest and Newport Beach — all with at least 10 acres of city parkland per thousand residents — will succeed by staying the course in their park planning.
The 60,000 acres of regional and historic parks in Orange County are also a strong asset for the future. And if officials in Irvine realize even part of their grand plans for the 1,347-acre Great Park, it will stand as a national example of 21st century open space planning.
But then there are the cities of Santa Ana, Garden Grove, Westminster, Stanton and La Palma, where less than one acre of open space per thousand residents is the norm. Creating more parkland in these places will take energy and innovation, say urban planning experts.
A lot is at stake. Health statistics show obesity rates rising in children and adults, leading to more cases of diabetes, heart disease and other illnesses. Exercise and healthful, open-air activities are a fundamental part of the modern medical prescription.
Gyms and community centers are useful, according to those who study community health issues, but playing and exercising outdoors has specific health benefits, including improved concentration among school children as well as improved eyesight.
According to Dr. J. Aaron Hipp, assistant professor of social work at Washington University in St. Louis, "Nature has been shown, whether it's grass or trees. … to offer kids more places to explore, a place to escape, be away [to] physically and psychologically explore."
Dr. James Sallis, physical fitness expert and psychology professor at San Diego State University, has a vision of a forest, but it's not the traditional, remote, open, wild land.
"My own high priority would be to create more trails," he said. Sallis' forest trails could be along alleys allowed to blossom with native trees and grasses, or through a stretch of connected backyards or along abandoned rail lines.
Sallis' vision is unconventional, but other unorthodox ideas have succeeded. New York City has a park that stretches above street level for 19 blocks. On city streets in Bogota, Colombia, bikes have as much right as cars and trucks.
Planners also say that less sexy ideas, like joint use and smarter redevelopment, can make a big difference in the future of city parks in North Orange County.
The Joint-Use Strategy
One partial solution already adopted by several cities, including Santa Ana and Fullerton, are agreements with school districts in which the cities pay to keep school grounds open for public use after school and on weekends. Sports leagues pay to use the fields, and the money helps maintain the fields and pay for security.
Some school districts are reluctant to open playgrounds and ball fields to outside use, fearing expensive damage from overuse or vandalism. But Deputy Superintendent Cathie Olsky said the Santa Ana Unified School District has had success with both physical activity and finances in its joint-use programs.
The district, she said, took in more than $700,000 last year from fees charged for using its facilities, enough to cover maintenance and a full-time school district police force.
If it's done right, she said, a city-school district agreement "really becomes a very mutually beneficial way of using a resource."
And she offered city planners and others at a county obesity conference last month an important tip: "Get the fee first, and then they get to use the field."
The Next Level of Innovation
Los Angeles closed off 7.5 miles of city streets one Sunday last fall for its first CicLAvia, and a crowd estimated at 100,000 rode bicycles, ran, walked, skateboarded and skated between East Hollywood and Boyle Heights, right through downtown. Not only did they not have to contend with cars and trucks, there were no honking horns or exhaust to inhale.
This year the Los Angeles City Council adopted a bicycle master plan that eventually will create 1,680 miles of interconnected bikeways. The city's plan also established a driver education campaign to teach street-sharing safety to motorists.
When it comes to bicycle lane innovation, however, one of the world leaders is Bogota, which has created a network of streets specifically designed to accommodate pedestrians and cyclists as well as cars and trucks.
Sallis said although only about 20 percent of Bogota's population could afford a car, the streets were congested. The solution was intended to benefit those too poor to buy their own vehicles.
Wide bike paths and adjacent sidewalks for pedestrians were built down the middle of busy thoroughfares. The median trails are lined with grass and trees. Cars and trucks drive on either side of the center path.
Parks and Profits
One of the more unusual ideas now being suggested for Atlanta, among other places, takes advantage of the current poor economy.
As businesses go under and some neighborhoods or commercial or industrial areas become isolated zones of boarded-up or vandalized buildings, a nonprofit founded by Wall Street philanthropist Michael Messner is promoting "Redfields to Greenfields."
His idea? Use public-private partnerships to buy large swaths of rundown or derelict property. Then tear down the old buildings, and using borrowed money, turn part of the property into a genuine park. The rest can be developed into space for profit-making ventures to pay off the loans.
These "Redfields to Greenfields" projects could cost billions of dollars. The intent, according to those familiar with the plans, is to revitalize huge sections of rundown urban areas in places like Atlanta, Baltimore, and Cleveland.
Eleven cities will make presentations tomorrow in Washington, D.C., to qualify for loans that would enable such projects. Communities seeking such loans are encouraged to think big, to seek huge grants and loans from lenders used to dealing with mega projects.
On a smaller scale, distressed minimalls and other small spaces of vacant shops or offices could be purchased at decades-low prices during the current depressed economy.
Cities could clear the mall land and convert it to small neighborhood parks, improving the appearance of communities and providing badly needed places for children to play.
In both cases, adding safe, clean park space to rundown neighborhoods can add to the value of surrounding property and ultimately the entire city.
Professor John Crompton at Texas A&M's Department of Recreation, Park and Tourism Sciences says research shows parks and other open space have a direct financial benefit to communities.
Among other things, his findings indicate communities that preserve open space avoid the higher costs that come later when they must fix the mistakes of unplanned development.
In addition, he said, research shows homes that face parks generally sold for seven-to-23 percent more than those a block away. An attractive, "passive" park will increase overall prices as far as three blocks away.
Parks that are primarily ball fields, he said, generally don't increase the values of adjacent property, but values do rise about three blocks from such parks.
Parks and open space create a high quality of life that attracts businesses and residents to communities, benefiting the local economy.
"Parks are good for the bottom line," said Crompton. "The marketplace demonstrates it over and over again."
He and others emphasized, however, that for parks and other open space to benefit a community, they must be safe. That includes the surrounding neighborhoods where children and families walk to reach play and recreation areas. In many communities with gang problems, like Santa Ana, local leaders must establish a safety plan.
Gangs for decades have used parks as meeting places and headquarters. Earlier this month, federal officials arrested 51 gang members in Azusa, according to the Los Angeles Times.
The gang members allegedly had organized a campaign to drive blacks out of town. And the 1992 meeting that allegedly set up the plan was held at Pioneer Park.
A New York State of Mind
New York's Central Park has been setting an example for the rest of the nation since the 843-acre green space was proposed in 1856.
Among the park's innovations are "quiet zones," where shouts and music and the general cacophony of humanity are prohibited. One of the quiet zones became an issue recently when musicians, including a harpist, were asked to move to a different area.
"It's all about balancing the park," said Vickie Karp, a spokeswoman for New York's parks department. "The sound traveled over water to the wildlife zone and made the birders unhappy."
"We have an obligation," she added, "a responsibility to make sure everybody has a chance to enjoy the park."
Another New York innovation that may be adapted to Orange County urban areas is a park that stretches for 19 blocks and is 30 feet above the streets.
High Line Park opened two years ago and is built along Manhattan's West Side on the bed of a 1930s elevated railroad freight line. The park is so popular that its original half-mile length was doubled.
In the same vein, rooftop gardens and play areas are becoming popular in other parts of the country.
And Sallis has more ideas for his forest. What if, he reflects, communities decided to prohibit parking on certain streets? "You could reforest a street" with grass and trees and a pedestrian path, he said.
If not a section of street, what about just an acre of land in a place that needed green space?
"You couldn't do it everywhere," he said, "but I bet if you did that acre, people would love it."
Please contact Tracy Wood directly at twood@voiceofoc.org and follow her on Twitter: twitter.com/tracyVOC. And add your voice with a letter to the editor.