Florida's controversial Medicaid privatization program has made the system more difficult to navigate over the past decade, according to some patients and health advocates. Has the U.S. Supreme Court's ACA ruling given the state an opening to expand privatization further?
Image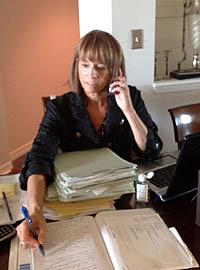 Published on
September 6, 2012
He was a "frequent flyer" -- a patient with multiple health problems who gets admitted to the hospital repeatedly. It was usually because he hadn't taken his medicine correctly, if at all. When he left the hospital 10 days earlier, he told his physician that he wouldn't have problems filling his prescriptions, because he had Medicaid. But when he arrived at his local drug store, it wasn't so easy.
"I was really trying to take my medication, Doc," he told me, his voice distorted by a stroke he had suffered two years earlier. But the pharmacist had told him that he first had to call his managed care plan -- and despite multiple phone calls and episodes of being placed on interminable hold, he never had been able to straighten things out. He hadn't been able to get to his follow up doctor's visit, either, because he had lost his apartment and was living with a relative in a distant neighborhood.
Predictably, his lungs filled up again with fluid, and now he was back, hospitalized for reasons that could have easily been avoided.
Preventable hospitalizations, such as those of my patient, are routine here in South Florida, which has both an abundance of low-income, disabled residents and a barebones safety-net health system that has grown increasingly byzantine over the years. In the wake of the U.S. Supreme Court's ruling on the Affordable Care Act (ACA), Florida's governor, Rick Scott, declared that the state won't expand Medicaid eligibility, a move that will leave 1.8 million low-income Floridians uninsured. Compared to these folks, the low-income women, children, and disabled Floridians who do qualify for Medicaid are relatively lucky -- at least they have some insurance. But they live in a state with a Medicaid program that is far from user-friendly, and doesn't guarantee consistent care.
"It's a very unstable system," said Leslie Rosenstock, a former social worker who moved to South Florida from Virginia five years ago with her disabled, visually impaired adult son to be near family. "We never would have moved here if we had known how hard it would be."
Consumer health advocates now worry that the Supreme Court's decision may have created an opportunity for Florida to negotiate with the federal government in a way that would make the system even more complicated for many patients. They describe a scenario in which the federal Centers for Medicare and Medicaid Services grants Florida permission to further privatize Medicaid in exchange for the state's allowing more low-income people to enroll in the program, as outlined by the ACA. Florida's Republican legislators and governor have long endorsed expanding an unconventional pilot program that gives HMOs and other private insurers unprecedented power to decide the amount, duration, and scope of medical services Medicaid patients can receive. The federal Department of Health and Human Services, which pays more than half of Florida's Medicaid tab, hasn't yet approved the expansion proposal, which advocates fear the state may use as a bargaining chip.
"There's been speculation that there may be attempts to set up some sort of tradeoff," said Greg Mellowe, policy director for the Florida Community Health Action Information Network.* "Florida is asking for permission to do things that Medicaid doesn't normally do."
As a low-tax state, Florida has long tried to run Medicaid on the cheap. It now ranks fourth from the bottom (ahead of California, Georgia, and Alabama) among states in the amount spent annually per enrollee, a number that has declined steadily over the years. (In absolute terms, though, due to Florida's weak economy, overall state spending on Medicaid has increased as more residents become eligible due to poverty).
Efforts to "reform" and "modernize" the system by capping payments to private groups -- and granting those groups leeway in determining the extent of a beneficiary's services -- took off under former governor Jeb Bush, whose administration gained approval from the federal government to launch a pilot program in five counties. The program began in 2006, and at the time , the state boasted that competition between private organizations would "inspire innovation and efficiency." The program also mandated that the groups would provide the state with a detailed explanation of how they spend their payments. "The whole premise was that this was going to be an opportunity for the HMOs to give us an accounting of what's happening with this capitated payment," said Karen Woodall, executive director of the Florida Center for Fiscal and Economic Policy, a Tallahassee-based research group. "But we've yet to see any of this required data."
While outcomes data have been sparse, stories abound of how the pilot HMOs have made it more difficult for patients to get care. A Georgetown University Health Policy Institute analysis of Medicaid patients and health providers in pilot counties found that a majority thought the changes made the program more complicated, with significantly more paperwork. The Georgetown researchers also described numerous cases of patients being shifted between various HMO plans, each with different rules, and having more problems getting needed health care. They also found that there was no evidence to date that the programs were more cost-efficient.
Additionally, many of the HMOs in the original pilot project dropped out, forcing patients to switch to other health plans. Leslie Rosenstock, who lives in Broward, a pilot county, said her son had been in three different insurance plans over the past 4 years, each with different rules and physicians and each requiring different paperwork, referrals and authorizations. "I would drive around town dropping off and picking up forms, we'd fax them off and it still wouldn't work, we still wouldn't be approved" for different services, she said. "For one simple thing, there would be 10 different agencies involved. How do you expect a vulnerable person who is struggling to stay healthy to manage this?"
Rosenstock said her son's situation is now relatively stable, which she speculated may be due to her own willingness to contact legislators and Medicaid administrators and "be the squeaky wheel." The vast majority of Medicaid enrollees, though, don't have a mom with social work experience who can help them out. Indeed, social workers in the state's financially shaky safety-net hospitals and clinics have often been among the first to be laid off when budgets are cut; according to the National Bureau of Labor Statistics, more than 3,000 "social assistance" employees filed initial unemployment claims in Florida between 2008 and 2011. And many, if not most, of the state's residents poor enough to qualify for Medicaid would have problems navigating any sort of health system, due to challenges such as unstable housing and phone service, reading problems, a lack of easy access to the Internet and, in some cases, a disabling mental illness. Florida in particular ranks near the bottom of the nation in high school graduation rates, income disparity, and adult literacy, with 52 percent of adults in Miami-Dade County having "below basic" reading skills, according to the National Center for Education Statistics.
Outside the pilot counties, social workers and others report that privatization has made Florida's Medicaid system increasingly difficult to navigate, too. Many of the program's administrative tasks, such as prior authorization for psychiatric services and home health services for disabled kids, have been farmed out to private groups, which have been more likely to initially reject services that previously were approved, according to Monica Vigues-Pitan, health advocacy director of Legal Services of Greater Miami, which has successfully appealed numerous denials of care. "In the home health area, we've noted a significant increase in the number of Medicaid recipients coming to us for help because their request for services has been denied," she said. "In many of these cases, individuals were receiving the services for years but have had their services reduced even though their medical condition hasn't changed."
Leslie Rosenstock's background as a social worker helped her navigate Florida's Medicaid waters. Others haven't been so lucky. (Leslie Rosenstock)
Beyond expanding Medicaid eligibility, the ACA calls for program revisions that make it easier for enrollees to get care. It also promises to help them with certain non-medical issues affecting their health. The new changes allow chronically ill Medicaid enrollees to choose a "health home," a team-based, coordinated approach to care that would emphasize prevention and would connect enrollees with community and social support services. ACA also aims to make it easier for people to enroll in Medicaid through websites and outreach programs, and it calls for the establishment of community health teams staffed by social workers, pharmacists, and other health workers. While the Supreme Court didn't strike down these provisions, it's unclear exactly how they will be implemented in states whose political leaders are overtly opposed to the law. (Indeed, Governor Scott and the Florida legislature have prevented state agencies from doing anything to prepare for ACA, returned a $1 million federal exchange planning grant, and rejected millions in other ACA-related federal health funds). A spokesman for the Centers for Medicare and Medicaid Services said its staff is reviewing the court's ruling and will "provide guidance" to states soon.
Politicians who oppose Medicaid's expansion often repeat the mantra that they don't want to put more people into a "broken system." Yet in Florida at least, many of the state's own policies have made the system increasingly rickety over time. If they don't reject the Medicaid expansion outright, many of Florida's leaders will likely try to bargain with Washington over the terms of the new policy. The federal government needs to tread carefully, lest negotiations wind up undermining the spirit of the ACA. Either way, it's unlikely Floridians like my patient will stop accumulating their hospital miles any time soon.
This article originally appeared on The Atlantic Monthly's health web page. Link:
http://www.theatlantic.com/health/archive/2012/08/florida-a-bellwether-…
---