Healthy Hillsborough: Making healthy choices
Image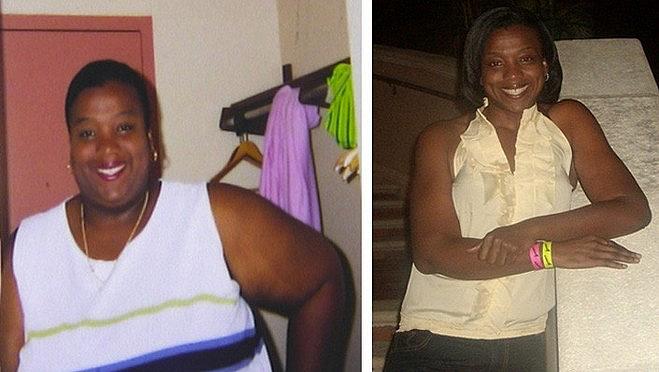 Published on
April 6, 2011
At 364 pounds, Dawn Walton found her breaking point, literally, when she sat down for a meet and greet at her son's kindergarten class.
"I felt the chair start to break beneath me," Walton, 35, said. "I knew it would kill him if I broke that chair."
She made a bargain with God that day: If the seat didn't break, she'd change her lifestyle for good.
"I knew I couldn't continue that way," Walton said, "Being in that classroom gave me the drive, because I knew there was the potential of my son being embarrassed by my weight."
After a lifetime of morbid obesity and countless diets, this time was different, she said. This time she was ready to fight for her life.
When Walton reached that critical moment at her son's school in 2003, she'd already had a lifetime's worth of struggles.
Raised by her grandparents in Seminole because both of her parents were addicted to drugs, Walton turned to food for comfort at an early age.
By 12, she was 200 pounds. As an adult, she was wearing size 60 jeans.
Misery loves company, and Walton shared her love of food with her husband, Tyrone Walton. He struggled to get his blood pressure under control, but at 380 pounds, died of a brain aneurysm in 1999. Their son was only 17 months old.
"When he died, we were having turmoil, and I took the blame myself. Everything was a reason to eat," Walton said. "I was scared because I had a child to a raise by myself. It wasn't an easy time."
Years later, she felt a completely different emotion when she stepped back into the dating world: anger.
"I got mad at the way people treated me," Walton said. "I'm pretty enough to buy them gifts or cook them dinner, but not pretty enough to be seen with me riding around with them."
That day in her son's classroom, though, she realized it wasn't just about her. Her son was the one who would suffer most if she didn't get the weight off.
"I couldn't let food take both of his parents away from him," Walton said.
At that point – in her mind – she finally felt ready to change. But as we all know, it's not a quick swipe of the magic wand kind of process.
There are mental obstacles people have to overcome before they can move forward, psychologists say.
"We all have habits in our thinking that are related to core beliefs, and some of those are rational and realistic, and some of those are more distorted and irrational and lead to destructive choices," said Tampa behavioral psychologist Perry Kaly.
Some common distorted patterns of thinking include always expecting a disaster, assuming you know what other people are thinking, unrealistic expectations, all-or-nothing thinking, and a fallacy of control where you always see yourself as the victim.
For years, Walton had felt hopeless about her weight. "I felt that this is who I was supposed to be -- I felt like my world revolved around food."
Kaly says these are common feelings for people trying to lose weight – and a key indicator of their future success.
"Whether they identify the behavior as important enough and whether or not they're confident they can make that change have a huge impact on the choices people make," he said.
Walton's fight would become a long battle, starting with gastric bypass surgery in 2004.
She lost 80 pounds, but it wasn't the easy solution she sought. She soon packed the weight back on – plus 40 pounds – with an elaborate routine of combining fast-food favorites.
She'd stop at McDonald's for fries, then hit Burger King for a Double Whopper, on to Wendy's for a Frosty, over to Cheesecake Factory for dessert (two slices – one now, one later), then a final stop at Krispy Kreme for a snack.
"(Surgery) temporarily fixes your stomach, but it doesn't fix your head," Walton, of Largo, said.
And that was what most needed to change.
"Habits don't die easy," Kaly said. "Once people are stuck in a rut they're incredibly resistant to change -- even with a major surgery.
"It's a significant problem, because if people have had so many perceived failures of weight loss, they often don't have the confidence to feel they can keep the weight off."
After hitting rock bottom and reaching an all-time high of 404 pounds, everything finally clicked.
"It couldn't happen overnight -- every time I lost it quick, I gained it back quicker," Walton said.
Confidence in your abilities and feeling like your effort will actually make a difference play a huge part in long-term weight loss, experts say.
Walton found weight loss had little to do with her belly and a lot to do with her brain – especially once she found someone who made her feel accountable, when others made her feel judged.
She met Donna Richardson Joyner, the Dallas-based fitness guru known for her "Buns of Steel" videos and her "Sweating in the Spirit" TV show, in 2007 at a gospel concert at the Orlando Gaylord Palms hotel. Richardson Joyner took a personal interest in Walton and checked in with her to keep her motivated.
Walton's initial goal was to get to 300 pounds, and she did it by cutting back on the amount of food she ate. Instead of the two-for-$2 Big Mac special at McDonald's, she'd eat one. She started taking water aerobics classes and joined a gym.
"Every time I made the choice to not overindulge, I felt a bit stronger, and then it started to snowball, just like it snowballed the other way," Walton said.
Kaly says building confidence and showing a person that it's possible to lose weight can increase success.
At USF's Healthy Weight Clinic, he shows clients the Brown University-based National Weight Control Registry, which tracks thousands of people who've successfully maintained their weight loss. According to the website (http://www.nwcr.ws), 98 percent modified their food intake, 90 percent exercise an average of an hour a day and 75 percent weigh themselves at least once a week. The study shows the variety of ways people can lose weight – with some contributors taking as long as 14 years to shed the extra pounds.
So far, the 5-foot-7 Walton has maintained her weight at around 170 pounds for about a year and half.
She's kept her end of the deal she made with God. And she's focused her energy on helping little girls with weight and self-esteem issues at Starkey Elementary in Seminole, where she's a third-grade teacher.
At the "Girlfriends Club," she takes the students on a mile-long walk, during which they talk about everything from goal-setting to how to be more confident.
Walton boosted her own confidence by completing the ING Miami Half-Marathon in January with Richardson Joyner and a team of 12 other walkers. She found herself sobbing at the finish line, trying to understand what she'd just accomplished.
"I used to be equally as tired walking from one end of the mall to the other … that's stopping by every Auntie Annie's along the way, and I was still exhausted," Walton said.
There have been a lot of adjustments. New clothes. New routine. New friends. But there's one thing Walton said she doesn't mind keeping as a reminder of who she was and how far she's come.
The stretched-out skin still dangles from her upper arms, a souvenir from when they were thicker than her thighs are now.
"When I look down, they keep me going," Walton said. "I look at that skin, think about how it used to be full. Honey, these are my war wounds — my angel wings."