Healthy Homework: Convenience often trumps nutrition
Published on
February 2, 2011
Image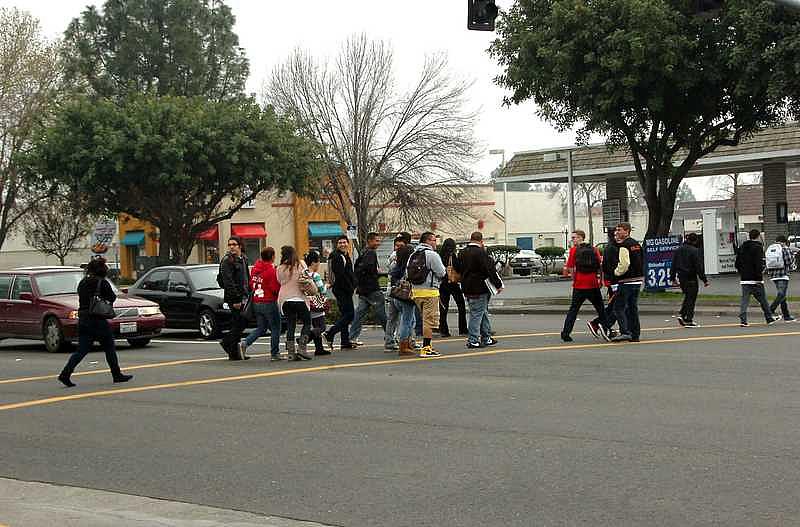 Merced High School junior Vivianna Enriquez walks across Olive Avenue almost every day during her lunch break to chow down on french fries.
What makes fries so tasty that Enriquez wants to eat them every day? "All the grease," she said.
You may have seen billboards promoting healthier eating habits. Or you may have heard radio commercials about increasing the consumption of fruits and vegetables. Or you may have seen changes in your child's school menus.
The goal: to improve nutrition and try to get people like Enriquez to change their eating habits.
The Network for a Healthy California is allocating $985,000 for the 2011 fiscal year for the placement of outdoor advertising to promote healthy eating and physical activity in several cities throughout the state.
However, despite efforts to help promote nutrition and good dietary habits among youngsters, many of them aren't getting the message, experts say.
While there's no simple answer, the problem stems from a combination of aggressive fast-food marketing, affordability and accessibility, habits that youngsters pick up at home, money and behavior and a lack of nutritional education.
Fast-food marketing
Children and teenagers are exposed to more fast-food ads than ever before, according to a 2010 study by the Rudd Center for Food Policy and Obesity at Yale University. In 2009, the fast-food industry spent more than $4.2 billion on TV commercials and other media ads.
More than $300 million is spent each year to market fast food to youngsters, the study found.
From 2003 to 2009, the number of ads seen by children aged 2 to 5 increased by 21 percent, while among children aged 6 to 11 it rose by 34 percent, according to the study. But the most dramatic increase in ad exposure was found among teenagers -- the number soared by 39 percent.
Peter Sanchez, a senior at Merced High School, said he believes TV fast-food ads are effective. Last week, he decided to go to Carl's Jr. and try a Big Carl during his school lunch break. "That's where I got the idea for the Big Carl," he said of a TV commercial he saw. "It looks good."
But that wasn't his first time at Carl's Jr. by any means. In fact, he said he eats fast food at least once a day, every day.
Affordability and accessibility
Aside from aggressive marketing strategies, fast-food restaurants are available and cheap.
Claudia Corchado, program manager for the Central California Regional Obesity Prevention Program in Merced, said the consumption of fast food by youngsters is a convenience issue. "It's just plain cheap," she said. "It's very inexpensive to eat fast food. You can feed a family of four with $5."
It's more expensive to eat healthy food than it is to eat processed food, Corchado added.
However, Rudy M. Ortiz, associate professor of physiology and nutrition at UC Merced, argued that fast food isn't cheap. He believes the major issue is convenience.
Fast-food restaurants also are easy to find in most areas. For example, Merced High -- the only Merced County school that allows juniors and seniors with good behavior out for lunch -- is across the street from several fast food places.
Carl's Jr., Long John Silver's, KFC, Jack in the Box, Burger King, Pizza Hut, El Pollo Loco, McDonald's and Subway are all within walking distance of the high school. Long lines of students crowd the venues every day.
Merced High School is at a disadvantage because of the convenient location, Ortiz said.
Eating habits start at home
But often those poor eating habits start at home.
Parents teach their children to say no to drugs, gangs and tobacco. But are they teaching their children to say no to junk food and fast food?
A large percentage of parents are not. In fact, in many cases they're the ones taking their children and teenagers for a fast-food meal.
Eighty-four percent of parents reported taking their children to a fast-food restaurant at least once a week, according to the Rudd study. Sixty-six percent of them reported going to McDonald's in one week.
Eileen Vidales, a local health advocate, said parents need to be more responsible and to take the lead to enforce healthier eating habits. "We are our children's teachers. We brought them into this universe, and we need to take care of them," she said. "We teach them to say no to drugs all the time. Well, how about say no to candy, say no to chips five days a week and say no to fast-food restaurants five days a week?"
Vidales said it's not realistic to tell a youngster to stop eating potato chips or fast food forever, but it is practical to educate them to only eat them every now and then. "But what's really sad here in our community and in our country is that junk food and fast food -- high fat, high sugar, high preservatives -- instead of having those items occasionally, we are having them daily," she said. "That is what's wrong here in our community -- and it starts in the home."
The home food environment plays a crucial role in forming children's food preferences and eating behaviors, according to a study published in a 2008 Journal of Pediatric Psychology. Parents can influence the development of food acceptance patterns in their children, the study found.
Among other findings in the study was that obesity in one or both parents probably influences the risk of obesity in their offspring because of shared genes or environmental factors within the family.
Corchado said there are parents who want to provide healthy food for their children, but often they have to buy their groceries or food based on their budget.
Solenia Magsalay, program specialist with Central California Regional Obesity Prevention Program in Merced, agrees. Parents sometimes think of survival rather than eating healthy. "It's sad that parents have to make that decision," she added.
Money and behavior
Economic disparities also help determine access to healthy foods, according to Children Now, a nonprofit dedicated to helping improve children's well being. Low-income neighborhoods have the lowest number of supermarkets where people can buy fresh and locally grown produce. At the same time, they also harbor a higher number of fast-food restaurants and liquor stores, where unhealthy foods and snacks are available.
That's evident in Merced.
Corchado said that on the south side of the city, residents suffer from limited access to places where they're able to buy fresh fruits and vegetables. Typically, the small stores found on the south side don't have enough space for the refrigeration equipment to keep produce fresh.
Although some stores referred to as "carnicerias" in that part of the city do sell produce, their variety and quality aren't the best, Magsalay said. "It's nothing spectacular," she said.
Corchado said people aren't able to find organic produce in that part of town as someone would on the more affluent north side of Merced. Most of the large grocery stores are north of Bear Creek. "You have two different extremes in the same city," Corchado noted.
In "A Health Snapshot of Our Communities," a study which the Merced County Department of Public Health conducted in 2009-10, researchers looked at the availability of healthy food versus high-fat and high-sugar food sources in neighborhoods throughout the county.
Southeast Merced has eight fast-food venues, nine convenience stores, four small markets and other food stores, the study found. The neighborhood only has one large grocery store, and no farmers' markets.
A similar nutritional landscape was found in southwest Merced, where there are no large supermarkets, but there are five convenience stores and nine small markets. There are eight fast-food outlets in southwest Merced, according to the study.
And it matters where a person lives. "The environment is a huge factor in people's health," Corchado said. "We eat what's in our environment."
Lack of education
There's also a lack of nutritional education among teenagers and in some cases, parents. Ortiz said if young people were properly educated, they would recognize the advantages of making the right diet choices.
Chuck Newcomb, a registered dietitian in the Central Valley, said parents aren't setting good examples themselves. Their children could suffer the consequences. "For a large percentage of the population, what you do as an adult reflects what you always did as a child," he said. "Many teens are going to end up having the same health problems that adults have."
Type II diabetes used to be found only in adults, but that has changed in recent years. Now the illness is being diagnosed in children as well.
To help reverse those trends, children and youngsters must be more aware of what they eat. And they need to stay active.
What you eat now will reflect how your health will be as you grow older.
Reporter Yesenia Amaro can be reached at (209) 388-6507 or yamaro@ mercedsun-star.com.