JWCH gives L.A. hospitals a place to send homeless
Image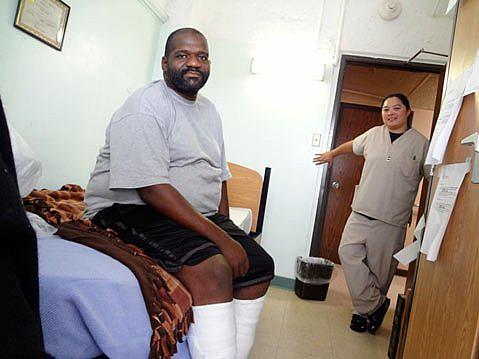 Published on
October 28, 2011
Curtis Jasper has come a long way since December, when he was living on the streets of Los Angeles, all but crippled by multiple ulcers on his legs. For eight years he tended his ulcers by himself on the streets, changing his dressings in bathrooms in public libraries and restaurants — any place he could find running water and soap. Emergency room nurses at Harbor-UCLA hospital helped him here and there, but the ulcers only worsened. Finally the pain became unbearable, he said.
On January 2, Jasper was admitted to Harbor-UCLA hospital and kept for 10 days. When he was deemed stable enough for discharge, he could have been turned back to the streets, like most homeless people. He could have been relegated to caring for his wounds in unsanitary sinks again. Instead, on January 18, Jasper was discharged to the JWCH Institute's Recuperative Care Program in Bell. There, he was given a clean bed in a small dormitory with other recuperating homeless men, 24-hour access to registered nurses, and weekly checkups with a physician. His dressings were changed regularly, his medication tracked and made available to him at the appointed times, and he was able to rest.
I met Jasper in August. He was sitting at the edge of his bed at JWCH's Recuperative Care Center in Los Angeles, at the corner of San Pedro and 6th Street. It was mid-morning when the program's manager, Dee Saupan, RN, gave me a tour of the place. Jasper let me check out his small room. His legs were still bandaged up, but he was happy about the progress he was making. And with no family to lean on, he was clearly grateful to be there.
JWCH's Recuperative Care program is the largest medical respite program for the homeless in Los Angeles County. And the oldest, too. It was started in 1991 when The JWCH Institute's street outreach team recognized that a portion of Skid Row's homeless, with large abscesses and other acute problems, were too sick even for a shelter.    
So, according to JWCH Institute's CEO, Al Ballesteros, the nonprofit began renting rooms at the Weingart Center -- a 10-story building in the heart of LA's Skid Row inhabited entirely by organizations and programs that serve the homeless. Today, JWCH's Recuperative Care program has 23 beds on the second floor of the Weingart Center and 30 more in a newer facility in Bell. That's 53 recuperative beds altogether. It has contracts with seven private LA County hospitals. Plus, all four County hospitals regularly refer patients who have nowhere to go. The center bills the hospitals $162 for each bed night the patient is in their program; that's one tenth of what it would cost the average hospital to keep the patient overnight, said JWCH's Recuperative Care Program's director, Marcus Hong. Hong said patients discharged to JWCH's program who stay until they get well have a 73 percent reduction in hospital inpatient stays, and a 32 percent reduction in ER visits. A third of them go into permanent housing, a third into transitional housing and a third are reunited with family, said one of the social workers.   
The program basically allows hospitals to discharge the patients when they're ready to be discharged, and not hold them over for want of alternatives.
The average length of stay for patients at JWCH's program is 30 days, according to Hong, but some hospitals balk at paying for more than 10 days. Ballesteros says that attitude is penny-wise and pound-foolish.    
"How do you put someone out on the streets or in a shelter in ten days?" he asked. In the end, the center ends up keeping patients longer, billing the hospital for as much as 30 days.        
A dozen or more studies have established that medical respite saves money for acute care hospitals. A July 2006 study in The Journal of Public Health, for example, compared two groups of homeless people who'd been discharged from an acute care hospital. One group was accepted into a medical respite center on discharge, while members of the other group weren't accepted into the centers because they were full. After 26 months, the study began keeping track of their hospital visits, and in 12 months, patients who'd been in a medical respite program spent 50% fewer days in the hospital than the ones who were turned away.
At JWCH's Weingart Center location, some of the rooms are funded by the Housing and Urban Development department, and a handful are kept on hand as transitional housing, for patients who are well enough to leave, but have no place to go yet.  There are rules. Alcohol and drugs are not tolerated anywhere in the ten-story building. Patients on oxygen aren't accepted because of the fire hazard. Sometimes, because patients have had addictions, they need to be convinced to comply with their aftercare, to take care of themselves.
Ironically, the patient dumping scandal of 2006 was what allowed JWCH to double its Recuperative Care program beds. When Los Angeles' City Attorney charged Kaiser Permanente with elder endangerment, among other charges, for discharging a homeless patient to a shelter (put her in a taxi while still dressed in her hospital gown) Kaiser settled the case. Kaiser paid JWCH Institute $500,000, which the program used to construct a new 30-bed center in Bell. Those 30-beds positioned the program for a demonstration project that launched the same year.  Funded by the National Health Foundation, seven private hospitals in LA County collaborated to see if recuperative care could save them money. Though the funding wasn't renewed after two years, all seven of the hospitals maintain contracts with the program.
While touring the place, I also met a guy named Larry. Larry was loquacious and outgoing and wheeled his chair up to me to praise the program.  He'd had three amputation surgeries (on the same leg) in a year, and will have one more soon. The 50-something man was effusive.
"It's been a blessing. They've taken such good care of me. And she's the nicest one," he said, nodding his head in Nurse Saupan's direction.
Larry is about to leave JWCH. Case managers found him a one-bedroom apartment in Valencia, near the Santa Clara River. Like every one of JWCH's Recuperative Care patients who leave, Larry will be enrolled in The Center for Community Health, a big new health center that's half a block up from The Weingart Center. It's a primary care and social service clinic operated through a collaboration between JWCH, The Weingart Association, Los Angeles County, and a half dozen other agencies. That's where Larry will go for his check-ups  and outpatient care. And just to make sure transportation isn't an obstacle, the Recuperative Care program gives everyone Access cards when they leave, for free bus service.