Reporting by: Timna Axel, Darryl Holliday, Enrique Perez and Nissa Rhee in partnership with the South Side Weekly. Special thanks to USC Annenberg Center for Health Journalism and the Annie E. Casey Foundation.
Other stories in the series include:
Image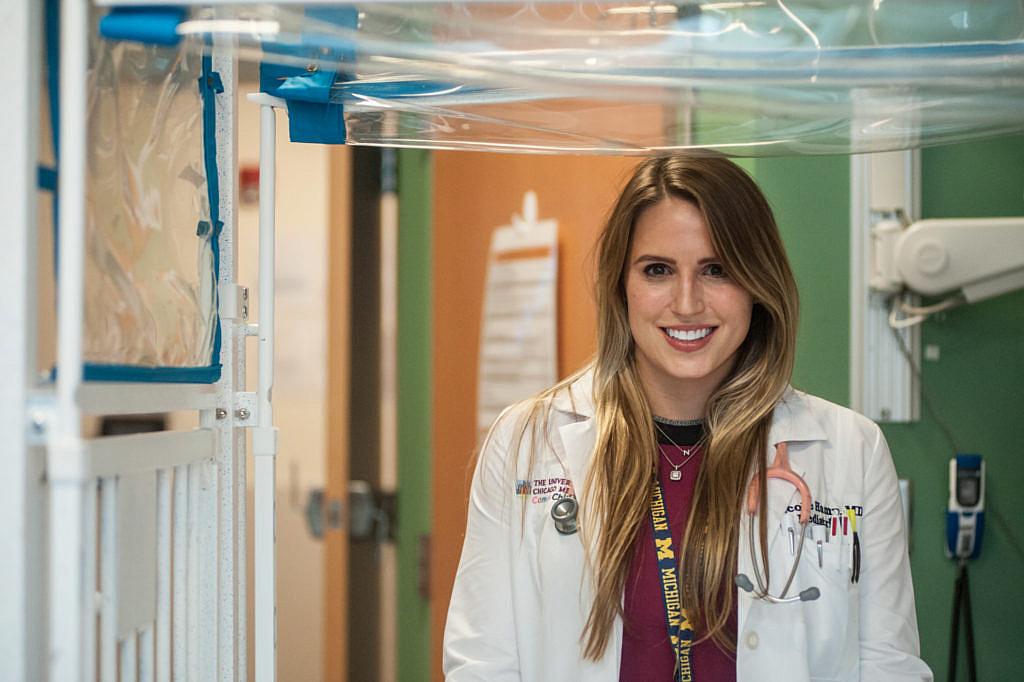 Published on
December 14, 2016
When Saeri Geller's son was fifteen months old, she caught him eating paint chips in their home in Grand Crossing. A visit to the doctor confirmed her fears: Ian had dangerously high blood lead levels.
For the last five months, Geller and her son have been shuttling between doctors' appointments and friends' homes as Ian undergoes chelation drug therapy and their house is renovated to remove the lead threats. She hopes that they will be done with his therapy and back at home in time for the holidays. But she knows that even then, her family's struggles with lead will not be over.
"This isn't really something that you put behind you," says Geller. While their doctor found no problems with his development so far, Geller knows that the damage lead did to her son's brain might not be evident until he's older.
"Every little issue or problem that comes up, is it just because how he is or is it because of lead?" she says. "He's a pretty chill baby for the most part, but any tantrums that happen, or out-of-the-ordinary behaviors, is it because he's a toddler or is it because of the lead? How do we recognize what's lead-based and what's not? It's almost impossible."
While doctors have long understood the link between childhood lead poisoning and developmental delays, parents in Illinois, like Geller, have been locked in a waiting game. Until their child has substantial developmental difficulties, they are not eligible for the state's Early Intervention program, which provides free or low-cost therapy to children ages zero to three with delays or disabilities. But by the time a child begins exhibiting these delays, which may take years, it's often too late to make a real difference.    
Soon parents may be getting some extra help, however. The Illinois Department of Human Services is considering allowing all young children with elevated blood lead levels to be automatically eligible for Early Intervention. If adopted, Illinois would join twenty-one other states that currently provide such services to lead-affected children.
Underpinning the move are advances in modern brain science, which suggest that the human brain is most elastic in young children. Because of this, infants and toddlers are especially vulnerable to lead. Even low levels of lead in a child's body has been shown to damage their central nervous system, decrease academic achievement and IQ and impact their ability pay attention, learn language and read.
While lead abatement and chelation drug therapy can help reduce the amount of lead in a child's body, this neurological damage cannot be overcome by a trip to the doctor's office alone.
"There's no drug that I can give that will eliminate the effects of lead on the developing brain," explains pediatrician Dr. Nicole Hamp of the University of Chicago Comer Children's Hospital. "But the developing brain, particularly between birth and five years old, is so plastic that while we can't reverse the effects of lead, we can compensate for the effects of lead. So early intervention is really key for these kids, because we're catching them at an age when they are really going to benefit from it."
Hamp says that services offered by the IDHS's Early Intervention program can help families maximize their child's development, with services ranging from speech therapy to occupational therapy to nutrition services. Once approved for the program, a child would receive an Individualized Family Service Plan that lays out what sort of treatment the child needs and over what time period. Service providers, who are generally therapists or nurses, then come to the family's house regularly for sessions with the child and his or her caretaker.
While the IDHS does allow pediatricians to recommend children to the program if they believe there is "substantial risk of significant delays," few doctors currently steer lead-poisoned children into the Early Intervention program, says Amy Zimmerman of the Legal Council for Health Justice. That's a problem, she says, because nearly half of the developmentally delayed children who go through the Early Intervention program in Illinois don't need special education when they reach kindergarten, a benefit that saves taxpayers seven dollars for every dollar spent on Early Intervention.
This month, two working groups from a state advisory board are meeting to determine the blood lead level necessary to qualify a child for Early Intervention and the types of services that will be offered.
"Our hope with getting these kids who have been poisoned in there early is that they will be on target at age five when they enter school, because they were able to get the services and the tools they need to be able to compensate for what will be coming down the pipe," says Zimmerman, who sits on that advisory board.
The effort has garnered support both locally and in Springfield, where Governor Bruce Rauner's Cabinet on Children and Youth is "discussing a number of potential interventions to develop a comprehensive prevention and response strategy to reduce the impact of lead exposure on children," according to Illinois Department of Public Health spokesperson Melaney Arnold.
In October, Julie Morita, head of the Chicago Department of Public Health, also voiced support for the Early Intervention push, but cautioned that the benefits and costs of such a move must be weighed.
"If we had unlimited resources, I think we could just do it without looking at the evidence," says Morita. "But I think we have to look at the evidence to see if studies show if this is beneficial or worthwhile. If we find that it's effective and it works and it's also costly, I think we need to look at all those factors before we make a decision."
Less than half of the funds for Early Intervention in Illinois come from state general revenue. Medicaid, private insurance, and family fees cover the rest of the cost. The program currently serves over 20,000 infants and toddlers each year.
While automatically allowing lead-poisoned children into the Early Intervention program may increase the cost of the program, the extra money would be well spent on her patients, says Hamp.
"Already children on the South Side have to face so much adversity and throwing lead into the mix is just one more hoop that they have to jump through," she says. "I think with having a patient population that's so disproportionately affected by lead, this seems like something that we can really get out in front of and do something about."
5 Ways to Prevent Lead Poisoning
 1. Protect your home
Was your house built before 1978? Keep an eye out for peeling paint: at least eighty-three percent of houses built before that year contain lead-based paint, and paint chips are one of the most common ways for a child to accidentally consume lead. Call the city's lead hotline at 312-747-5323 to request an inspection or to learn how to get financial assistance for removing lead-based paint in your home.
2. Protect your water
About eighty percent of water lines connecting homes to Chicago water mains contain lead. Filtering your water can greatly reduce your risk of exposure, but not all filters on the store shelf can prevent lead contamination, so make sure to look for the "NSF" mark that means it meets National Science Foundation standards. The product's label should explicitly state that it will reduce lead levels in water. You can also get your home water quality tested by calling 311 or going to www.chicagowaterquality.org.
3. Get tested
Go to your primary care doctor or pediatrician and get a blood lead level test. If you don't have one, call the lead hotline number, where an operator can connect you with a doctor who will see you for free or at a sliding-scale rate based on your income.
4. Eat well
A balanced diet can help the body resist the absorption of lead. The EPA lists calcium, iron, and vitamin C as essential nutrients that will help anyone, especially children, fight potential lead poisoning. They even put together a guide with lead-fighting recipes like grilled cheese and tomato sandwiches and French toast.
5. Stay informed
Check to see how prevalent lead may be in your area by texting the word LEAD to 312-697-1791.
Want more information? We have a list of links to resources mentioned above at www.citybureau.org/lead. (Enrique Perez)
This story was produced in partnership with City Bureau, a Chicago-based journalism lab.
[This story was originally published by South Side Weekly.]