Los Angeles neighborhood bears the brunt of air pollution
Image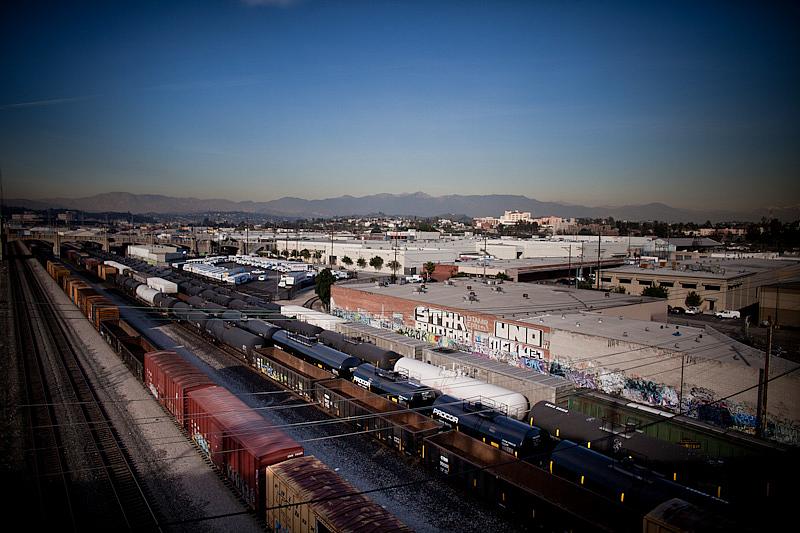 Published on
August 25, 2011
By Jasmin López | special to Newsdesk.org
As summer temperatures rise, so do fears of asthma and other illnesses caused by all the air pollution converging on the east Los Angeles community of Boyle Heights.
With its proximity to freeways, industrial sites and shipping corridors, activists say the geography of Boyle Heights brings a disproportionate health burden to residents.
Determined to reduce the adverse health effects caused by air pollution, residents and activists of this historically immigrant community are taking proactive and innovative measures to improve their environment.
"It's a low-income, mostly transit-dependent community, there's a lot of walking that happens, there are a lot of people that are out, being mobile through that pollution," said Vanessa Rodriguez, associate director at the Alliance for a Better Community.
Rodriguez said Boyle Heights wasn't designed for a mix of residential and industrial uses, nor the density of traffic it bears today.
"A lot of their central arteries are being used as thoroughfares," she said. "The freeways that dissect the community, their entrances and exits cut up children's routes to and from schools."
One community group is installing air filters and monitoring devices in schools, hoping to draw attention to the issue.
The Air Quality Advancement Project of Mothers of East LA is funded by settlement money from a class-action lawsuit, and will install high-performance air filtration systems in seven Boyle Heights schools, and study air quality in and out of the classrooms.
"It's an opportunity to get us on the radar regarding the injustice that is happening. We'll be able to really validate what we've been claiming," says Diana del Pozo-Mora, MELA's executive director.
Health advocates are particularly concerned about ozone and particle pollution from traffic, which recent studies link to childhood asthma, hypersensitive allergies, infant mortality, and a variety of respiratory illnesses. Diabetics, people with heart or lung diseases, older adults, children and low income communities are at greater risk, especially when they are physically active.
Los Angeles was recently ranked by the American Lung Association as one of the most polluted cities in the nation, with several vulnerable and disadvantaged communities at greater risk for exposure to ozone and particles [PDF] .
With plans underway to expand the nearby Port of Long Beach (the largest source of air pollution in California, combined with the Port of Los Angeles) and the 710 freeway, residents face an even greater density of cargo ships, loading docks, diesel trucks and trains.
Activists say that so far, little has been done to address the health impacts on neighboring communities.
"There is a huge body of information to support that living in close proximity to polluting sources, puts one at great risk. The current level of standards doesn't protect people," said Bonnie Holmes-Gen of the group's California office.
Bill Gallegos, executive director of Communities for a Better Environment, claimed that official statistics "don't even begin to capture" the high rates and impacts of asthma, cancer, heart disease, pregnancy and childbirth complications, and respiratory problems.
"The county health system is struggling to survive, just to meet people's basic needs," he said. "With all these budget cuts it looks like what we're facing is going to get worse."