A new life, but with diabetes
"It's the alcohol hangover," Gerardo Cuapio thought five years ago when he woke up thirsty and with blurred vision. National Health Journalism Fellow Pedro Frisneda tells the story of a man who was on the verge of death without knowing he had Type 2 diabetes. It's a cautionary tale for what happens to many Latin American immigrants who move to the United States, adopting a new lifestyle and diet that can contribute to developing the disease. "The Big Apple is confronting one of the worst diabetes epidemics in the nation and health authorities have declared it an emergency," with Hispanics suffering disproportionately.
This story was originally published in Spanish. Below is the English translation.
Part 2: In the kingdom of fats and sugar
Published on
December 12, 2010
Image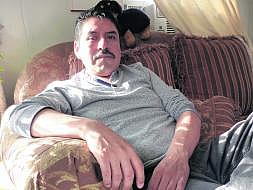 New York — "It's a hangover from the alcohol."  That is what Gerardo Cuapio from Mexico thought five years ago when he woke up one morning feeling awful, with blurry vision and unquenchable thirst.

His discomfort, however, had nothing to do with the previous night's party. Cuapio was showing symptoms of a medical emergency known as "diabetic coma," but he was not aware of it.

"I told my wife that I was feeling very bad and that I was going to the emergency room. ... The nurses checked my blood sugar level and got scared. They told me it was very high; the normal number is 108, and mine was 550. They immediately laid me on a gurney and turned me into a sort of robot, with all those cables monitoring me," Cuapio recalls.

"The doctors told me it was a miracle that I had not suffered a heart attack, because the pressure was very high," he adds.

That is how, in a hospital emergency room and almost at death's door, Cuapio, who was only 34 at the time, suddenly found out that he was suffering from Type 2 diabetes—an illness that disproportionately affects Hispanics living in the United States, particularly Mexicans.

The American Diabetes Association (ADA) estimates that 2 million Hispanics suffer from Type 2 diabetes (10.2% of all Latinos in the U.S.). Of them, 24% are of Mexican origin, only surpassed by Puerto Ricans at 26%.

According to the National Health and Nutrition Examination Survey (NHANES), Mexican-Americans are more than twice as likely as non-Hispanic whites to suffer from Type 2 diabetes (11.7% versus 4.8%).

The exact reasons why Mexicans are more prone to developing this disease are unknown, but it is believed that it may be due to a hereditary genetic component. Also, medical research suggests that diabetes may be caused by cultural, social and economic factors such as bad eating habits, a low level of physical activity, poverty and lack of access to healthcare.

"The increase in the incidence of diabetes in Mexicans is due to genetic predisposition, especially in those who are of indigenous origin," explains Dr. María Paliou, chief of endocrinology at New York's Metropolitan Hospital Center.
"This worsens because of environmental factors and lifestyle changes when they come to the U.S.," adds Paliou, who has witnessed this phenomenon because her office is in Manhattan's East Harlem, a neighborhood with a large Mexican population and one of the neighborhoods most impacted by diabetes. Of her patients suffering from this disease, she said, 80% are Hispanics, and half of those are Mexicans.

An epidemic in New York

New York City, where Cuapio has lived for 16 years, receives a constant flow of new immigrants who adapt to the "American lifestyle." Many of them come from the Mexican state of Puebla.  

Currently, the Big Apple is facing one of the worst diabetes epidemics nationwide, and health authorities have declared a state of emergency because of the large number of people suffering from the disease.

Numbers from 2007 (the most recent ones) indicate that nearly 800,000 adults in New York City, or one of every eight, suffers from Type 2 diabetes. At 13%, Hispanics are the group with the highest predisposition to diabetes, followed by African-Americans (12%). Whites, at 6%, are less than half as likely to get diabetes as Latinos. There is a total of 140,000 Hispanics with diabetes in this city (almost 30% of those with the disease).

"Diabetes is the fifth main cause of death in New York City," said Dr. Thomas Farley, the city's health commissioner.
The proportion of diabetes in New York's adult population is higher than in other large cities like Los Angeles and Chicago and more than double that of Boston. And, according to estimates by the local Health Department, soon 1 million people may suffer from this disease, if the pace of the growth in obesity continues (54% of adults are obese or overweight).

When assimilation is bad

Despite the fact that his father, grandmother and uncles are diabetic, Gerardo Cuapio did not always suffer from this disease. Like many new immigrants who come to New York, he was not ill when he arrived from Mexico. On the contrary, he said, he was a very healthy and vital man.
"I never thought that I would suffer from this disease, because I was healthy and felt strong when I got here, but I neglected it," said Cuapio, who lives in Jackson Heights, Queens, one of New York's most Latino neighborhoods.

"In Mexico, my health was good, but when I got here my lifestyle changed drastically. First the food, then the work schedule, which is not the same. ... There is no time left for physical activity," said Cuapio, whose weight went from the 176 lbs (80 kg) he weighed when he arrived from Mexico at 23 to 225 lbs (120 kg).

"You think that because you are young nothing is going to happen to you, but all that affects you. I was the king of bars, drank a lot of beer, liked eating and drinking excessively, and then the body takes its toll," said Cuapio, who today at 39 eats more healthily and has stopped drinking.

Medical studies have shown that the majority of Latino immigrants who come to the United States, including Mexicans, are in better health than the general population, despite their low socioeconomic and educational levels. This is known as the "Hispanic Health Paradox."

They are usually young, strong and healthy people who come here to work. However, as the years go by, the better they adapt and assimilate into the American life, culture and customs—known as acculturation—the worse their health becomes.

A 2006 report from the New York City Department of Health, "The Health of Immigrants in New York City," states that foreign-born residents of the city who have been living in the U.S. for four years or more reported worse health conditions than recent arrivals (24% versus 17%).

This is confirmed by the study "Understanding the Hispanic Paradox," conducted by Dr. Luisa Franzini, associate professor of the School of Public Health at the University of Texas. "Immigrants arrive without negative lifestyles; they have a better diet, better weight and are more active. But the longer they stay here, the more they acquire the American lifestyle and the state of their health deteriorates."

"This happens mainly with the second generation of Mexican immigrants, who tend to assimilate more into the general American population," said Franzini. 

Unavoidable obesity

According to the results of the study "Association of Acculturation Levels and Prevalence of Diabetes in the Multi-Ethnic Study of Atherosclerosis (MESA)," immigrants of Mexican origin with a higher acculturation level have a higher Body Mass Index (BMI), which measures the content of fat in the body in relation to a person's height and weight, specifically the circumference around the waist. Having a BMI of 30 or higher is considered obesity.

"The worst part of gaining weight is that there is a high correlation between the amount of weight gained and the possibility of developing Type 2 diabetes. They start gaining weight, maybe because they become less active, or because they eat more fatty foods or eat more in general," said Dr. Namratha R. Kandula, author of the MESA study.

Dr. Ana Abraido-Lanza, associate professor in the Department of Sociomedical Sciences at Columbia University in New York, who has conducted several studies about this subject, adds that immigrant women have higher BMIs and are therefore more at risk for diabetes. "This is especially obvious in Latinas, who tend to be more overweight."

Diabetes and immigrants
In the specific case of diabetes, the report "Mexico-United States Migration: Health Topics," published in 2006 by the National Population Council of Mexico, indicates that recent Mexican immigrants report a lower rate of incidence of diabetes, but those who have been in the U.S. for a longer period of time and Mexican-Americans (those born in this country to Mexican parents) tend to have a higher rate, even higher than the native white population.

Last month, Mexico's health minister, José Ángel Córdova Villalobos, said that when analyzing "the epidemiologic characteristics of the migrant population" from Mexico to the U.S., it can be seen that this population begins to "have much resemblance to the population" of the neighboring country, "in terms of frequency of obesity and diabetes."
Diabetes changed Gerardo Cuapio's life. The immigrant, who crossed the border between Sonora and Nogales, Arizona, and who has no legal documents or health insurance, has had to make many sacrifices to be able to take nine pills daily and inject himself with insulin to control the disease and other related ailments: high blood pressure and high cholesterol.

"I was spending almost $600 per month on medication. Paying that, the rent and all the other expenses was very hard. But now, thanks to a program in the hospital, I can buy generics," said Cuapio.      

Although he is not aware of the statistics, Cuapio knows that he must take care of himself because Latinos with diabetes are more than twice as likely to die from diabetes complications.

More information at: diabetes.org; cdc.gov/diabetes; and ndep.nih.gov.    

pedro.frisneda@eldiariony.com