A Night to Remember: Courtnie's Prom
Published on
May 12, 2009
Image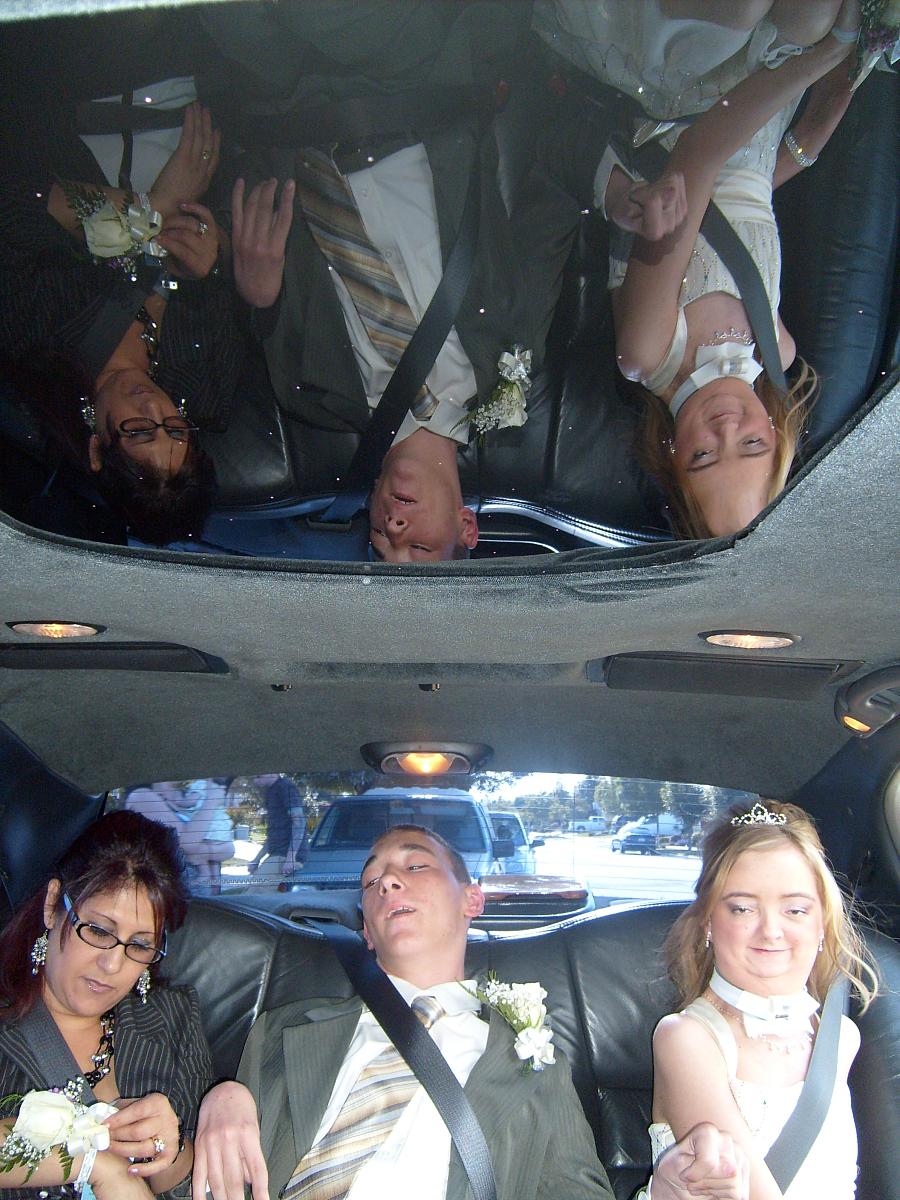 Photos and article by DANIELLE GAINES
dgaines@mercedsun-star.com

It was a dizzying Merced High School prom week for Courtnie Frade:

Hair extensions at 3 p.m. Wednesday.

A facial at 1:15 the next day, followed by a 4 p.m. spray-on tan.

Manicure on Friday at 4:30 p.m.

Up-do on Saturday at 11 a.m.

All the pomp leads up to this night's circumstance -- these moments before Courtnie slips on that perfect sparkling dress.

Sitting on a computer chair in her parents' master bathroom, Courtnie starts uncontrollably giggling as her mother applies the silver eye shadow that exactly matches the design on her dress.

Her dog, Hula, playfully jumps at Courtnie's knees.

"Her little baby," her mother, Jodie, explains.

Courtnie got Hula as a gift last summer at a luau-themed birthday party. More than 150 people showed up.

"Courtnie has never met a stranger," her mom says.

Brian, her dad, squints through a crack in the door and whistles.

"Hey there, pretty lady!"

And then, when Courtnie holds up a chic golden wristlet purse: "You've got a new everything, dontcha?"

The night boasted all the trappings of any other prom night in any other town in America -- except for one difference.

"When she was born," I never thought we'd be doing this," says her mom, Jodie, as she picked through a makeup case.

Courtnie was born with Shprintzen-Goldberg Syndrome, a rare disorder of the connective tissue. She is hard of hearing, has unusually soft muscular skeletal tissue and has had her spine fused into position.

This summer, she will undergo a revision surgery to correct her forward-leaning posture.

But this night, none of that matters.

THE JOURNEY

More than any other time in her life, now Jodie remembers Courtnie's harrowing past.

Courtnie was still in the womb when Jodie learned there was a problem with her brain and skull.

Jodie was put on bed rest at three months, and at five months the family learned of the possible medical issues.

Courtnie was born a "floppy baby" -- not expected to live.

Shortly after birth, doctors removed a 1.5-inch strip of her skull.

Jodie kept vigil at her daughter's bedside. She and her husband, Brian, switched keeping watch when he would knock on the hospital room window with Courtnie's two brothers in tow.

Courtnie's spine extended into her skull by three vertebrae. If she were to be jarred in the wrong way and her spine injured, she could have died.

At 7 years old, she was diagnosed with Shprintzen-Goldberg. It wasn't until 12 or 13 years old that "the syndrome really started to rear its ugly head," Jodie said.

Somewhere around that time at a doctor's visit, Courtnie was photographed. Those images are now used in "Smith's Recognizable Patterns of Human Malformation," a book to help physicians identify health conditions.

In July 2007, the Frades traveled to Iowa, where Courtnie underwent several surgical procedures to correct two conditions that affected her brain: Basilar Invagination and Chiari Type-1 Malformation.

The visit was filled with worry.

"Her system shut down. Her intestines shut down. She could not breathe on her own. She was in intensive care. She coded on a us a few times," Jodie recalled.

Surgery has been a routine part of Courtnie's life. There are two metal rods in her spine, metal in her feet and head, she can't rotate her neck or torso after a spinal fusion procedure.

Even so, "Nothing holds this girl down," Jodie says with a slight smile.

Courtnie had to get the hair extensions for prom because the whole back half of her head was shaved for those surgeries.

She doesn't often talk now -- her tracheotomy tube makes it hard -- but her face reveals every emotion.

As her mom continues applying makeup Saturday evening, Courtnie groans and signs: "M-O-R-G-A-N" then holds up the number five, the time he is expected to arrive.

Courtnie says she isn't anxious, but reminds her mom that "M-O-R-G-A-N" is on his way several more times before the makeover is complete.

THE PERFECT DRESS

It's Saturday evening at 4:45, Courtnie has just slipped into her gown. Female family members flood her bedroom.

They gush as Jodie ties the ribbon to the crème-colored cocktail dress with silver and gold glitter. Courtnie insisted her prom dress be covered in bling.

Courtnie's dad is outside the large bedroom window laying down a "red carpet" picnic table runner that stretches from the front door to the waiting limousine.

"We are pulling all the stops for this prom," Jodie observes.

A short while later, Courtnie's date, Merced High sophomore Morgan Boyles, arrives at the house.

He tells Courtnie she looks pretty. Courtnie says he is handsome.

They exchange a corsage and boutonniere before starting out toward the limousine.

Courtnie's family members, friends and neighbors line the red carpet and swarm like a personal paparazzi pack around the two as they approach the car.

Among the crowd is Margie Stallings, Courtnie's preschool teacher.

"I'm thrilled. I'm thrilled for Courtnie and for her family," Stallings says. "It's their turn to experience normalcy and the excitement that any girl feels during those events in high school. I hope she has a Cinderella evening."

A ROUGH ROAD

Around 6 p.m., the limousine finally pulls away.

Courtnie and Morgan sit in the far back seat, pointing at the color-changing starscape projected on the car's interior roof.

To Morgan's other side is Maria Ramirez.

Ramirez is Courtnie's nurse; they never leave each other's side during the school day.

Today, Ramirez is pulling double duty. With each turn of the bend, she keeps Morgan from sliding down the black leather seats or falling into Courtnie's slight frame.

Morgan has cerebral palsy, a term used to describe a group of chronic conditions affecting body movement and muscle coordination.

His parents are following behind the limo in their hulking  white Chevy van; they are hauling Morgan's wheelchair and will help unload him into it at each stop throughout the night: the photo studio at UC Merced, dinner, the dance and     
     home.

The first stop, though, is Courtnie's grandparents' house.

Courtnie hops out of the car and snaps a few photos with her grandma and grandpa, Penni and Leonard Pauletti. Both take a turn addressing Morgan.

"That's my partner you're taking out tonight," Grandma Penni said. "Take care of her."

The limo pulls away.

UC Merced -- and a perfect prom night -- is just a few miles up the road.

"I can't believe I am riding in a limo," Morgan beams.

That elation is short-lived. When the teens arrive at UC Merced for their photos, Morgan's parents' van is nowhere in sight. Without his chair, it is impossible to get him out of the car.

After 30 minutes of searching, the limousine driver finds the Boyles, sweating and distraught, on the side of Lake Road. Their transmission has failed.

Michelle Boyle, Morgan's mother, piles into the back of the limousine; his father Dennis folds the wheelchair into the front with the driver.

Finally, mobile at the impromptu photo studio at UC Merced, Morgan suddenly falls ill.

No one is able to communicate the situation to Courtnie. She stands off to the side, looking worried, while Morgan's mother rushes him into a locker room.

From the moment a black limousine -- instead of the white one Jodie ordered -- pulled in front of the house, everything that could go wrong has.

Everyone assures Courtnie that the worse a night starts, the better it ends.

Their luck finally starts to turn better at dinner.

Morgan ordered grilled shrimp. Courtnie had a steak and fries. She eats some solid food each day, but very little since most of her sustenance comes from an IV.

After they finish eating, Courtnie pushes Morgan out of the restaurant and directs the limo over to the wheelchair ramp several yards away.

When Morgan's chair hits the slope, Courtnie must run to keep up.

"The night is just beginning," Morgan squeals, pumping his arms in the air.

BETTING BIG

Courtnie and Morgan arrive at the prom, and the party is already under way; the night's incidents mean they arrive quite late.

Courtnie makes a bee-line for an open area near the back of the gymnasium. Michelle, Dennis and Maria pull up empty chairs to create a private seating space.

Neither Courtnie nor Morgan wants to dance. Instead, they head to the just-for-fun casino tables set up in another room.

Morgan hits the jackpot playing blackjack. He passes a few of the thousand-dollar tokens on to Courtnie.

She rests her arm on the back of his wheelchair as they continue to play for another hour or so.

Together, they amass a small fortune.

As the night is fading, Maria urges the two to hit the dance floor.

Courtnie has already planned for this. She spins Morgan's wheelchair in circles and he beams.

After the thumping beats of two more hip-hop songs, the group heads back to the limousine, where Courtnie's parents are waiting as a surprise.

On the ride home, she signs with her mother and teaches her parents the cardplayer's signals for "stay" and "hit me."

The back of the limousine is brimming with people -- and joy.

THE FUTURE

At the end of the night, the overstuffed limousine parks in front of the Frade house. Courtnie and Morgan share a short goodbye. She leans over to give him a hug then holds his hand for another minute or two.

Jodie gives the driver instructions to the Boyle house, since they have no other transportation home.

"I enjoyed these kids," driver Woody Olds says before taking off. "They're a blessing. You don't always know how good you have it. Fantastic family, too."

Courtnie, Maria, Jodie and Brian head inside.

The first thing Courtnie does is take off her golden slippers and slam them down on the floor mat.

"My feet hurt," she signs.

Maria presents her with a small gift.

"I thank God for letting me be your nurse," Maria wrote in the card. "And I thank you for letting me be your friend."

Jodie said she will use the photos from prom in Courtnie's graduation invitations.

This "splash of normalcy," Jodie declares, will continue until graduation.

"She's got all this medical stuff, but I want her to enjoy her senior year," Jodie says. "Prom and graduation are all we are focused on right now."

Later in the summer, Courtnie will undergo more surgeries.

The procedure in Iowa tilted her posture forward to the extent that Courtnie can no longer open her mouth more than a centimeter or so. Jodie is setting up appointments in Iowa and Phoenix.

But for right now, everyone in Courtnie's life wants to just live in this moment.

When Jodie runs into the church's youth pastors at Starbucks, she immediately shares the photos and videos of Courtnie's special night with them.

Next Sunday, at Gateway Community Church, the congregation will be able to share in the joy of Courtnie's prom night. Jodie will speak.

"I can't do it without breaking down. I know I will," Jodie said. "I've seen her near death and I've seen her at her best."

The worst of times or, like these, the best -- she's never met a stranger.

Reporter Danielle Gaines can be reached at (209) 385-2407 or dgaines@mercedsun-star.com.

-----------
ONLINE
-----------
Gallery: View a photo gallery of images from Courtnie Frade's prom night at mercedsunstar.com/multimedia.