No child allowed outside: Urban violence surrounds children in Wilmington
Image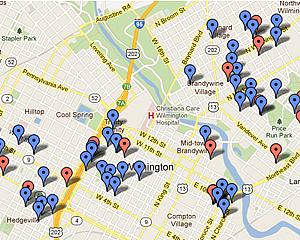 Published on
January 16, 2012
(Visit original story link on DFM News here to view full video.)
When Courtney White goes on sleepovers, she totes the blanket that a funeral home gave her to commemorate her big brother, who was shot to death.
The eighth-grader says she didn't feel out of place when 25-year-old Brandon Brinkley became Wilmington's 24th homicide of 2008. After all, at least 20 of her friends have lost a family member to violence.
Courtney, a peer leader and middle-school band member, is just one of countless children touched by gun violence in Delaware's largest city—violence that will affect those children for years, if not the rest of their lives. For example:
-Six of the children who run track for West End Neighborhood House have a parent who was murdered.
-Four young children had to get over their father's body to exit their Northside apartment after a gunman shot him in the face as he opened the front door on a sunny morning last June.
-At dinnertime one night last April, gunmen fired six shots into Jamar Brown as he shot hoops on crowded basketball court frequented by children.
-Dominique Helm stood laughing on the flagstone steps leading to his Brandywine Village row house when a gunman opened fire on him in September. As his teen cousins stood nearby, Helm's blood sprayed the white trim on the front door. The 19-year-old stumbled inside and died on the living room stairs as his mother, Nicole Helm, ran to him.
"If a kid lives in the City of Wilmington, they almost always either have been a witness to or in some way experienced violence," said Phil Arendall, executive director of Clarence Fraim Boys and Girls Club.
With Wilmington averaging 12 shootings a month in 2010 and almost 8 shootings a month last year, children have become collateral damage in the city's gun wars. Conversations with children, parents, teachers, community leaders, clinicians and city officials over the last four months show how that violence is changing the way many children and teens live.
Some children spend much of their lives inside for fear of violence outside—like Lisa and Bernard Williams' seven-year-old twin sons, who have never played outside their downtown row house.
Many youths have grown accustomed to the violence—like Greg Dixon, a Northside teen who calls shootings "normal."
Other children are in counseling—some of them so young that therapists at Supporting Kidds in Hockessin have them touch cold ceramic tiles to understand the concept of death.
Children Widely Exposed to Violence
When Lamotte X visited one crime scene with members of the Wilmington Peacekeepers, he did what he always does to spark conversation with children: He asked them what they want to be when they grow up.
"And this one little girl, no older than 10 or 11, told me, 'I just want to grow up,' " says the leader of the anti-violence organization. "She's seen people getting killed. That's all she wanted."
Arendall says many of the youngsters he works with at the Boys and Girls Club don't think they'll live to 18 or 19.
The children know the risk even if they don't know the exact statistics: Wilmington police reported 23 gun homicides in 2010 and 22 in 2011.
Wilmington, known as a stop on the I-95 drug corridor, suffers many of the ills that go hand-in-hand with violence. More than one third of Wilmington families with children live below the federal poverty line of $22,314 a year for a family of four. Wilmington's high school dropout rate is four times the state average. Unemployment is 10.5 percent, compared with 7.6 percent statewide. The city's teen birth rate is nearly double the state rate. About 27 percent of prison inmates in Delaware last year listed a Wilmington zip code as their home address.
The drug and gun culture reaches children at an early age. "Young children know the ropes at, like, five years old because they witness it," says Helen Riley, executive director of St. Michael's School and Nursery. "It's a part of everyday life. They may know a lot about drug culture, and they know about the violence that occurs on their block because they see the stuffed-toy memorials and the balloons.
"I think death is more a part of a child's life than it used to be," she says.
Indeed, Arendall says that when he asked a group of 15 to 20 teenagers at the Boys and Girls Club how many of them had witnessed violence, "Every hand went up in a millisecond."
No wonder only 60 percent of Wilmington eighth-graders say they usually feel safe in their neighborhoods, according to the University of Delaware's Center for Alcohol and Drug Studies. Sixteen percent say they never feel safe.
And no wonder that when a body was found in the bushes not far from her Maryland Park apartment last winter, Katrina Johnson first heard about it from her children: "I was like, 'My children are telling me this?'"
Lives Turned Upside Down
The one-two punch of violence and hardship takes a toll on childhood.
Sean Anderson recognizes the sound of gunshots and knows what to do when he hears them around his nearly treeless block of West 28th Street. The lanky eight-year-old runs for the safety of his apartment door.
One Wilmington woman says her teenage son packed on 40 pounds after he was beaten on a street corner. "The whole summer for two years he's been in the house, and he would not go outside," she says. "He says this area is ghetto," says the mother, whose name is being withheld in order to protect her son. The boy, who visits his friends via Skype, doesn't admit to being beaten. He only says, "There's a lot of fights and shootings and all that. It's not good."
Katrina Johnson, who is studying elementary education in night school, says she calls her teens inside the apartment whenever she hears an argument outside. "You never know what it's going to escalate to. … I try to have them as close to me as possible."
With five shooting incidents on Madison Street in November, it's easy to see why families there are on guard. "Nowadays, parents are scared," says Wilmington native Stella Doremus. "They always say bullets don't have no name on them."
Some parents respond by keeping children indoors, enrolling them in safe-haven programs and taking them to play in relatives' homes and community centers in safer neighborhoods.
Lisa Williams, who won't let her seven-year-old twin sons play outside their downtown row house in the shadow of the Carvel State Office Building, recalls four shootings within a two-block radius.
"We tell them the truth about what's going on outside the doors so they can understand," says Williams, a human resources assistant. "Some days I want to cook my dinner and say, 'Hey, go outside and play for a few minutes.' Mmmm-mmm. … Can't do that."
The family looked at a new townhouse development across the city where the children play in sheltered cul-de-sacs. Can't do that, either. "The homes are beautiful and the people are very nice," Williams says, "but once you leave that cul-de-sac, it's like World War II out there."
Sometimes it's not the parents keeping the kids inside; it's the kids themselves, says Malina Spirito of Supporting Kidds in Hockessin, where many children who have witnessed violence receive treatment. "They say, 'I'm not going outside where I'm going to get shot at. … I'm staying inside and making sure all the windows and doors are locked.' "
"Children kind of move in stealth mode in some pockets of the city," says Riley, of St. Michael's. "They go to school. They come home. They come in the house, and they stay in the house, because they could be a random victim if they're in a place where gunfire is exchanged."
"It's not that it happens often," she adds, "but it happens often enough that parents need to keep their children close by."
The gun and drug culture has also turned some youth into perpetrators. "I'm very, very concerned with the number of young people who are possessing weapons illegally," says Delaware Attorney General Beau Biden. "They possess weapons at 14, 15 years old. It's just incredibly dangerous to them and to the people caught in the crossfire.  It's one of the biggest issues we face in the City of Wilmington."
How Kids React
While many youths are acting to protect themselves, another troubling consequence of violence is that they are growing inured to it.
Greg Dixon, a teen who says he doesn't understand why fistfights must escalate to gunfights, was sad when one of his acquaintances was gunned down in 2010, but he says he wasn't shocked. "He's the third person I've known personally who got shot below the age of 23," the high school senior says. "It's like, 'Oh, well, it happens.' It's normal. He was trying to get out of a gang, and we all know how that ends."
After a woman's boyfriend beat her to death in front of her three young children in October, Lamotte X and other members of Wilmington Peacekeepers went to the address to offer help. They were stunned by what they found.
"All these little children were outside, and they were telling us that they saw it," X says. "They were describing it. One child said, 'He got on the back of her and banged her face into the ground.'
"Nobody out there was older than 11. I'm like, 'Does anybody else see anything wrong in this picture?' "
"When you grow up seeing some of these things happen, it does something to your psyche," he says. "It makes them cold, because, after a while, they think that's the norm."