Image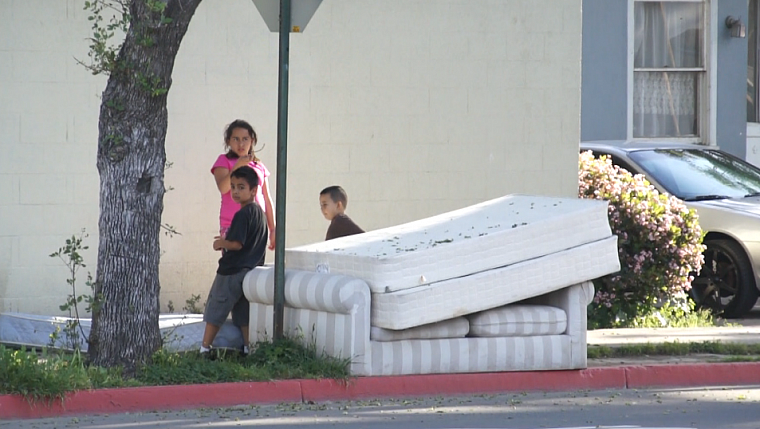 Published on
June 14, 2011
On many days after the final bell at Santa Ana's Garfield Elementary School, Angel Benitez and brothers Adrian and Artemio Alejandre rush home to do their homework and then rush back to play two-on-one soccer until they're called in for the evening.
Like any pickup contest organized by 11- and 12-year-old boys, their game has its own nuances. But what sets this game apart is the field of play, which is not a field but Garfield's largely concrete, circular entrance area.
The goal is a section of brick wall separating the entrance from the school grounds. A flagpole in the middle of the rotunda serves as an extra defender of sorts.
The boys were asked on a recent afternoon why they play their soccer games there. Why not on a grass field? Adrian gave the obvious answer: "There's no grass, so we don't."
Garfield Elementary sits in the heart of the Station District, a predominantly low-income area within the city's 92701 ZIP code, which has less than half an acre of parkland for every 1,000 residents, according to the City Project, a Los Angeles-based nonprofit that studies area health issues. It is the most park-poor ZIP code in the second most park-poor city in Orange County.
This reality does not bode well for the three boys, nor does it for the many other children who live in the houses and apartment buildings located throughout the Station District. Increasingly it is becoming apparent that children who do not have ready access to nature are more prone to obesity, have a harder time paying attention in school and are more likely to develop psychological problems.
"Research is finally showing how important nature is to a child's ability to learn, attention deficit disorder and psychological health," said Richard Louv, an environmentalist and author of "Last Child in the Woods," a book that examines the effects of what he calls nature-deficit disorder.
Louv added that "the greener an urban neighborhood is, the lower the body mass index of its residents."
Santa Ana's childhood obesity rates are among the highest in Orange County. And for decades neighborhood advocates have complained bitterly about what they say is a lack of effort by officialdom to create adequate places for the city's children to play, and an entrenched deference to developers whose interests don't include parks.
"I have video of people playing kickball or soccer in drainage ditches … in county parking lots on the weekend," said Thomas Gordon, a local community activist. "That's not a way to grow up."
Santa Ana leaders readily acknowledge the lack of green space and insist they are continually seeking innovative solutions. And they point to new parkland that is being created in the city.
Yet their responses to questions about specific plans for new parks are often fatalistic.
"The status of open space is what I have to work with," said Gerardo Mouet, Santa Ana's director of parks and recreation. "I wish it were more, but it is what it is."
A Basic Human Right
Santa Ana is not the only Orange County city with too few parks. In fact, a majority of cities in Central and North County have less than three acres of parks per thousand people, which California statutes define as park-poor.
The ratios in Santa Ana, La Palma, Garden Grove and Westminster are between 0.7 and one acre per thousand, according to the Center for Demographic Research at Cal State Fullerton. Stanton is the county's worst at half an acre.
South Orange County presents a vastly different picture. The cities of Irvine, Mission Viejo and Dana Point all have between five and seven acres per thousand people, and it goes up to 20 acres in Laguna Niguel and Lake Forest, according to the center.
The parkland disparity is especially acute in the Station District, where a slow-moving redevelopment project has literally walled off the neighborhood's residents from nature.
In recent years, the city has put up fences around dozens of properties, including several vacant lots, as it acquired land for the redevelopment project, which planners say will eventually create more affordable housing and unspecified open space. The city balked, however, when a community group asked for a specific commitment to build a 1.5-acre park.
So the parking lot and entrance area of Garfield Elementary has become the Station District's de facto neighborhood park. In addition to a soccer play area, the entryway also serves as a skate park for teenagers and a place for parents to watch their young children ride bikes, trikes and scooters.
And when they're not in front of the school, the children play on sidewalks, in alleyways, around utility boxes and even on the fences that keep them off the school grounds.
"Look around and you don't see available parks, so the kids play in random places. … Its ridiculous," said Joe Hamlin, a Santa Ana police officer who routinely patrols the area.
On a recent evening, 34-year-old Juan Ayala sat with his young son and daughter on a small area of ground between the sidewalk and Garfield's parking lot. They live in the apartment building across the street, and Ayala says the spot is the only nearby place where they can sit under a tree.
Ayala talks as his son plays with a pinecone: "The truth is, is that a park is necessary, one that we don't have to drive to. There are so many apartments here and in other nearby parts, but no parks."
Louv argues that Ayala and other residents of the Station District are being denied a basic human right, the right to have a direct connection with nature. It is, he says, an environmental injustice of the same sort as lack of clean water or clean air.
"Take nature out of someone's life and you are taking away a great benefit to them," Louv said. "It is fundamental to humanity. If we have right to the Internet, we have right to nature."
'Building a Park Is Policy'
Recent years have seen some progress in creating new parkland in Santa Ana.
Along Patricia Lane beside Interstate 5 in the northeast part of the city is Saddleback View Park, which was built early last decade on land the city purchased from Caltrans. The City Council last week gave the green light to begin environmental impact studies on a proposed 1.4-acre park at Orange and McFadden avenues beside the Pacific Electric Bicycle Trail in the central part of the city.
And the community group Latino Health Access last year won a $3.5-million state grant to build a half-acre park and recreation center near the intersection of East 4th and French streets just a few blocks from Garfield Elementary. The group had hoped to break ground this month, but it appears construction might not begin until winter.
Mouet has also spent considerable time working with the Santa Ana Unified School District on joint-use agreements that allow ball fields and other open space within school boundaries to be open to the community when school is not in session.
Cementing such agreements is obviously attractive to Mouet and other city leaders because they don't require the creation of new open space, just access to previously inaccessible open space. The city and school district have six joint-use agreements in place, with two more coming on line.
In most cases the agreements simply allow groups to rent school fields and other facilities for organized activities in exchange for the city assuming liability for the property when it's being used by the public and sharing maintenance costs. In recent years, however, the city and school district also have teamed up on projects to build new facilities.
In 2002, a joint-use agreement converted 18 acres of vacant land in Centennial Park beside Godinez High School into recreational space. By 2005, a performing arts center, a track complex, two baseball diamonds and 10 basketball courts were built.
The city and school district have also received a $4.4-million state grant for the construction of a new park at Willard Intermediate School at Washington Avenue and Parton Street. It will include a track, football-soccer field, tennis courts and play area. Groundbreaking is slated for summer 2012.
Another project scheduled for next year is construction of a 10,000-square-foot addition to Garfield, which would include a school multipurpose room and a community center that would be open to residents both during and after school hours.
Finally, officials are in the early stages putting together a proposal for a park and community center at Roosevelt Elementary School at the corner of Chestnut and Standard avenues.
"We are increasing green space one school at a time," said Cathie Olsky, Santa Ana Unified's deputy superintendent.
It's important, however, to note that much of this added green space isn't true open space. It comes with a rental agreement and terms of use.
A generation ago every school had what was essentially an unofficial joint-use agreement with its surrounding neighborhood. Schools didn't have fences around them, and even in central Santa Ana if three boys wanted to play pickup soccer, a field was probably available for free.
Olsky acknowledges this. "I grew up in Southern California, and on evenings and weekends we hung out at the school," she said. "Then everybody grew up and got law degrees."
The potential of being sued for injuries on unattended school playgrounds is just one hurdle facing public officials as they try to create more open space in urban areas. Adequate policing, especially in times of shrinking budgets, is a huge issue, say both city officials and residents.
For example, Logan Park is not far from the Garfield Elementary neighborhood. But it has been the scene of recent gang shootings, and neighborhood parents do not consider it safe, even during daylight.
"When you have to walk six, eight, 10 blocks to a park, you might have to cross a rival gang's turf," Gordon said. "People might say, 'Who are you? Who do you claim?'"
Yet the largest obstacle, Mouet says, is all that must go into securing the necessary space in a city that is already built out. "It's not like there has been terrible policymaking. It's an older city," he said.
"To build a park in Santa Ana, you have to tear something down. … Building a new park is policy."
Deferring to Developers
Eric Altman, the executive director of Orange County Communities Organized for Responsible Development (OCCORD), says Mouet is letting himself and other officials off too easy. Altman acknowledges that it is a challenge to create parkland in urban areas. But, he said, policymakers still defer too much to the wishes of developers.
Altman offers a redevelopment zone like the Station District as a case in point.
"Of course it is hard to build parks in an area that is already developed," Altman said. "But in situations where they are already tearing stuff down — redeveloping neighborhoods almost from the ground up — even there they aren't doing it."
A few years ago, when the redevelopment of the Station District was first proposed, a group called Santa Ana Collaborative for Responsible Development (SACReD) tried to get the city to adopt a "community benefits agreement" for the project.
The agreement would have required the city to, among other things, develop affordable housing, preserve historic properties and build a 1.5-acre park. City officials balked, telling the community group that the developers, Related California and Griffin Realty Corp., would back out if the city entered into such an agreement, said Ana Urzua, a community organizer for OCCORD.
"The reason you don't have a commitment to a park is because the developers were given everything they wanted," Altman said. "Our local governments allow the developers to run the show. … We are essentially doing the same thing now that they were a long time ago. It's just that people are more sophisticated about it."
Although it refused to be held accountable by a community benefits agreement, Santa Ana City Council in June 2010 directed staff to work with community members to "facilitate the development" of 1.5 acres of open space.
Mouet said, however, that he is "not aware of any movement" on purchasing land for a park in the area.
No Second Chances
Richard Louv said Garfield's soccer-playing boys "are coping the best they can" with their situation. And though forced to play their games on concrete, they might, in some respects, be better off than their counterparts in wealthier, suburban areas, he said.
That's because they aren't living a life of programmed playtime as so many kids these days do. They are making up their own rules, which is a good thing, Louv said.
"Kids who have every moment planned for them have trouble growing up and making decisions for themselves," he said.
But Louv stresses that any benefits the boys may be getting from their unsupervised play doesn't make up for the environmental injustice they are suffering.
"They have a right to some sort of interaction with the natural world," he said. "And even if redevelopment of that neighborhood started tomorrow, these kids will never benefit from it. Too many years will go by."
Voice of OC interns Lauren Tyler and Nick Gerda contributed to this story.
Please contact David Washburn directly at dwashburn@voiceofoc.org and follow Voice of OC on Twitter: twitter.com/voiceofoc. And add your voice with a letter to the editor.