Northside: Cleveland Elementary plays part in redevelopment
Image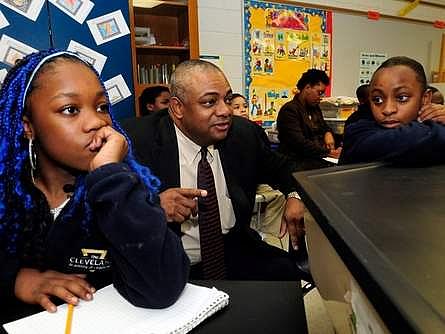 Published on
January 27, 2013
A chorus of children in blue and white uniforms shouted "work together," "you get more done," and a boy confidently nods as he says, "We synergizing."
The students regularly recite inspirational quotes about overcoming obstacles to succeed, and have memorized the "Seven Habits of Highly Effective People" by Stephen Covey.
It's a new attitude at a school whose students are dealing with tough realities that children shouldn't have to face, such as crime and poverty.
Among 455 students, four do not live in poverty, according to S.C. Department of Education data.
The elementary school in Spartanburg's Northside neighborhood is the county's most impoverished by income and is also battling low standardized test scores. The uniforms and powerful quotes are just a few of the changes Spartanburg District 7 school officials hope will have a positive impact.
School officials are now getting help with their efforts to improve the school from the city and community leaders in a massive redevelopment project to transform the Northside.
But what's at stake is more than just the fate of a neighborhood: The idea is to improve the school until it becomes a magnate for families looking for a good neighborhood with good schools. An improved Cleveland Academy could help the city of Spartanburg become the latest in a national trend of places where people seek to move back to large, urban centers.
"We found out we can't get working people to come here with their children if the schools were terrible," said Tom Cousins, an Atlanta real estate developer who led a redevelopment project that Spartanburg is using as a model for the Northside. "You thought we'd have more sense to do that, but unfortunately we did not know everything we had to do."
Cousins had built low-income housing decades ago under the old urban renewal model of razing the slums and building new homes for public housing residents with the idea that "all they needed was a nice, decent place to live."
A few years later, he proudly took one of his children to see the homes he financed.
"I said, 'I want to show you what daddy and mama had done,'" he said. "We go out there and they're slums again! I cannot tell you how crushed I was."
So Cousins invested his own money in his own idea. He wanted to not only build new housing but improve the schools, draw in middle-income families, attract retail development and create an altogether healthier neighborhood.
Now local leaders are implementing that holistic model in Spartanburg.
Inspiration
This year, the state education department labeled Cleveland a "failing" school, according to state exam scores.
But beyond the exams, nothing screams "failure" at Cleveland.
Look first at the floors.
"You look down the hallway and you see the floor shining, and that matters," said principal Fred Logan, who is in his fourth year at Cleveland. "It's expectations."
Then, gazing up from the floors, the halls are full of students in blue and white uniforms. Beside and above them, inspiring quotes dot the walls. "You are a leader," reads the John Quincy Adams quote above the library's door.
Next to each classroom door, the teachers have their nameplates and alma maters — a small step in a broader push to instill a college-going culture.
"Unfortunately, in a lot of homes you don't hear a lot of talk about college," Logan said. "It's changing a culture."
The school has extended the school year 25 days to provide more instruction along with its motivating measures. When Logan stops a child for running in the halls, he asks "Have you been modeling your habits today?"
"Be proactive," says a 7-year-old boy.
Police officers say the culture change has already taken effect. Officer Chris Taylor with Spartanburg Public Safety is stationed in the Northside neighborhood, and it wasn't long ago that the dispatcher would radio in yet another problem at Cleveland.
"I used to come over here all the time for disciplinary problems," he said. "Very seldom now do I get called up here. I've seen this school change so much over the years, it's not even funny. Now they are excited to come to school."
The school's parent involvement coordinator, Alan Goggins, partners with a church to provide after-school snacks. The partnership also provides programs for parents on home ownership, money management, and classes on interviewing and resume-building.
Life happens
The school still faces many challenges. It has its own food and clothing pantry stocked with blankets, tissues and diapers because Goggins said parents will call him after they've been evicted and suddenly homeless.
"We have that a lot," he said. "Parents will call and say 'Hey, I need help.' "
The food pantry, which receives supplies from the Church Builders community food pantry nearby, helps keep children nourished outside of the school breakfast and lunch programs.
"They have a serious problem with kids being sent home with nothing to eat," said Mike McCoy at Church Builders food pantry, which moved out more than 3 million pounds of food this past year. "We keep apples and oranges and send them to the school for kids to take home."
Teaching children in poverty is more than teaching social studies, math and reading. Life interrupts learning, poverty interrupts life, and a few teachers hope to interrupt, or at least circumvent, poverty.
Melanie Clark, whose nameplate proudly says she is a graduate from Converse College, is a team leader at Cleveland, where she provides special tutoring to struggling students, coaches teachers, analyzes test scores and finds strategies to improve them.
Her job is to help students understand the world beyond the neighborhood they might rarely leave, if ever.
"Our children do not have the opportunity to experience zoos, beaches or museums," she said. "We're trying to give those students those experiences: How do you act at a theater? What do you do?"
Sure, there's a big world out there waiting to be discovered, but closer to home, many of the school's children are also missing either a mom or dad. And as students hug Logan's leg or beam at Taylor as he patrols the school, both men are conscious they're not just principal and police officer.
"We have a lot of single-parent households here," Logan said. "We need to provide opportunities for the kids to be around positive role models. So I have to play a very stern role, but they have to know I'm there for them."
Logan also realizes his biggest responsibility is to improve learning and get children up to grade level when they are years behind. Calling it a "brutal truth," he said that means trying to cram two or more years of learning in one year's time.
Standing in the library surrounded by the inspirational quotes lining the walls, he picked one to fit the situation.
"I like Walt Disney's quote, 'It's kind of fun to do the impossible,'" he said.
Over the front door is a quote from President Barack Obama that seems to give Cleveland students the hope and inspiration they need to succeed.
"Change will not come if we wait for some other person or some other time. We are the ones we've been waiting for. We are the change that we seek."  
This story was originally published at GoUpstate.com on January 27, 2013
Photo Credit: ALEX HICKS JR.