Obamacare in Oregon: A failed exchange
Oregon and Washington state strongly embraced Obamacare and opened their own health insurance exchanges. The states are similar, not just geographically but politically, economically and demographically. As the first enrollment season winds down, Washington has some of the best results in the country. Next door, Oregon's exchange website is still broken.

Jennifer Haberkorn wrote this story for Politico as a 2013 National Health Journalism Fellow and with support of the Dennis A. Hunt Fund for Health Journalism. Earlier stories in her series can be found here.
Image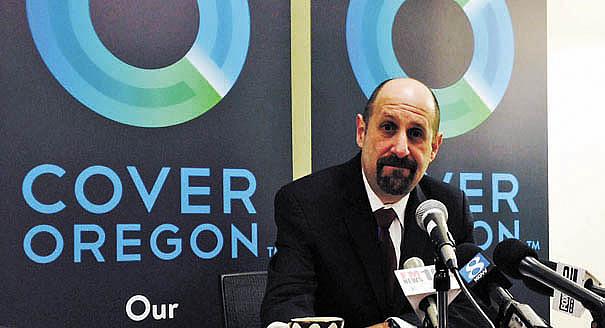 Published on
March 31, 2014
SALEM, Ore. — Oregon had all the right ingredients for a sparkling Obamacare success story: a Democratic doctor as governor, an eager Legislature and a history of health care innovation.
It ended up with Obamacare's biggest technological disaster.
CoverOregon.com, the state's equivalent of HealthCare.gov, is the only insurance exchange in the country on which people still cannot buy coverage entirely online. The flaws are so deep that Gov. John Kitzhaber concedes the state may give up on its own exchange and move to the federal HealthCare.gov next year. The challenges were so persistent that the state received federal permission to add a full month to its open enrollment season. The deadline for most of the country to become covered is 11:59 p.m. Eastern time Monday; here, enrollment will run through April.
The finger-pointing and political posturing have escalated as the exchange story has unfolded. Now, as states like Washington to the north and California to the south celebrate their progress, Oregon's controversy is in full eruption. Kitzhaber, who is running for reelection this fall, faces mounting questions over whether he could have stopped the disaster. And the exchange board is hunting for its third leader since December.
Oregon — a liberal state with an independent, hipster culture that embraces handlebar mustaches, composting and vintage shops — set sky-high expectations for what it could do with the Affordable Care Act. But Oregonians involved with the build-out interviewed here described a process that went awry early on: exchange designers who overreached, a contractor that didn't complete the job and state officials who didn't recognize the calamity unfolding right in front of them. That simple vision of expanding health care morphed into a byzantine mess of broken technology and political recrimination.
The glimmer of good news in Oregon's Affordable Care Act story is that the exchange has managed to get health coverage to about 175,000 people, about 52,000 in private insurance and the rest in Medicaid, according to the most recent figures. Another 130,000 got Medicaid through a separate fast-track sign-up system. Compared with other states, Oregon did land in the middle of the pack on insurance coverage, partly because of sustained community outreach efforts. One recent analysis by the Kaiser Family Foundation ranked the state 29th out of 50.
It could have been outstanding
A scathing outside analyst report released this month shows that Cover Oregon suffered a cavalcade of mistakes early on: poor management and governance; bad communication; flawed planning and goals; and a strained, inadequately structured relationship with Oracle, its contractor, that failed to align expectations and payments.
The troubles don't end there. The Government Accountability Office is investigating the exchange and $300 million in federal funds that the U.S. government authorized for the project. The state's two Democratic senators and a GOP congressman had all requested that the GAO do so.
"I don't think anyone's happy with where we are," Bruce Goldberg, a physician and the interim executive director of Cover Oregon, said in an interview last month, before resigning. "We'd like to see us be in a different place. We'd like to have us have an operating website. But [305,000] people with health care in our small state is pretty dramatic."
Those who made it through the protracted sign-up process are grateful. Sheri Hendrix, 59, of Grants Pass, got covered Jan. 1 — and fell down the stairs and broke her ankle five days later. Still, the system was so balky that it took Hendrix nearly two weeks to confirm that her application had gone through the troubled exchange and that she wasn't on the hook for the $32,000 her treatment cost, including surgery to piece her ankle back together with pins and plates.
Long before Congress passed the Affordable Care Act four years ago, Oregon had put a premium on health care. Kitzhaber is both a former emergency physician and nationally recognized health policy expert who has made health his signature issue in and out of government. And for years, the state has been a trailblazer in testing ideas that could improve quality and lower cost, often through Medicaid innovation. With that in mind, the federal government sent money to Oregon and a handful of other states to get them started working on an Obamacare exchange back in 2011, when the law was just a year old. The theory was that they'd be the early adopters. Other states could learn from them.
Setting the bar high
Cover Oregon set high expectations with residents, too. It ran catchy television ads last summer in a nearly $10 million campaign. Local musicians sang about "the best care that a state can get" and "long live Oregonians."
But on Oct. 1, the website failed. Weeks went by, new deadlines came and went, and the public furor grew. Cover Oregon couldn't accurately calculate tax credit or residency eligibility online, among other fatal errors. The exchange began instructing people to use paper applications.
Exchange officials had identified at least 48 critical errors on the website when its director, Rocky King, stepped down in December. Three weeks later, Oregon Health Authority IT manager Carolyn Lawson said she too was leaving.
Kitzhaber's office declined an interview request when a POLITICO reporter visited Oregon in late February. Two weeks ago, in a news conference, he said he was "angry" and "disappointed" in the Cover Oregon rollout but the buck stopped with him.
The governor said he was repeatedly given quality assurance reports by an outside company, Maximus. The reports did show red flags in the development of the exchange, but Kitzhaber said Cover Oregon officials always assured him that it was under control, that the exchange was still on track for the Oct. 1 opening.
"It was a combination of very very poor management [and] … there was something like 27 different project management plans overlapping," Kitzhaber said of the "mess" behind Cover Oregon. "There wasn't a single point of accountability. There wasn't a single functioning governance structure."
Kitzhaber surveys the damage
The governor said he realized that his role in the exchange — and whether he can repair the problems— will play a role in this fall's reelection campaign.
"Ultimately, that will be up to the voters in November," he said. "As I said, 287,000 peoples' lives changed since January — which is not anything I will run away from or be ashamed of. I am very proud of that. The question is whether or not then we can pivot, rescope the project and make the appropriate decisions so we have a fully functioning website in November."
Kitzhaber accepted the resignation of Goldberg, his top health care expert; cleaned out much of the top technology staff at the exchange; and will introduce new management. He's also considering legal action against Oracle.
Oracle has not spoken about the Oregon situation, and a company spokeswoman declined to comment for this story. The state has already withheld $25.5 million in outstanding payments to the contractor.
Republican state Rep. Dennis Richardson says the responsibility lies squarely with Kitzhaber. That's one reason Richardson is running to unseat him.
Richardson said that if the Maximus reports were shared with the Legislature earlier, "then possibly action would have been taken to prepare for the expected inability to launch on Oct. 1."
Other state lawmakers, including health law supporters, say the Cover Oregon officials misled them.
"I heard the same things from them in private that I heard publicly," said state Sen. Elizabeth Steiner Hayward, a Democrat. "And that's tough as a legislator. You try to trust people."
State lawmakers and others also put blame on an overly ambitious exchange that wanted to be able to do everything — handle both Medicaid and private insurance enrollment, for instance. Kitzhaber himself called it a "very inspirational but, it turns out, unrealistic project." Several other states having exchange problems were similarly ambitious; successful ones like neighboring Washington were more streamlined.
Some Oregon officials blame Oracle for sloppy work and making promises it couldn't deliver.
"I think the state's mistake was to depend on a private enterprise to do the job," said state Rep. Mitch Greenlick, a Democrat and former Kaiser Permanente insurance official. "Oracle promised from the beginning that they would be able to make this work … but the fact is, they didn't deliver by a huge amount."
For now, Cover Oregon is working on powering through the open enrollment period, trying to get enough enrollees to make sure that the insurance pool is stable. Before he left the exchange, Goldberg said he expected enrollment to hit 64,400 — the low end of the more modest revised goal set after the website's problems became clear.
The surprising part of Oregon's story is that even with all of the technology problems, it is still enrolling a significant portion of its residents.
About 175,000 residents got through the website into Medicaid or private coverage, and 130,000 more have enrolled directly into Medicaid through a "fast-track" process.
The "fast-track" process has been an Oregon face-saver, boosting numbers that would have been much worse without it. Through the program, participants in the Supplemental Nutrition Assistance Program and parents of kids in the Children's Health Insurance Program got a letter asking if they wanted Medicaid. Their data was on file, their income had been verified and all they had to do was fill out a one-page form.
Melissa Unger, director of the Service Employees International Union's Oregon State Council, says the form was a very useful tool as her organization did aggressive outreach. They've also been helping people, like Hendrix, the woman with the broken ankle, follow up on applications that ran into roadblocks.
"It has not been smooth, but it's hard to say that's a debacle," Unger said of Oregon's effort. "At the end of the day, those people have insurance."
"You've caught me on a good day — but there's some days where I want to — ahhh!," Unger said, pretending to pull her hair out. "Why aren't all these people enrolled!"
This story was originally published on POLITICO.com.
Photo Credit: AP via Politico