Julie Small's in-depth investigation of dangerously poor health care in California's prisons finds some progress after a lawsuit put prison health in the hands of a federal receiver, but much more needs to be done.
Published on
August 23, 2010
Part 1: California's budget woes thwart improvements to prison medicine
Background
A decade ago, medical care at California's state prisons was worse than bad – it was deadly. Attorneys at the Prison Law Office successfully sued the Department of Corrections for violating inmates' constitutional rights to freedom from cruel and unusual punishment (Plata v. Schwarzenegger).
In a 2002 consent decree, California's Department of Corrections agreed to implement new medical care policies and procedures at all state prisons.
But in 2005 it was clear the department had failed to make those improvements.
A court investigation of inmate deaths found that one inmate a week was dying as a result of misdiagnosis, delayed or shoddy treatment or no treatment at all. The findings prompted Judge Thelton Henderson to take the unprecedented step of appointing a federal receiver to run California's prison medical care.
The federal receiver, Robert Sillen, began work in April of 2006. (In 2008 Henderson replaced Sillen with Clark Kelso.) Sillen determined that problems in prison medical care were so innumerable it would take at least a decade and untold billions to fix them.
But only a year later, California officials – including the Secretary of Corrections Mathew Cate, Governor Arnold Schwarzenegger and Attorney General Jerry Brown – claimed that medical care for inmates had reached an acceptable standard. They say it's time to put California back in charge of it.

Credit: California Legislative Analyst's Office
About the Series
Over a year, KPCC's Julie Small interviewed state officials, prison medical experts, prison volunteers, inmates and their families, corrections officials and medical staff to determine if the quality of medical care in California's prisons is, as officials claim, "fixed." This investigation found:
While the overall number of deaths of inmates decreased, the number of inmates whose deaths might have been prevented with better care actually increased.
Independent reviews of medical facilities conducted by California's inspector general for prisons reveal that California's prisons routinely violate medical policies and protocols, leading to delays and denials of treatment for inmates.
California officials' repeated refusal to fund the receiver's turnaround plan has delayed construction of sanitary medical facilities, computerization of health records and hiring independent executives to oversee medical care at prisons.
The lack of infrastructure improvements and systemic change contributes to lapses in care for inmates that range from dangerous to deadly.
Over five days beginning Monday, Aug. 23, 2010, KPCC reveals its findings on-air and online.
Part 1: California's budget woes thwart improvements to prison medicine
Today, California spends $1 billion more on medical care for inmates than it did in 2005 when a federal judge found that care so flawed that he seized control of the system and appointed a receiver to improve it. Prison officials say the problem's now fixed – and it's time to put them back in charge. But as KPCC reports, California's prison medical system still lacks critical reforms.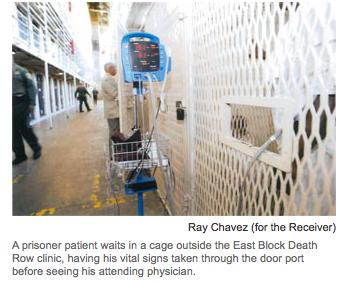 To hear the secretary of the California Department of Corrections and Rehabilitation, Mathew Cate, tell it, California prisons now provide inmates with quality medical care.
"I invite you to go into any prison and walk into any of those medical facilities, and you tell me if it's not just as good care as you'll get at Blue Shield or Kaiser or anywhere else," he said last year.
Blue Shield or Kaiser might not appreciate the comparison. Between 2003-2004, one inmate a week died as a result of poor medical care in state prisons.
U.S. District Judge Thelton Henderson seized control of California's prison medical care and appointed a receiver to fix it. In his order establishing the receivership, Henderson wrote, an "unconscionable degree of suffering and death is sure to continue if the system is not dramatically overhauled."

The first receiver, Robert Sillen, went to work in 2006. On his second day on the job Sillen visited medical facilities at San Quentin—California's oldest prison. What he found there appalled him.
"This isn't medical care in any way, shape or form that anybody would recognize it," Sillen said.
Medical conditions 'worse than Third World'
Back then Sillen called the conditions "worse than Third World."
Medical staff treated prisoners in converted cells with no running water. Lab results didn't reach doctors for weeks, sometimes months. At San Quentin, Sillen's staff found unprocessed X-rays that showed inmates with active tuberculosis.
"Transcribed results were coming back and sitting in a pile on the floor – literally hundreds and hundreds of them – because there was only one person to deal with them," Sillen said. "She happened to be out sick."
Sillen found similar delays in lab results, and delayed diagnosis and treatment, at all of California's 33 adult prisons. He also found that Corrections had failed to pay outside doctors and hospitals for services going back months and in some cases years. Those facilities were refusing to treat California's inmates because of it.
Sillen, the former medical director for Santa Clara County, found the problems in prison medical care so numerous that there was no way to tackle them all at once. So he concentrated on what he described as the best and quickest way to improve conditions: he would bring in quality doctors to lead prison medical teams and force out incompetent ones.
In his two years as receiver Sillen dismissed dozens of incompetent doctors. He also raised prison doctors' salaries to attract better qualified staff.
Inmates missed medical appointments about half the time
Today, roughly half the doctors working in California's prisons are board certified. About 10 percent of physician positions are still vacant. But it used to be 30 percent.
Still, even the best doctors and nurses can't provide better care to inmates if they don't see them. That's why Sillen hired Joe McGrath, a former deputy secretary for the California Department of Corrections and Rehabilitation.
"My job really was to try to put together a custody support team that was part of the healthcare side of the house," McGrath recounted.
McGrath visited all 33 of California's prisons to identify systemic problems in the delivery of medical care. One problem emerged in every prison: inmates missed medical appointments about half the time.
McGrath said that prison administrators were already juggling staff to get inmates to meals, classes and work. Getting them to prison medical clinics required extra guards they couldn't afford.
"They have to be escorted outside of security areas over to these medical facilities," McGrath said.
And since many prisons lack the doctors or equipment to treat inmates, "They have to be put in cars and taken downtown to doctors or to the hospital."
McGrath said prisons have to orchestrate the movement of inmates all day long.
"Unless you have dedicated staff to the health care piece, it just falls by the wayside," McGrath said.
Doctor cops assigned to get inmates to medical appointments
McGrath recalled one inmate who fell by the wayside at San Quentin's reception center. Reception centers are where CDCR processes inmates entering the prison system to determine which facility to send them to serve their terms.
McGrath said the inmate was awaiting transfer to another prison to serve a drug sentence of less than two years.
"While in reception, he gets an abscessed tooth," McGrath said. "Through a series of events and mishaps, he didn't get the antibiotics that he needed. The abscess got into his blood. He was septic and he died."
McGrath's team of corrections consultants decided to address inmates' access problem with what he calls the creation of "doctor's cops" – a squad of 2,400 correctional officers whose sole purpose is to get inmates to medical appointments. Every prison in the state has some now and inmates now make their appointments 88 percent of the time.
Recession stymies improvements
In 2009, CDCR was poised to add 350 more "doctor's cops" when the current receiver, Clark Kelso, froze hiring.
"I don't have a bottomless checkbook here," Kelso later explained. "I do have to account for how those funds are being spent. They're taxpayer dollars."
Kelso took over as the receiver two years ago – just as California was slipping into the worst recession since World War II.
In his order replacing Sillen, Henderson said he wanted to usher in a new phase of the receivership – one in which control of prison medical care would begin to transition back to the state.
Kelso, a professor at the University of the Pacific's McGeorge School of Law, fit the bill. Kelso had earned a reputation in Sacramento as a fixer. He did that by sweeping up after former Insurance Commissioner Chuck Quackenbush who resigned in 2000 amid allegations of corruption. Kelso most recently turned around the state's information technology department.
Kelso's first public action as the receiver of prison medical care was to scale back his predecessor's improvement plan. But even so, lawmakers balked at the cost. Kelso wanted $8 billion to construct seven new prison hospitals and renovate medical facilities at all the prisons.
But the timing was bad. California lawmakers faced a multibillion-dollar deficit and still do.
After a couple of unsuccessful attempts to get funding, Kelso worked closely with the secretary of Corrections to lessen the costs. But the Schwarzenegger administration – which had backed the smaller, $2 billion plan – pulled its support at the last minute.
After a couple more years of wrangling, state lawmakers finally approved the receiver's construction funds in June – but they simultaneously cut his budget for on-going medical care in half.