Racial disparities in end-of-life care — how mistrust keeps many African Americans away from hospice
Image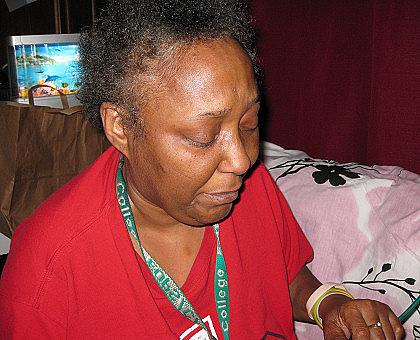 Published on
November 16, 2018
Sharitta Berry was at Oakland's Highland Hospital when she got the bad news in early 2018. For several months, Berry was coughing heavily and struggling to breathe. Her doctors told her she has COPD, chronic obstructive pulmonary disease caused by years of heavy smoking and drug abuse. There is no cure for COPD and her condition is rapidly getting worse. The bad news hit her hard—she felt sad, scared, and depressed. The 52-year-old Berry needed to make an important decision. She could choose the comfort care provided by hospice. Or she could undergo invasive surgery and be attached to a ventilator for the rest of her life.
Berry's doctors tried to explain her options, but they were unable to communicate effectively with her and she couldn't reach a decision. At the heart of the communication breakdown was a deep lack of trust of the medical system—Berry, an African-American woman, did not trust what her doctors were telling her. "Gorillas, some of the doctors were all gorillas, said Berry's daughter Ashley Hunter, describing the recurring dreams her mother had about doctors, "Or they were like robotic. She was talking about doctors doing something to her."
Reasons for Racial Disparities at the End of Life— 
Poor Communication
Image
Communication skills and training in conducting sensitive, end-of-life conversations are essential for providing high-quality care to dying patients. However, studies have found that African Americans report lower quality interactions with their physicians, compared with white patients. In one study surveying 1816 participants by telephone in the late 1990s, African-American patients rated their visits with physicians as less participatory than whites. African Americans also report less satisfaction with the quality of communication, including the extent to which providers listen and share information. U.C. San Francisco palliative care researcher Dr. Alexander Smith conducted a multistate study of 803 terminally ill patients published in 2007. According to Smith, "We found that African-American patients reported significantly lower quality patient-physician relationships than white patients." Many African Americans are either unaware of hospice care or lack a clear understanding of what hospice is.
Home Hospice Can Provide a More Affordable, Less Painful Option to Hospitalization
The goal of home hospice is comfort and pain management, when cure is no longer possible. Curative, life-prolonging treatments such as surgeries and chemotherapy are stopped, and the focus shifts to quality of life. Hospice care focuses on the patient's physical, emotional, social, and spiritual needs. The patient spends his final days and weeks at home, taken care of by family members with the help of hospice nurses and volunteers to monitor his medications and comfort level. But far fewer African Americans utilize hospice compared to whites. Among Medicare beneficiaries who died in 2010, 45.8% of whites used hospice compared to 34% of African Americans.
Reaching Out to Dying African-American Patients
Berry's doctors finally brought in Dr. Jessica Zitter, a palliative care specialist, to help out. Rather than dominate the conversation with medical jargon, Zitter let Berry talk for a long time. Berry felt comfortable speaking with Zitter and soon, it became clear what Berry wanted.
"I said 'well, what do you think about being on a breathing machine?' " recounts Zitter. "And [Berry] said 'I'm afraid I wouldn't get off.' I said 'I'm afraid you wouldn't get off too.' And she said 'I don't want it.' And that was it—that was the answer."
Berry is now at home, receiving hospice care. Her daughter Ashley is her part-time caregiver, and is relieved that Berry did not choose aggressive life sustaining treatments. "My mama knows I don't like seeing her in the hospital," said Hunter, "She knows I'm more comfortable her being with me and closer to me."
Keeping Hope Alive—Cultural Differences in End-of-Life Decision-Making
If Berry had chosen to stay alive at all costs using heroic measures such as mechanical ventilators and feeding tubes, these aggressive treatments wouldn't cure the disease, just give her a little more time. Even though there's little chance of full recovery, African Americans are more likely than whites to choose life-sustaining measures. Minorities at the end of life are more likely to receive high-intensity, life-sustaining treatments. Dr. Zitter refers to a 2013 survey done by the Pew Center survey, which found "African Americans do tend to die more often on machinery in facilities, away from home in pain than white patients."
Keeping hope alive is a strong part of African-American culture and surviving difficult times. Hospital TV dramas like ER and Grey's Anatomy serve to reinforce the belief that medicine can cure most problems, even terminal illness.
"If you watch TV as most people do, you think 'hey yeah, if this happens to most people, bring me back. Restart my heart, go for it, 'cause it happens all the time on TV.' " says Dr. Alexander Smith. "Nobody wants the CPR, the chest compressions, the shocks, the breathing tubes. They want to like get back to their former selves, to go home. Not to live in the ICU on machines for a few days before dying."
A Long History of Unequal Treatment in Medical Services
Doing everything to stay alive is part of African-American culture that can be traced back to the days of slavery. The country's long history of racism and poverty included unequal access to medical care. To this day, some suspect that the health care system is limiting their treatment options. Others worry that choosing hospice means giving up hope or hastening death. Reverend Cynthia Carter Perrilliat, a minister at the Allen Temple Baptist Church in East Oakland, often encounters this fear among her congregants, who she says ask "Why should I trust that you're going to do the right thing for me?"
"Statistics will tell you that in communities of color, particularly African-American communities, they always say 'give me everything,' " says Perrilliat. "You know, all the treatment that there is, because typically we don't get the treatment we need."
Historic wrongs such as the Tuskegee syphilis experiments of the 1930's have only served to reinforce African-American mistrust of the medical system. "The U.S. government had ultimately a cure for syphilis but they did not provide that cure to these African-American men," said Perrilliat, "Unfortunately most of them died. It was a senseless death. It did not have to happen and frankly the powers that be, the government, did nothing about it."
Established racial disparities and discrimination have long been part of America's health care system from birth to death. Infant mortality rates are twice as high for African Americans compared to whites. White Americans live 3.5 years longer than African Americans. Research further indicates that U.S. racial and ethnic minorities are less likely to receive even routine medical procedures and experience a lower quality of health services. Even at the end of life, racial disparities persist.Significantly fewer African Americans, Asians, and Latinos enrolled in hospice compared to whites.
Painful Consequences of Avoiding Hospice Care
But without the comfort care provided by hospice, African Americans at the end of life have less access to pain medication, especially if they live in low-income neighborhoods. "If they're under the care of hospice, hospice will bring the medication to that neighborhood," said Dr. Zitter, "But if you actually have to go and refill that prescription, it can be a real problem for people who don't have a car and who can't figure out how to get to a pharmacy somewhere else." Nearby pharmacies in some predominantly minority neighborhoods are less likely to stock adequate supplies of opioids.
For dying patients who opt for aggressive, life-prolonging treatments, palliative care1 is available to alleviate some of the physical pain. But Zitter says these heroic measures can immobilize frail patients, thus increasing their discomfort and suffering in their final days of life. "If I sit and think what that must feel like to be a dying person, unable to communicate on my back in an ICU or a ventilator facility with tubes surgically attached to my body with my arms tied down—to me, that's a fate I would never personally want," said Zitter.
The Faith Community and Its Potential Role in Reducing Racial Disparities in End-of-Life Care
Reverend Perrilliat had her own positive experience with hospice many years ago when her father died of cancer. She said the staff took good care of him—they were kind, caring, and compassionate. But she noticed that very few African Americans enrolled in hospice. Most of them knew little about it and the medical staff was all white. "Why don't we see more health professionals that are people of color?" asked Perrilliat, "Asians, Latinos, African Americans—where are we in this mix? The light came on and immediately I saw it. This is ministry, this is ministry at the heart of it all."
Perrilliat realized that houses of worship needed to become more active in end-of-life care, to overcome the historical mistrust of the medical system. Seventy percent of African Americans are religious and churches are highly respected institutions. "The faith community frankly I think is one of the last bastions of resource out there for communities where there is still some level there of trust," said Perrilliat, "Trust is huge on this issue of advancing illness and aging and end of life. You really need to know you can get trusted information from trusted individuals that have no motives other than they want the best for you."
The Alameda County Care Alliance—A Faith-Health Partnership
Image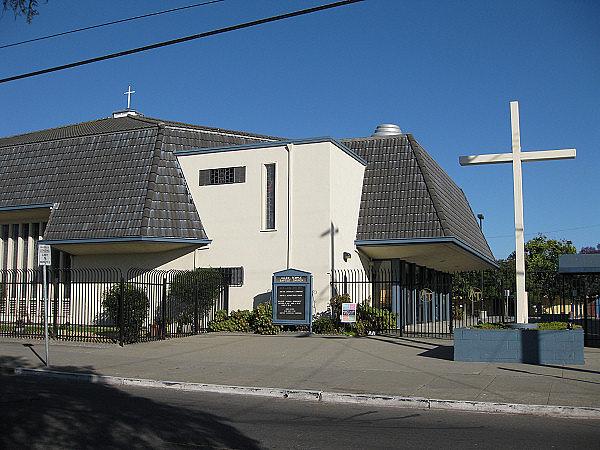 In 2014, Perrilliat partnered with five churches, and started the Alameda County Care Alliance, a faith-based non-profit providing critical support for predominantly African-American adults with advanced illness and their caregivers. It's considered the nation's first community-faith-health partnership of its kind. Ministers and faith leaders are trained to help their congregants prepare for the end of life and provide spiritual guidance and support related to their advanced illness.
At the heart of the ACCA's program is its navigation system. Community care navigators are trained to provide support and connect participants with needed resources such as transportation, meals, medical services, and hospice care.
"You have to have a heart for people, a desire to help," said Alexis Owens, one of the ACCA's navigators, "We want to make sure they know we're actively listening. We want them to trust us."
Owens grew up in Oakland and has deep roots in the city's faith community. One of her clients is 98-year-old Hannah Martin, who attends the same church. Since the death of her husband, Martin has suffered from grief, loneliness, high blood pressure, and hypertension and now, she's fallen behind on her bills, which causes added stress. "At one point, her PG&E and water bill had escalated quite a bit," said Owens, "We contacted those utility companies." Owens arranged a payment plan for her overdue bills and also helped with her transportation needs. "She's been right there when I needed her," said Martin, "She [took] me several times to the hospital, to meetings when I had to go to church. If I needed to go some place, I'd call on Alexis."
Each visit ends with a prayer. Owens holds Martin's hand and gives thanks and blessings to everyone who has helped her. As she nears the end of her life, Martin knows she can turn to Owens for help. "I just love Alexis because she's such a nice person," said Martin, "She's very, very helpful. She's someone you can talk to." Owens and the ACCA will connect her with hospice, comfort care, or whatever medical services she wants when the time comes.
The ACCA's Success and Plans for Expansion
In the last four years, the ACCA's hub churches have grown from five to fourteen. Its medical partners include Kaiser Permanente, U.C. Davis School of Nursing, and the Public Health Institute. "We got our first funding in 2014—in less than twelve months we had 550 people," said Perrilliat, "Year two our numbers practically doubled. We're well over 2,500, close to 3,000 plus folks now in our third year. So there's no lack of need, I promise you."
The ACCA hopes to reach beyond the African-American community and expand throughout the Bay Area and connect with other faith communities in the future. Major cities such as San Francisco, Los Angeles, Chicago, and New York have expressed interest in replicating the ACCA's navigator system. If the model spreads nationwide, it could go a long way in reducing racial disparities in end of life care.
1. To clarify, "palliative care" is not limited to hospice and is also used to address the physical pain, psycho-social suffering, and discomfort of those with advanced or life-threatening illness as well as those with terminal illness.