Severely ill boy almost loses Medi-Cal coverage due to glitch
Published on
November 25, 2012
Image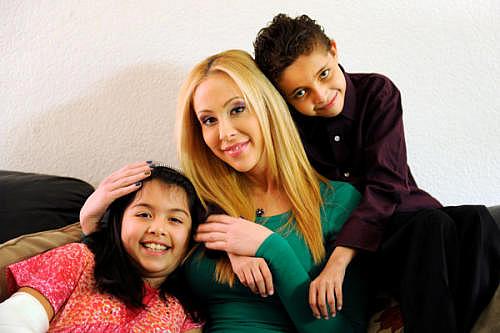 CANYON COUNTRY - The government letter arrived like a wrecking ball into Ashlee Ricci's life.
It said her son Justen Giron, 13, was no longer eligible for Medi-Cal. It said he wasn't sick enough.
"My son gets sick without warning," said Ricci, 30, of Canyon Country. "He was air- lifted from a park here recently because he was vomiting, his speech was slurred. The paramedics didn't know what to do with him."
Like many teens, Justen's eyes light up when he talks about basketball, scary movies or his pet rat.
But there are days when his 50-pound body can't keep up with his youthful restlessness. The rare genetic disease he was born with, called Alagille syndrome, is slowly claiming his liver, heart and kidneys and has damaged his digestive system.
"He's a Make-A-Wish (Foundation) child," Ricci said. "He's chronically ill."
So when the letter from the state's Department of Health Services came to her home in August telling Ricci that her son was being pulled from straight Medi-Cal, she said she felt what little normalcy her family had reached would be destroyed.
The current fee-for-service Medi-Cal he is on allows him to visit any hospital and any specialist at any time. But the state wanted Justen to sign on to managed care, which Ricci said meant she would have to get referrals to see specialists, which would disrupt her son's care and limit which hospital and doctor he could see.
She appealed and was denied, then appealed again, and was summoned to a hearing.
It was only after calls and inquiries were made by the Daily News that the state Department of Health Services told Ricci that Justen was never supposed to receive the letter telling him he was ineligible. He was reinstated into Medi-Cal.
It was a mistake - one of several glitches as California rolls out the first phase of a big statewide health care initiative called Bridge to Reform. Besides Justen, some 2,800 Los Angeles County families mistakenly received similar eligibility notices.
The $10 billion Bridge to Reform program is intended to ready many Californians for insurance coverage under the Affordable Health Care Act.
Bridge to Reform recently transitioned at least 550,000 seniors and people with disabilities from Medi-Cal to managed care.
For some, it has been a successful change.
"It's true that people have some satisfaction, and there are some things that are very positive, and we are promoters of that program," said Katie Murphy, managing attorney for Neighborhood Legal Services of Los Angeles County.
Yet some of those who were in mid-treatment and who wanted to be exempted from managed care for a year experienced interruptions in their services, Murphy said.
"In some cases the approval for exemption took too long," Murphy said. "We have several who are in the middle of stage-four cancer treatment. One man had surgery scheduled and could no longer see doctors at City of Hope," Murphy said.
Those disruptions in care, as well as the letters sent out to the 2,800 children signal, that the state needs to slow down its implementations, and add more public, face-to-face outreach instead of mass notices that could lead to confusion, Murphy and others said.
"Unfortunately, there was not much time between the passage of the statute mandating the transition, and the enrollment date of June 2011, which led to the state not being able to do sufficient outreach to help beneficiaries understand the new program," said Howard Kahn, president of the L.A. Care Health Plan, a county program that serves residents through Medi-Cal and Healthy Families among others.
Through the state program, L.A. Care's membership increased by more than 162,000 members in the last year, said Kahn, who added that they seemed satisfied with their coverage.
Similar transitions will begin next year as part of the Affordable Care Act. The moves will affect those such as people enrolled in Healthy Families, and the very poor in rural areas.
State officials said they hope to avoid more mistakes and increase outreach to members as the transition continues.
"There was an error in programming and 2,863 California Children Services beneficiaries received a packet to enroll in managed care that they should not have received," said Margaret Tatar, chief of the managed care division for the state Department of Health Services."
She said all of those families should have received letters that said they do not have to sign on to managed care.
However, Justen and others in Los Angeles County enrolled in California Children Services will be receiving notices for a pilot health program that will begin next year, said Anthony Cava, spokesman for the state Department of Health Services.
"It will provide expanded services for CCS kids," Cava said. "These programs are great because they allow us to think outside of the box with how we provide services."
But Ricci said she fears her son's care at Childrens Hospital Los Angeles, for example, will be disrupted by the transitions.
Her concerns are valid, said Dr. Stuart Siegel, director of the Children's Center for Cancer and Blood Diseases at Children's Hospital Los Angeles and who also represents children in specialty cases.
"There's a risk, there's no question, but the issue has been discussed openly with the state," Siegel said. "I think what is going to be really important is that this process has to be done carefully, with input from providers and the state in making the transition from Medi-Cal to managed care," he said.
"All of us as pediatric specialists are very concerned that that care is not disrupted, and we want to make sure that the standards that the CCS program provides are maintained."
Ricci, who is an international model and whose mom Lorrie Menconi was a Playboy magazine's Playmate of February 1969, said she was 17 when she gave birth to Justen.
Several doctors told her they didn't know what was wrong with her son. She was even accused by staff at a local San Fernando Valley hospital for being negligent because Justen was losing weight, and he appeared to be suffering from jaundice.
But a gastroenterologist helped determine that Justen has Alagille syndrome, a rare liver disease which occurs in one in every 100,000 births.
"Because it is rare, it is often overlooked" Ricci said of her son's illness.
She also said any health care reform needs to be ready for children and adults with complicated illnesses such as Justen's.
"They have to realize that these plans are not for everyone, and that for some, it could be dangerous," Ricci said.