Some Native Americans could lose coverage under Affordable Care Act
Image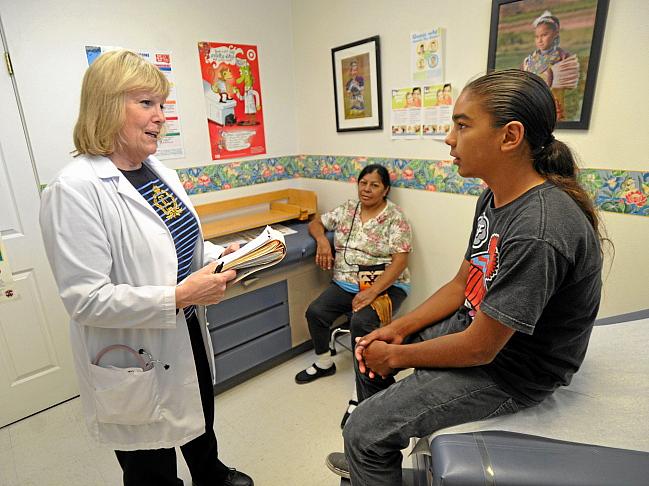 Published on
May 17, 2013
WHITTIER-- The men and women of tribes unrecognized by the federal government have always been welcomed at the American Indian Healing Center in Whittier.
It is one of two state licensed health facilities in Los Angeles County dedicated to serving urban-based Native Americans.
But these days, the Affordable Care Act is stirring up confusion and anger among the patients who visit the center and across the nation. That's because President Barack Obama's reform has raised a painful question: which tribes get free health care and which have to pay?
"There is a lot of controversy," said John Andrews, executive director of the healing center. "The real issue is what defines a Native American? Are they only those from the federally recognized tribes?"
Native Americans have received some medical care for free as part of the government's obligations to various tribes dating back nearly a century. But under Obama's health care overhaul, tens of thousands of those who identify as Native American will face a new reality. They will have to buy their own health insurance policies or pay a $695 fine from the Internal Revenue Service unless they can prove they are "Indian enough" to claim one of the few exemptions allowed under the Affordable Care Act's mandate that all Americans carry insurance.
The Affordable Care Act takes a narrow view of who is considered an American Indian, choosing to define it only as those who can document their membership in one of the 566 tribes that are recognized by the U.S. Bureau of Indian Affairs. Yet more than 100 tribes nationwide are recognized only by states and not the federal government. Those are the ones who may have to buy insurance, but it's all still so unclear, some say.
In California alone, about 21,000 people who currently receive free health care through Indian clinics are not recognized as Native American by the federal government and would have to pay the penalty, according to the nonprofit California Rural Indian Health Board.
Among those who could be affected by the new health care laws are members of the Fernandeno Tataviam Band of Mission Indians, whose home once stretched across the San Fernando, Santa Clarita and Antelope valleys. Members have been seeking federal recognition for 30 years.
The Los Angeles Urban Indian Roundtable is anticipating a final policy brief that addresses the health status of American Indians in L.A. County, said Pamela Villasenor, director of special projects for the band.
"I would be interested to know whether the Affordable Care Act will in any shape, way, or form, change the status quo for our people." Villasenor said. "In 2013 isn't it a shame that the true people of what today is referred to as Los Angeles are not even included in the discussion of health care for American Indian and Alaska Natives?"
The problem is so new that the federal government is still seeking to establish how many people might be affected, although Indian health advocacy groups estimate it could be up to 480,000.
"The administration doesn't even know what's going on," said Ron Andrade, director of the Los Angeles City/County Native American Indian Commission. "None of our agencies have any information. By now they should have given us piles of fact sheets. It's a total mess from what I can see. The nuances of the Affordable Care Act are going to kill us."
The last U.S. Census reports that more than 75 percent of all Native American people live outside reservations. But Obama's health care reform seems only to benefit those who live on the reservations and doesn't consider those in urban places, Andrade and others say.
U.S. Department of Health and Human Services spokeswoman Erin Shields said the agency is powerless to change it without an act of Congress.
"We have and will continue to encourage a robust dialogue with American Indian and Alaska Native communities about this matter, and welcome their input and ideas for solutions," Shields said in a statement to The Associated Press. "Under the law, it would require a legislative rather than regulatory change to address this matter. And as we consider approaches to the best possible solution, we are eager to work with Congress."
The IRS is working with the definition but has not yet decided how the agency will verify who qualifies as Indian or assess the penalty on tax returns, agency spokesman Eric Smith said. The IRS and U.S. Treasury have scheduled a May 29 public hearing on their proposed rules establishing who qualifies for an exemption from the insurance coverage requirement.
Some of the larger tribes, those that do have federal recognition, will not be affected by the change. For example, it will not significantly alter health care for the San Manuel Band of Mission Indians near San Bernardino, which is allowed under the health care act to provide coverage to its members and will continue to do so, said tribe spokesman Jacob Coin.
"This tribe has decided to provide benefits to its members," Coin said. "The other alternative would be the Indian Health Service, and the Indian Health Service, as we all know, has not been funded to its full extent."
Coin said the coverage issue was carefully considered but he is satisfied with its resolution.
"Health care is among the trusts that the federal government owes to tribes and people, and there's certainly some time spent on dealing with that," he said.
The 2010 Census found that nearly one-third of the 6.2 million people who self-identify as American Indian or Alaska Native lack health insurance and that 28 percent live in poverty.
In Los Angeles County, 140,764 people identify as Native American/Alaskan native, according to data from the U.S. Census Bureau, making it the largest American Indian community in the United States. At least 25 percent of them are considered low income or part of the working poor, Andrade and others said.
"Historically, within the urban Indian community, you have low-income, uninsured, marginal employment," Andrews, from the healing center in Whittier, said. "Besides economic barriers, there are cultural barriers."
The Indian Health Service, a division of U.S. Health and Human Services, oversees a network of clinics that are required to serve all patients of Indian ancestry, even if they cannot document their federal tribal status.
But for those who have left the reservations, where medical care was free, living in the city means proving you're Native American all the time to receive medical attention, Andrews said. And under the Affordable Care Act, that may not be good enough.
"If you can't prove you're native American, you can't necessarily go to a facility and expect to get care because they are only supposed to care for federally recognized tribes," Andrews said. "You can be recognized by the state of California, but unless you have federal recognition, you don't get all the benefits that come with federal recognition."
United American Indian Involvement Inc., in downtown Los Angeles, is funded by the Indian Health Service, and for now, does see patients from tribes only state recognized.
Because the American Indian Healing Center is not federally funded, providers there can see anyone as well. Andrews said patients represent 105 tribal affiliations, the majority not federally recognized.
The clinic was founded in 2000 by Dr. Javier "Hawk" Davila M.D. and Debbie Bent, who ran a mobile health truck. They began a clinic because they wanted to provide high quality, culturally sensitive, primary health care to urban American Indians.
Meanwhile, Andrews said he is trying to encourage patients who qualify to join Healthy Way LA, a no-cost insurance provided by Los Angeles County that converts to Medi-Cal in January. Andrews said the insurance may provide clients with more options for specialty care than a clinic funded by the Indian Health Service. He also tells patients to look into the upcoming Covered California Health Insurance Exchange, which in October will be open to help residents choose an insurance at comparable cost.
"We've been saying to people, let's take this one step at a time," Andrews said. "Look at this as an opportunity to gain insurance coverage. Some people are taking our suggestion and looking into it further. Others are saying 'I'll be damned if the government taxes me. I'm Native American'."
- Garance Burke of the Associated Press and staff writer Ryan Hagen contributed to this report.