The Stress Where We Live: Teen Weathering and Resilience in East Oakland, California
Stress is one of America's top public health problems, responsible annually for millions of dollars in books, television shows and products, all aimed at helping Americans reduce their exposure to stress and thereby lower their risk of cancer, diabetes and heart disease.
Yet the level of stress endured by inner-city teens is not as well-documented or popularly addressed, and teens from high-poverty, high-crime environments often find it impossible to take advantage of any of the conventional wisdom that public heath experts and medical professionals suggest as a way to combat the problem, for example, reducing stress and avoiding obesity by means of a better diet or more exercise.
This project seeks to document the social determinants of stress in the environment in and around Castlemont High School in East Oakland. Using student researchers, this project will identify and document 1) the sources of stress; 2) the ways in which teens are responding to it, and 3) the interventions that could help reduce stress and improve health in this target population.
Published on
December 4, 2010
Image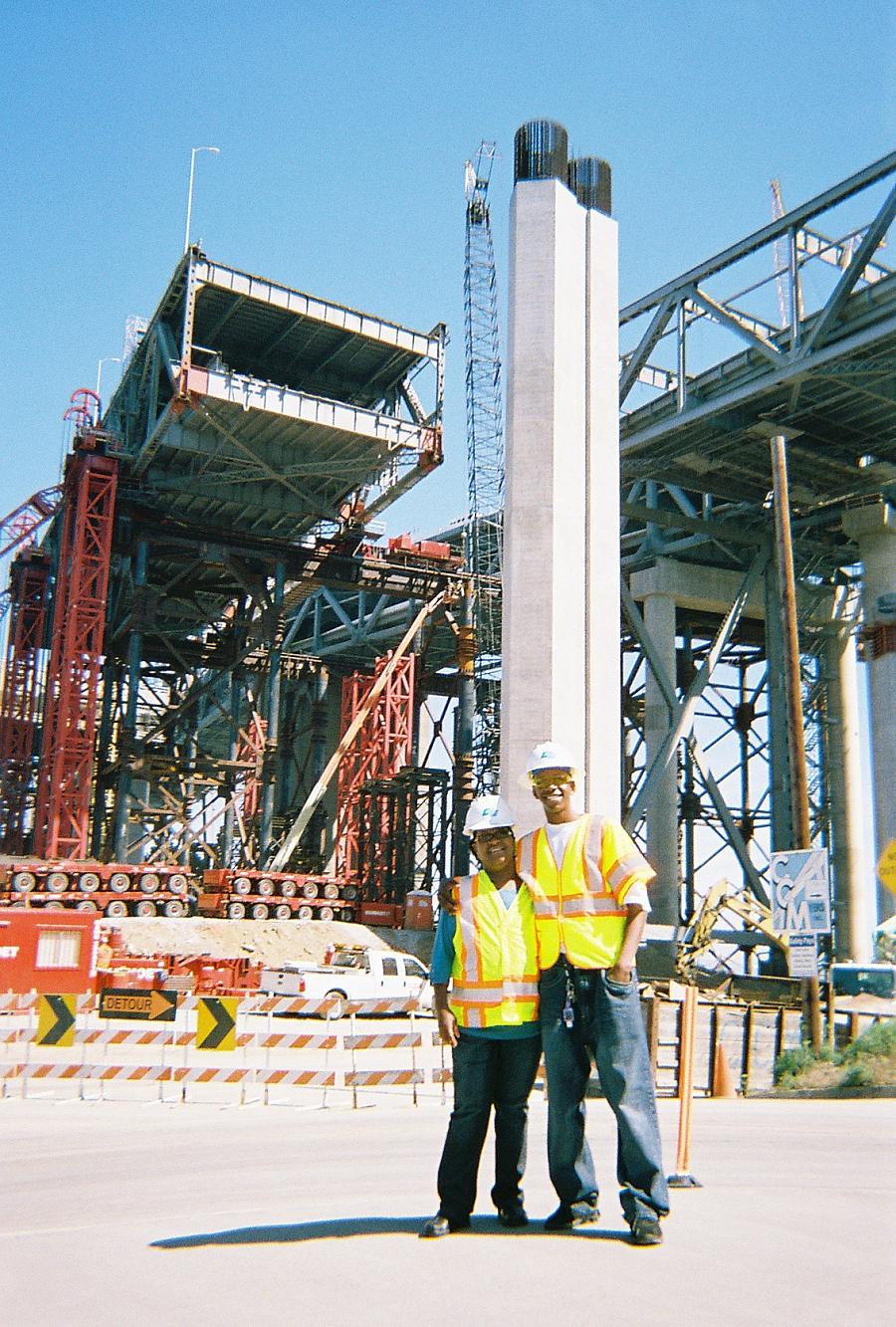 It was a September afternoon in 2009, one of those days when the promise of summer stubbornly refuses to fade even though the school year has begun.
"Hey, you're the OTT lady!" Hattie Tate, the principal of Dewey Academy in downtown Oakland, stuck out her hand and gave me a broad smile. As the co-managing editor of the Oaktown Teen Times, a newspaper by, for and about Oakland teens, I'm actually one of two OTT ladies — my editing partner, Lisa Shafer, is the other half of what we do. Nevertheless, I smiled back and took her hand. "Hi," I said. "Got a story for us?"
She did. Marquis Woolfolk, a Dewey student, was one of three Oakland students who had been selected by CalTrans to work on the Bay Bridge retrofit over the Labor Day holiday. Were we interested?
We were. As an editor, I knew it would be a terrific tale — a young black man from a continuation school in Oakland — a Last Chance High for students who haven't succeeded in other public schools — gets to work on the construction project of the century. What's more, despite an academic record that's spotty at best, now he's talking about becoming an engineer.
The next day, I called the CalTrans press information officer, Margena Wade, and she told me that Marquis was wonderful. She just loved that boy, she said; he had a fabulous personality. She sent me a dozen photos of her and Marquis at the bridge; in most of them, he had his arm around her and a huge grin on his face. It was late September and our first issue was due out in a couple of weeks. I hopped on the story.
A few days later, I returned to work with Marquis. I walked into a classroom and the teacher called him over. "Marquis," she said. "Stop what you're doing and come over here." A tall, lanky boy slouched over to me and drove his hands deep into his pockets. I tried to catch his eyes but he wouldn't look up. The teacher gave me a look, one I knew from my own years as a teacher: This one is tough. Good luck. The other kids in the classroom were bouncing around and working on assignments. A girl cut her eyes at Marquis and he wriggled delightedly in a way that spelled trouble. I knew that Marquis and I were going to need a place free of distraction if we were to get anywhere. I suggested that we go outside, where there was a courtyard and some green metal tables where we could talk.
I do this a lot, working with students on stories that they don't want to tell. So does Lisa. As teachers, both of us believe passionately in the power of writing, to give students voice and to help others understand the world they live in. As journalists, we also know that there is a fine line between helping a kid tell a story and telling it for him. With the students who write for the OTT, sometimes I cross that line. It's inevitable; the pressure and stress of the editorial process, combined with a teen's astonishing ability to disappear on deadline, sometimes means that I'll smooth a sentence, round out a thought, add a fact. In professional journalism, it's called editing, and it happens all the time. In the scholastic journalism that Lisa and I practice, though, we try to hold back.
That day at Dewey, I picked a table and Marquis took a seat. I opened up my laptop and smiled at him encouragingly. I took out my reporter's notebook and a pen. Marquis buried his head in his hands. "I got nothing to say," he moaned. I felt the sun on my back; it was another beautiful day, so close to summer I could almost taste July. I closed the laptop and shut my notebook. "Okay," I said. "Just talk to me. Tell me what happened."
The words came out, at first slowly and then more quickly, Marquis' memories  finally trumping his grumpiness. He told me how Principal Tate had been pressing him to apply for the program, but he'd dithered and delayed, not wanting to try out for something that wouldn't be a permanent job and didn't pay. Then, a friend told him that the job did pay, and with just hours before the deadline, Marquis called CalTrans and asked if he could still come in for an interview. Wade said yes. "I had no time to waste," Marquis later wrote in his rough draft." I ran home and called my girlfriend and told her to come and drive me to the CalTrans Public Information Office." Marquis was late, but Wade was so impressed by his energy that she gave him the job anyway.
For four days, Marquis wore a hard hat, boots and a safety vest, walking up and down the silent lanes of a bridge that typically carries more than a quarter million cars per day. He worked nights, a surreal experience. "I felt like I was a secret agent going on a mission," he wrote. He watched as workers cut away a section of the bridge so that it could be replaced: "While they were cutting, you can see all the yellow and gold sparks and flares going off in the dark night."
Ironically, Marquis' job was to corral inquisitive reporters who CalTrans feared would get into every nook and cranny of the construction site unless they were supervised. He was impressed by how the engineers handled questions about a crack in the I-bar that was being used.
"The reporters had a lot of concern about this new problem," he wrote. "They were wondering would the Bay Bridge open in time because the engineers said this one problem could shut the bridge down longer. The engineers told everyone not to worry, that they were already working on the problem. They kept it calm and that's what made me want to become a civil engineer, to be the kinda person who can solve problems."
Marquis and I spent maybe two hours outside as one period ended and another began, hammering out what he wanted to say, noun by noun, verb by verb. At one point the fire alarm went off, and we had to move to an interior courtyard where there were no tables or chairs, only a concrete wall near a raised bed of ivy. I gave Marquis my laptop and I said what I usually say — go ahead, you can't break anything — even though we both knew he could. Marquis set the computer on his knees, his slender, ashy fingers fluttering nervously over the keyboard as he searched for the right letters. I did the thing that works best in these situations. Now that he knew his story, I shut up and let him tell it again.
Slowly, the paragraphs stacked up, one by one, and like the bridge, the story took shape. Marquis, whose grade point wasn't at the point where he would be able to graduate, let alone apply to college, wrote about wanting to study harder and pursue an engineering degree. "I would have to stay in school and work on my math and science," Marquis wrote. "I know that it's going to be hard work but if I put my mind on it, I will be able to be up on a bridge again."
At some point, the fire alarm ended and the students began trickling back to class, laughing and pushing and complaining about having to leave the summer sun behind. Marquis and I stayed behind, not wanting to break the spell. A security guard came by, craned his head to see what Marquis was doing, then smiled and walked away. I let myself feel the sun on my face, the warmth on my shoulders. Technically, I was teaching, but emotionally, Marquis was reaching something, a way for him to write the story of what could be. We were on deadline, but I let Marquis take his time.
A few days later, I went back to work on the edited story with Marquis, but he wasn't there; he had been picked up by police and was in jail. With time so short, we had to go with what we had. I never spoke to or saw Marquis again.
Two weeks ago, just before Thanksgiving, Marquis, 18, was shot and killed as he stood on a porch in East Oakland. Lisa e-mailed me from her family's home in Ohio when she saw the story online in the Tribune. Should we do a story too, she asked? And, less answerably, "oh, damn, why does this have to keep happening to our young people?"
Since I met Marquis, the Bay Bridge construction has gone on, but for this boy there will be no retrofit. His was another life lost, another headline. Two other young men died the same weekend that Marquis did, so he didn't even get his own story. Why would he? It's the Monday wrap off the weekend's homicides. A few weeks from now, Marquis will be another page 1 story in the Oaktown Teen Times. In October, we carried a story about two boys gunned down as the school year began. I edited that one, too.
Journalists feel a guilty thrill when bad news happens; after all, it is news, something to cover, something to fill the page. But I would give anything to write again with Marquis. Not about what is happening on the streets, so often and so sadly and so unremarkably that it barely qualifies as news anymore. Not about what will be, for I can't even let myself think about the next student I meet whose life will come down to a few words flickering on the screen of my laptop. Last week, another student told me how he was shot at 10 times earlier this month as he was waiting for a bus after school. It was his fault, he said; he was wearing all black, the only color besides white that his school will allow, but he was standing in a Border Brothers neighborhood, and all-black clothing is associated with another gang, the Norteños. "I know better," the student said, adding, "I'm a ninth grader."
The story I'd like to write, the one that I wish I could go back to that quiet courtyard and work out with Marquis, for as long as it takes, is the one about what he could have been and exactly how he could have achieved it — how he could have turned his life around and gotten back on that bridge.
No, it wouldn't have been news. It might have been better. It could have been a life.