Two deals boosting healthcare to immigrants illegally in U.S. are OKd in Sacramento
Image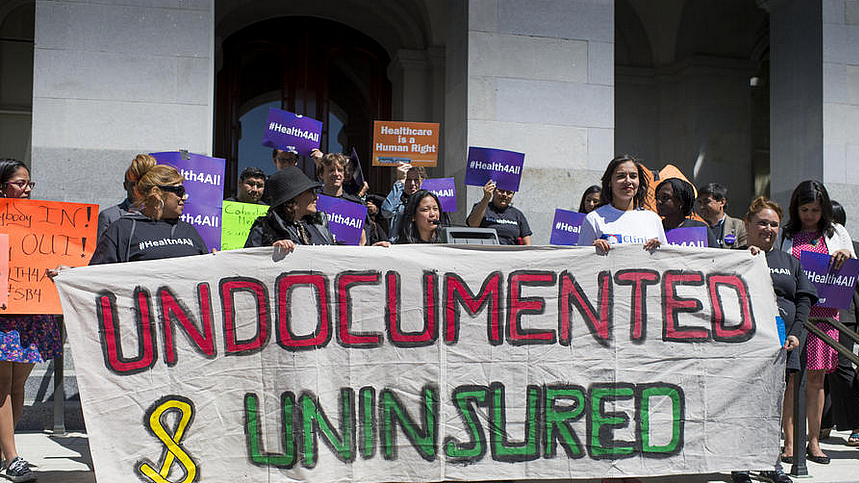 Published on
June 18, 2015
As Gov. Jerry Brown struck a budget deal Tuesday that would offer healthcare to children in the country illegally, Sacramento County supervisors — sitting less than a mile away — also agreed to provide medical care for county residents who lack papers.
Speaking of a statewide campaign for universal health coverage, Anthony Wright, executive director of the advocacy group Health Access California, said, "It was a big day for Health for All, in Sacramento and in Sacramento," referring to Capitol Hill and the county.
California law has long required county governments to provide healthcare to their poorest residents, but only 11 of the state's 58 counties interpret that mandate to include those who have entered the country illegally.
Advocates hope Sacramento's decision to become the 12th county to do so will be a catalyst for others to follow suit.
"The whole state of California is watching very closely," Sacramento County Board of Supervisors Chairman Phil Serna said before the vote.
The supervisors unanimously approved a plan that includes $5.2 million to pay for primary care and some specialty care for undocumented adults. Officials estimate it will fund care for up to 3,000 of the county's 50,000 immigrants.
Sherri Heller, director of the county's Health and Human Services Department, said that the program — likely to begin later this year — would give officials a sense of how to manage a system like this. "It's a solid first step," she said.
Annie Fox, lead organizer with Sacramento ACT, which spearheaded the effort to expand coverage, said she would continue to work with county officials to create a system more rooted in preventive care. "It doesn't end here," she said.
Eventually, Fox said, she hopes there will be a statewide program to provide healthcare to immigrants who entered the country illegally, who are barred from signing up for Obamacare.
This population now makes up the single biggest group of Californians — about 1.5 million — still without health insurance. Though those patients can visit emergency rooms and free clinics, health advocates say giving them access to more regular check-ups can stave off serious illnesses before they become more expensive to treat.
To address this issue, Brown and 
state legislators agreed to a budget
 Tuesday that includes $40 million for public healthcare for children who entered the country illegally. An estimated 170,000 immigrants 18 and younger could qualify under the expansion.
The original bill proposed by Sen. Ricardo Lara (D-Bell Gardens) would have offered coverage to the full population, but was whittled down after it was priced at more than $1 billion.
Advocates say the two Sacramento decisions Tuesday could encourage other counties to cover undocumented immigrants. Those considering an expansion include Contra Costa and Yolo, both of which — like Sacramento County — once offered these services before scaling back in 2009.
"Sacramento is the first county to reverse its recession-era decision to no longer serve undocumented immigrants, but it won't be the last," Sawait Hezchias-Seyoum, healthcare policy advocate with Health Access California, said in a statement.
Alvaro Fuentes, executive director of the Community Clinic Consortium, which has been advocating for an expansion in Contra Costa County, said he hopes the state's decision to offer care to children will press county officials to cover the remaining adult population. "This is an opportunity," he said.
In general, though, it's hard to know how these recent decisions will impact county governments, said Amy Adams, senior program officer at the 
California HealthCare Foundation
.
"There are 58 counties in California and there are pretty much 58 different ways to handle indigent care," she said.
Local decisions are influenced by a complex and unique mix of funding and politics, she said. "Different counties make very different choices, and I would expect that to continue."