While funding for California's welfare programs has seen a steady decline over the past few decades, the state's financial crisis may mean even more severe cutbacks. Many who depend on these programs may face homelessness and illness as a result.
Image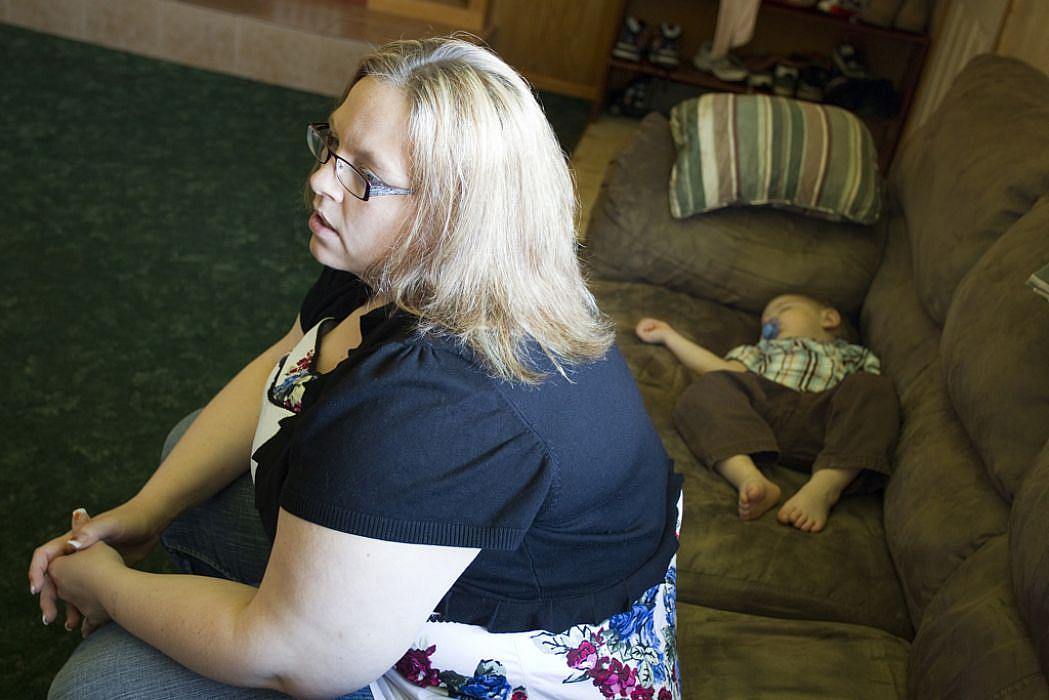 There was a time when Krystal Castro received practically every type of government assistance available.
She got cash from CalWORKs and food stamps. Social Services paid a deposit on a rental home, through HUD her rent was lowered and she got health insurance with Medi-Cal.
"There was nothing," she said, "I didn't have."
The Crescent City resident still gets a little help from CalWORKs, which she's been enrolled in off and on for a decade.
Back then Castro was 17 and pregnant, "so of course I was on welfare," she joked.
Actually, she wasn't eligible for assistance until the father of her infant son Jacob left and Castro was on her own.
She received about $500 a month from CalWORKs (California Work Opportunity and Responsibility to Kids) to help pay her bills, got her GED and became a certified nursing assistant.
Today, she's working at Curry Good Samaritan Center in Brookings and is married with another little boy, Michael, 2.
"I feel like I accomplished something," she said about having a job and no longer needing cash assistance. "I'm not dependent on anyone else. I've got it handled."
It's fortunate Castro doesn't rely on cash from CalWORKs now, because the program has been the target of state budget cuts, and more reductions in assistance programs are looming.
The coming storm
CalWORKs, the state welfare program, is operated locally by the Del Norte County Department of Health and Human Services. Low-income families with children can receive cash assistance to pay their bills. The welfare-to-work part of CalWORKs helps people find and keep a job — it provided Castro with work clothes, for example.
Its funding has declined since the 1990s, as had the number of families participating until 2007 when the economy crashed. While the need is back on the upswing,  the state legislature has further cut funding to help solve its own budget crisis.
CalWORKs is one of many programs cut back since the recession began.
The county Department of Health and Human Services has so far managed to weather the storm of California's fiscal crisis because of a push for consolidation and efficiency years ago, said director Gary Blatnick.
But, if the cuts keep coming, he said more local people could find themselves deeper in poverty and as a result worsening health.
Blatnick is most concerned about the effect cuts to CalWORKs could have. More families could end up homeless, he said, which greatly affects people's health — children in particular.
In Del Norte, many of those getting assistance are single mothers dealing with a mountain of emotional problems, such as being abused or abandoned, on top of their financial struggles.
"Many of our participants are single parents, women, who have been through some very difficult circumstances that have left them in some cases abandoned with their children," Blatnick said. "They're dealing with a lot on a personal level."
More homelessness feared
In 2009, the state legislature  eliminated the cost-of-living adjustment for CalWORKs grants to families and then reduced grant levels by 4 percent.
In March, legislators cut funding for CalWORKs grants by another 8 percent — less than the governor's proposal for a 13 percent reduction. Also cut was funding to counties for CalWORKs' welfare-to-work and child care services by $427 million.
According to the California Budget Project, thousands of people will lose their assistance after the most recent cuts, while the number of Californians living in poverty has increased to 15.3 percent and the unemployment rate is about 12 percent.
The California Budget Project is a non-profit organization that does non-partisan analyses of state fiscal and tax policies.
After the recession began, the number of people receiving cash assistance jumped up across the state.
In Del Norte, 874 households received cash aid from CalWORKs in 2010 — an increase of 77 families since 2008. Families receive on average of $550 a month — the same amount as in 1988.
An 8 percent cut to a family of three's cash aid could mean up to $59 less a month; from $740 to $681 a month.
"The research is telling us we could end up with more children homeless," as a result of less aid, Blatnick said.
"It will severely affect their ability to learn and their ability to stay healthy," Blatnick said.
The economic recession has driven some people into poverty, which greatly affects people's ability to be healthy, he said.
"As communities go through economic challenges, health outcomes are affected," Blatnick said. "Families are so over-burdened with daily struggles they can't simply get to the doctor or go the pharmacy and get this prescription filled, or they can't afford the co-payment."
The increasing need
Castro didn't need to resume getting CalWORKs assistance until moving back to the area from Fresno last fall, when she and her husband Dave couldn't find work right away. They needed it "to pay bills until we could get on our feet," she said.
Now, they only get some assistance to pay for Castro's fuel driving to and from Brookings and child care once a week.
Castro points that Cal WORKs doesn't "just give you money."
Recipients have to be working or going to school, Blatnick said. "But they don't make enough to be completely free of poverty, to sustain their families on their own."
Those living in poverty also may receive food stamps and Medi-Cal insurance benefits, he  said.
The number of people in Del Norte on food stamps has doubled since 2001, from 1,230 households to 2,477 in 2010. There are also more people receiving Medi-Cal: 8,178 individuals are enrolled in the state's free insurance program, compared to 7,647 in 2007.
Blatnick said that 1,000 more people in Del Norte may be eligible for Medi-Cal due to changes in income guidelines in the federal health-care reform act.
The county's funding to administer Medi-Cal won't be affected, but recipients will be by recent budget cuts made by the state legislature.
Recipients are limited to seven doctor visits a year and now have co-payments ranging from $3 for generic prescription drugs to $100 per day for hospital stays.
In addition, payments to Medi-Cal providers have been cut by 10 percent.
Funding for the state's food stamps program, CalFresh, comes from the federal Supplemental Nutrition Assistance Program (SNAP) and hasn't been affected so far. However, there is a Republican proposal in the U.S. House of Representatives to cut SNAP funding by 20 percent.
With CalWORKs, adults will be able to receive cash assistance for a maximum of 48 months now instead of 60 months. However, even if parents lose their eligibility, their children may still be able to get assistance.
Adults have to get a job or be working toward one or they'll lose their assistance, Blatnick said.
"The old image of someone just sitting around is gone," he said.
To get a reimbursement for her vehicle's gas, Castro has to document how many times she drove to work. The Del Norte Child Care Council pays her child-care provider directly.
The Castros make enough that they don't qualify for cash aid anymore, but they're still living paycheck to paycheck and every little bit helps. In the local CalWORKs office, the staff guided Castro to other programs she did qualify for — "they do everything they can to keep you going, they help a lot," she said.
Castro thinks about getting a degree in nursing, but doesn't know if the family would be able to make it without some assistance if she can't work full-time.
She knows that some people abuse the system, but said it should be there to help people while they look for a job or are in school. Besides, $500 a month is not enough to sustain a family without a job, Castro said.
"It's too hard with kids to live on that minimal of money," she said.
If funding is cut for CalWORKs, Castro said that could have a major impact on people who are already suffering in the recession.
She advises people on assistance to "take advantage of it and use it to better themselves, but not to depend on it."
'We were already nimble'
The branches run by DHHS were separate operations until they were integrated into one department and administration led by Blatnick.
Those branches include public health; mental health; assistance/employment and training; and social services.
Most DHHS programs are mandated by the federal government and funding comes mostly from federal or state sources.
Del Norte's merger created "greater efficiency and opportunities to share resources between programs," Blatnick said. As a result, the DHHS has not had to downsize so far, he said.
"We would have been really hurt badly by the funding reductions we've had over the last few years," he said. "We've been able to avoid the tragic cuts that other counties had to endure because we were already nimble."
About 100 people work in the various branches' programs at the Northcrest Drive headquarters.
Severe cuts to mental health services did result in some "painful" layoffs several years ago, Blatnick said.
Del Norte hasn't been receiving adequate funding for its various assistance programs since the 1990s, Blatnick said.
In 2001, funding leveled out and hasn't increased with the cost of living, he said. Del Norte is a poor county that was hurt further by the recession, which means more people need help.
"We're not getting any increases," Blatnick said, "while the number of people we're servicing is increasing significantly."
The funding DHHS receives is not based on people's needs, but rather the county's total population, he said.
"Population has a lot to do with it," he said, "which is sort of a disadvantage to us because the smaller the population, the smaller the slice. We tend to have greater needs in certain areas and sometimes that's not taken into consideration."
The department  has to be "very innovative and find ways to be as efficient as we can," Blatnick said.
DHHS does this by using programs that have been proven to work so money is not being wasted, Blatnick said. The department also looks for partners in the community to supplement services, he said.
Despite constant news that the state is billions of dollars in the hole and that massive budget cuts are looming, Blatnick reassures that "our services are at least as good today as they were, if not better because we put a lot of energy into supporting each other and really looking at ways we can be successful."
Blatnick doesn't know what cuts might be coming, but he acknowledges there could be "huge, devastating holes left."
"Some of our programs could be drastically affected," Blatnick said. "In our small rural community, we don't have a lot of money."
The county has lost hundreds of thousands of dollars from its programs that were already under-funded, Blatnick said, but "we foster hope and success."
He added: "That's what we see on people's faces: I'm going to be OK, I'm going to make it."
The county has to keep helping people through its many mandated programs, despite how much funding there is for them, while officials wait to hear budget news from the state.
"It's a story to be continued," Blatnick said.