Uneven Ground Part II: Navigating Food Deserts and Swamps
Image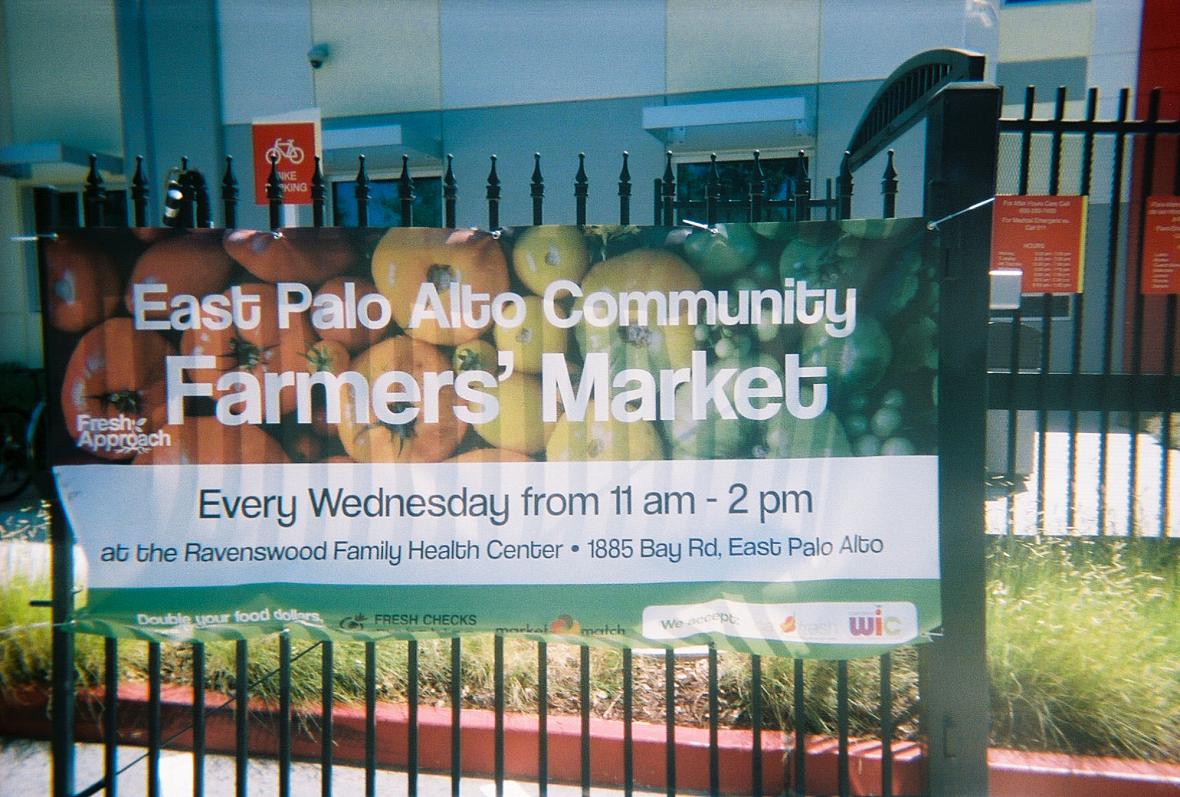 (Photo by Yahari Mendoza, 11.)
Published on
September 12, 2019
When Kendy Mendoza of East Palo Alto and his wife experienced health scares over the last few years, they took action to turn their lives around. Eight years ago, when his wife was diagnosed with diabetes, she cut out bread and tortillas from her diet, he said.
Two years ago, after a heart-related health scare, he added, he changed his diet and exercise habits, and now hikes and eats 70% more fruits and vegetables.
"My life is changing," he said.
He explained all of this during an interview with The Almanac while he cooked fried chicken in front of St. Francis Church in East Palo Alto to feed the post-service crowd one Sunday because, he acknowledged, it still sells better than vegetables.
As The Almanac discussed in part one of this series, a number of local health clinics are increasingly focused on trying to address the "social determinants" of health, seeking to help people to proactively develop healthy habits that reduce their need for acute medical services.
One of those key determinants of health is diet and access to healthy food, an area in which there are significant differences in access based on neighborhood.
The discrepancy isn't hard to see: In Palo Alto, Redwood City and Menlo Park, there are four Safeways, two Trader Joes, two Whole Foods, two Grocery Outlets and a number of other specialty and local grocery stores. But head across U.S. 101 and the grocery stores become few and far between, making it harder for residents to access healthy food and impacting the health of that area's residents.
According to the U.S. Department of Agriculture, Belle Haven and East Palo Alto – as well as some areas on the Stanford campus – are considered to be "food deserts": areas where low-income people have limited access to healthy foods. A food desert is defined as an area, in an urban setting, where a significant number or portion of residents are more than a half-mile from the nearest supermarket.
Sandra Green, a Belle Haven resident who has lived in Menlo Park since 1957, supports two grandchildren and has diabetes, said that if there were one thing she could change about the community to make it healthier, she'd install a grocery store in the neighborhood.
The need for grocery services in Belle Haven is particularly acute as high-rise apartments and office buildings spring up around it, adding more residents and blocking them all in with dismal traffic gridlock. As Menlo Park developed its new zoning on the city's Bay side to allow for all this growth, residents responding to a range of surveys over and over again identified their top priority for a retail space to be a grocery store – outranking restaurants, a pharmacy, a bank or an ATM.
As part of Facebook's proposed "Willow Village" project, the city's largest-ever development proposal, the corporation has said it's committed to bringing a grocery store to the community. But residents have wondered whether the specific vendor chosen will offer groceries that are both affordably priced and high quality. They also question why they should have to bear the burden for so much new growth and traffic to get a service that they believe should always have been in the area.
According to researchers, it's not enough just to have nearby access to food; that food has to be nutritious to be a true community asset, otherwise the area is considered a food "swamp."
A 2012 report by San Mateo County calculated the ratio of fast food restaurants and convenience stores to produce vendors, supermarkets or farmers' markets. The report found the ratio to be about seven to one in Redwood City, four to one in Menlo Park, and about one to one in East Palo Alto. Portola Valley is the only town where there are more "healthy" options – produce vendors, farmers' markets and supermarkets – than "unhealthy" options, or fast food restaurants and convenience stores, with a ratio of 0.7 to one.
But even in areas where there is a supermarket nearby, many households struggle to afford fresh fruits and vegetables. A 2015 report by SPUR, the San Francisco Bay Area Planning and Urban Research Association, found that in the Bay Area, it's more common for households to be unable to afford fresh fruits and vegetables than to be unable to find them nearby.
Health care challenges
In addition to the fact that these neighborhoods experience greater difficulty in accessing nutritious foods to bolster long-term health, many residents worry about the cost of health care. Yet others in immigrant families must also contend with the potential impacts to their immigration status that accessing both health care and food aid through the government could have with a new Trump administration policy set to go into effect next month.
When asked if they had ever delayed seeking health care because of the cost, 34 of the 101 people The Almanac interviewed said yes.
"If we do get sick, I think a lot before we go to the ER or the doctor," North Fair Oaks resident Alejandra Juarez said.
A 10-year-old from North Fair Oaks who didn't want his name to be used said he hasn't had to delay accessing health services because he has Medi-Cal, but he notices that the adults around him worry.
Among the 101 people who live in Menlo Park, North Fair Oaks, Palo Alto and East Palo Alto that The Almanac interviewed about their health concerns in the community, key concerns that emerged, following the predominant concern about the cost of housing, were the cost of health care, access to healthy food, and diabetes. Twenty-one people rated the cost of health care, 10 rated diabetes, and 11 rated access to healthy food among their top three health concerns.
Diabetes and heart disease, both of which can be the consequence of a poor diet, are the leading causes of death and severe illness in San Mateo County, according to the county health department.
About 12% of the adults in San Mateo County have diabetes, and of those, about 25% are Latino. About 15% are Asian and 8% are Hawaiian or Pacific Islander. Black residents are more likely to be hospitalized due to short- and long-term complications from diabetes, according to county data.
Dietary supplements
A free clinic run by Samaritan House in North Fair Oaks, which mainly serves people without insurance, has taken an innovative approach to helping some of the most vulnerable patients in the community manage their diabetes through diet.
Through a partnership with Second Harvest Food Bank, the predominant food bank in San Mateo and Santa Clara counties, the clinic runs a "food pharmacy" aimed at helping people diagnosed with diabetes manage their blood sugar.
Recently, the clinic's medical director of health care services, Jason Wong, showed The Almanac a small storeroom at the North Fair Oaks clinic full of foods like beans, fresh produce, milk, eggs, cheese, turkey, fish and tofu.
Clinic patients with diabetes are given a quarter-sheet "prescription" form from their doctor encouraging them to stock up on whatever food they want from the storeroom, Wong said.
About 20% of the patients seen at the clinic, or about 200, are seen for diabetes, he said. While the paper prescriptions are largely symbolic, he added, the clinic's emphasis on healthy food and the results they've achieved in helping people manage their diabetes are anything but.
The food pharmacy has been running for about three years now, and in that time, Wong said, the clinic has found that patients who access the service have had as much success managing their diabetes as they would with an oral medication, as determined by the A1C test, a measure of how much glucose or sugar is in one's bloodstream.
Type 2 diabetes is diagnosed when one has an A1C level of 6.5 or greater; on average, Wong reported, the program lowered diabetes patients' A1C levels by 1%, from 9% to 8%. A normal A1C reading is considered to be 5.7% or lower.
About 200 patients are enrolled in the food prescription program, and the clinic sees about 70 of those patients a month, he added.
The shift is helping patients feel better, have more energy and save money, he said.
Demo-ing deliciousness
Still, Wong noted, there are yet more steps to supporting people who are trying to eat more healthfully than just sending them home with some kale or tofu – for example, teaching people how to prepare those foods, and making sure they can access enough of it to satisfy their hunger.
Second Harvest has been a leader in eliminating these final barriers, said the organization's director of nutrition, Maya Murthy.
The nonprofit offers cooking classes and has a team of people who, at food distribution events, give cooking demonstrations using simple recipes, as well as teach people how to read a food label and understand what the right portion size for a given food should be.
Murthy understands that for low-income people working long hours or waking up at the earliest hours of the morning for long commutes, there's hardly time to indulge in preparing elaborate "foodie" meals with the freshest produce money can buy – let alone hire private chefs to prepare those meals for them.
In the last couple of years, she said, the program has been focused on helping people to make the best choices for their health, recognizing that this may not look the same for everyone.
Her goal, and that of her team of volunteer "health ambassadors," is to help people feel good about picking up a new piece of produce they've never had before and leave feeling confident they can go home and prepare it into something delicious. 
It's an empowering thing, she explained, to feel good around food, and to treat cooking as a nourishing act of self-care. It's a ritual that can be particularly valuable in communities that have experienced trauma, she added.
She tests the recipes herself to make sure they're not too complicated. "I'm probably the one nutritionist that doesn't enjoy cooking," she said. "It doesn't have to be complicated or time consuming, but it is part of living a healthy lifestyle."
"Everybody has some complicated relationship with food, for whatever reason that is," she continued. "I think one of our roles as being on the nutrition team here is the start of the process of healing that."
Second Harvest works to ensure that vulnerable families not only access the free food the food bank offers, but that they enroll in food assistance programs for which they might be eligible.
According to Tracy Weatherby, vice president of strategy and advocacy at Second Harvest, CalFresh, California's federal food aid program, can provide monthly benefits as low as $15 worth of food, but the average CalFresh recipient the nonprofit helped sign up last year received more than $350 worth of food per month. Households that attend distributions at Second Harvest receive an average of $245 a month in food, she said.
Changing rules
The impacts these programs have in bolstering the acute- and long-term health of community members are under threat, however.
Under a new policy set by the Trump administration set to take effect on Oct. 15, immigrant families in some circumstances who access services like CalFresh, as well as Medicaid and housing assistance, will be considered a "public charge" and may denied green cards.
The U.S. Citizenship and Immigration Services uses the "public charge" test to decide who to let into the U.S. and who should get a green card, as well as whether to adjust or extend someone's immigration status.
This test is not used when people apply for citizenship, according to the Health Consumer Alliance. The rule does not apply to children under 21 who use Medi-Cal or to pregnant women, according to the Legal Aid Society of San Mateo County. It also would not apply to people who already hold green cards or to people who have any kind of humanitarian visa.
"There's a very large number of people for whom it would have no effect at all. That being said, the intent of the rule is to scare people off of all public programs. ... It's going to make our communities hungrier and less healthy," Weatherby said.
According to a letter of opposition to the rule change signed by county Supervisor Dave Pine last year, while it's not known exactly how many people will be impacted by the rule change, an analysis by the Migration Policy Institute found that under the new policy, 41% of San Mateo County residents who are not U.S. citizens, or about 32,600 people, are members of families that use at least one of the four means-tested benefits that might be considered in a public-charge determination, compared with 2% under the current policy. About 72% of these residents work.
The rule is expected to face major legal challenges and would not apply retroactively, Weatherby noted.
However, she added, since the rule was proposed, it has already created fear, apprehension and government distrust in the communities Second Harvest serves.
"Taking away nutrition from people who are trying to get themselves settled, who are working hard, is a very counterproductive policy for our communities," she said. "CalFresh is a basic safety net program. If people need a few months or a year to get set up to be successful, that should not be held against them in any way, shape or form."
These concerns could impact children's access to nutritious food: About 76% of households receiving CalFresh in East Palo Alto are households with children; the same applies to about 86% of North Fair Oaks families.
Weatherby said that Second Harvest staff members have reported that it's been more difficult to get people to sign up for CalFresh since the threat of the rule change went public last year. In some school districts, she said, it's been reported that families are not signing their children up for free or reduced-price lunch programs at school, even though those are not connected to the public-charge rule.
The Legal Aid Society of San Mateo County signed on to a lawsuit, filed Aug. 14, seeking to block the implementation of the policy, arguing that it is unlawful and unconstitutional and would disproportionately threaten immigrant families, particularly those of color.
"The Trump administration has deliberately designed this policy to target families of color, which is part of its overall blueprint to change the face of what we look like as a nation and who is considered worthy of being an American.
It threatens immigrants of color with exclusion and Americans of color with deprivation or family separation. And it aims to deny working-class immigrants of color the ability to thrive in the land of opportunity," said Marielena Hincapie, executive director of the National Immigration Law Center, another group that supported the lawsuit, in an Aug. 16 press statement.
"We will not stand for it. We're fighting back against this racist policy, and we're going to win the fight to protect immigrant families."
When the rule takes effect, Weatherby said, the nonprofit is planning to coordinate with nearby free immigrant legal aid organizations to help clients work through their options. If they determine they have to stop using food programs, people will still be able to access food from Second Harvest.
That, of course, will put increased pressure on the food bank and other local food providers to fight local hunger.
While Weatherby said she was confident the food bank could rise to the challenge, she added, "It's not good policy for our community for people to not have access to basic food supports."
Another less well-known shift that could dramatically affect who accesses services like CalFresh is a proposed rule change that would eliminate the concept of "broad-based categorical eligibility."
Currently, that rule permits states to have some flexibility in how they administer programs like CalFresh; the state can now cross-qualify households without requiring separate applications, and screen households at higher income levels based on other significant household expenses like housing, medical and child care costs.
"That's really important to an area like here (with) an extremely high cost of living," Weatherby said. If it takes effect, many people Second Harvest works with would be taken immediately off of CalFresh, she noted.
The proposed rule is open to public comment until Sept. 23. People can submit comments here.
[This article was originally published by Palo Alto Online.]