'Unhealthy' ads common in poor neighborhoods
2012 National Fellow Taunya English reported this story for WHYY with assistance from a grant from the Dennis A. Hunt Fund for Health Journalism.  Other stories in her project, "Designs on Health,"  can be viewed here.
Image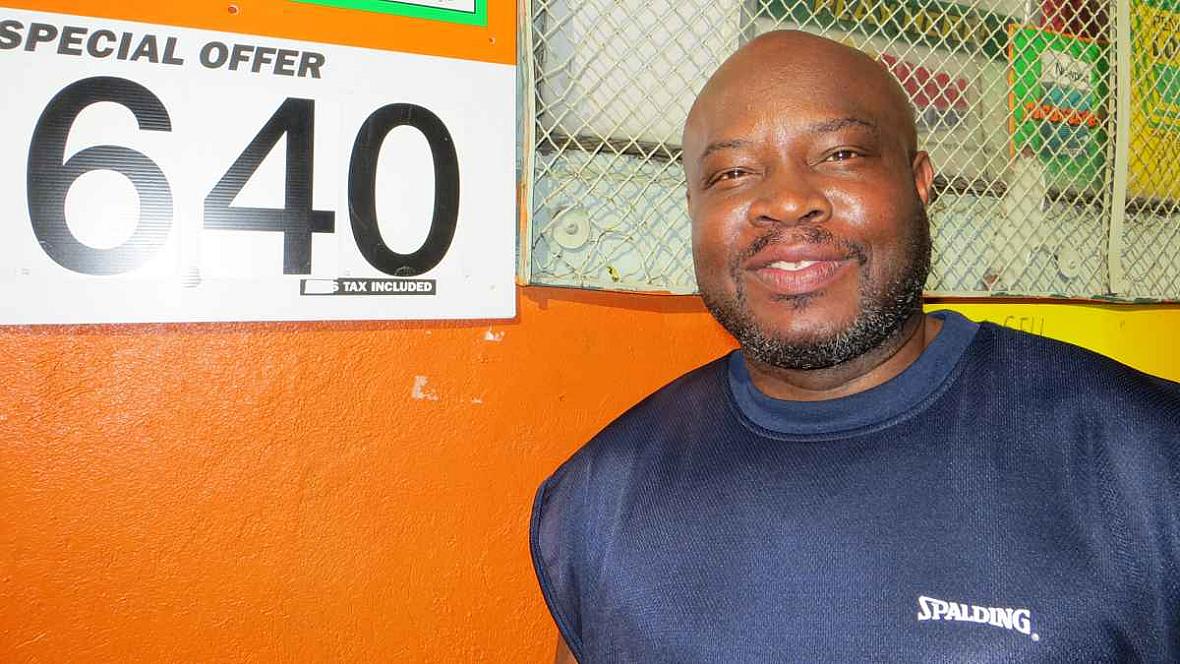 Published on
August 26, 2013
A city zoning law could help curb the number of advertisements for cigarettes and sugary drinks in Philadelphia ― and a new survey may provide ammunition for stepped-up enforcement of the 2012 rule.
"The Marlboro Man is not on the highways now. The corner store has become the new tobacco billboard," said PennDesign professor and survey leader Amy Hillier. "Big tobacco industries are fighting for their business on this scale, on this neighborhood scale."
The report, released today, found a disproportionate concentration of "unhealthy" ads in low-income neighborhoods and at places that participate in the supplemental nutrition assistance program — sometimes called food stamps, says Giridhar Mallya, the health department's director of policy and planning.
"Advertising gets people to make decisions that maybe they wouldn't have made otherwise," Mallya said. "It can get people to initiate tobacco use. It can actually even make people who have quit tobacco, relapse. These are the reasons why advertising in communities really matters."
Past research — also from Hillier ― shows that Philadelphia probably has more tobacco and sugary drink ads, at a higher density, than other cities.
For the new assessment, Hillier's team surveyed about 2,800 licensed tobacco retailers including convenience chains, bodegas and corners stores. They also took pictures to document the signage outside each outlet.
Advertising works, Hillier said.
"There's no way that Pepsi would hire Beyoncé — that's expensive ― if it wasn't going to translate to Pepsi sales," she said. "And on a small scale, the small signs outside stores make a difference to where people are going to buy their cigarettes."
Hillier and Mallya said the landscape in some neighborhoods is littered with "unhealthy" ads.
There is wide consensus that health is a complex interaction of the choices people make, genetics and environment. But Hillier concedes that environment is only part of the equation.
"Just because you are exposed to this doesn't mean you will grow up to be obese, that you will grow up to be a smoker, and that you will die early of chronic disease," she said.
Counting up ads
Keith Gant, born and raised in West Philadelphia, was part the survey team hired to count up ads.
"I've lived in this neighborhood all my life, and I never realized how many are there, where they are," Gant said.
He said the proliferation of ads he noticed in Manayunk, for example, was different.
"It's not overwhelming. It's not the four-foot soda ad, or the two-foot Coke ad," Gant said. "All the other gaudy stuff that seems like it's there to draw your attention when you walk in. Bam, it's right there."
Gant was picked for the survey team because he knows Philadelphia, but spending the summer months walking the streets of the city — and taking pictures ― was a "challenge," especially, he said, in the 19134 zip code ― North Philly, Lower Kensington.
"You got to get creative, you've got to feel it, you got to be safe," Gant said. He guessed he witnessed seven drug busts. Police and local residents also kept a close eye on his actions.
"I got pulled over by the cops three times. A group of guys walked up to me asked me what I was doing. They are talking to me in Spanish and I don't know what they are saying."
Most ads are legal
Tobacco and sugary drink ads posted on store windows are legal. But, in 2012 Philadelphia passed a new content-neutral zoning rule for glass windows and doors. The city has not widely enforced the law, but it applies to all advertising.
Currently retailers often plaster their window space with ads, Mallya said.
"They can't do that anymore," he said. "Only 20 percent of space can be used for advertising. We think that this could reduce advertising for tobacco, sugary drinks and junk food."
When WHYY/NewWorks asked cigarette makers how the change might affect their marketing strategy, Reynolds American Inc. sent a written response.
"R.J. Reynolds advertises its products to adult tobacco consumers at retail locations in full compliance with all state, federal and local laws and regulations. Also, it is a guiding principle and belief of the company that the marketing of tobacco products should not be targeted to minors or non-tobacco users," spokesman Richard Smith wrote in an email.
The 20 percent rule has been law since mid-2012, but Mallya said his department is just begining work to educate storeowners.
Hillier said she gets why there has been little enforcement from the licenses and inspection department, considering Philadelphia is struggling to open schools on time.
"It isn't a priority. I understand that," Hillier said. "As a parent, the first thing I care about is the schools, too."
In the short term, Hillier would like city leaders to sit with cigarette executives to come up with voluntary restrictions and to change the marketing tactics used by the tobacco-industry.
"They will make cigarettes available more cheaply to stores that will promote their products on the outside," Hillier said "I think that's a shake down. I think that bullying. If it were me, I might be calling them out. If it were someone a little more diplomatic it might be: 'Let's negotiate.'"
Danilo Burgos, who owned a Philadelphia grocery for 10 years, and is past president at Dominican Grocers' Association, explains why cigarette ads are so pervasive: "Let's say — just for the sake of argument, a pack of cigarettes is $7 and the company wants to run a special for 50 cent less. The company will reimburse you that 50 cents."
Burgos said he wants Philadelphia to proceed carefully with zoning enforcement.
"Where the city doesn't just start coming out and fining people, a lot of these businesses have contracts with the tobacco industry to place these signs up," Burgos said.
He said the health department "picks and chooses" which issues it will pursue, and Burgos said there are "more direct health hazards" the department could take a stand on ― such as abandoned building and trash.
Burgos, who said he's been on the receiving end of "broken policies that don't benefit the growth of businesses in the city" said he hopes city officials won't blame the "mom and pop" sector for the choices that individuals make.
"They have a tendency of going after the small guys, and primarily the people that end up always paying the brunt of whatever they are trying to enforce is your corner businesses," Burgos said.