Waiting-list names haunt woman at The Healing Place in Louisville
Image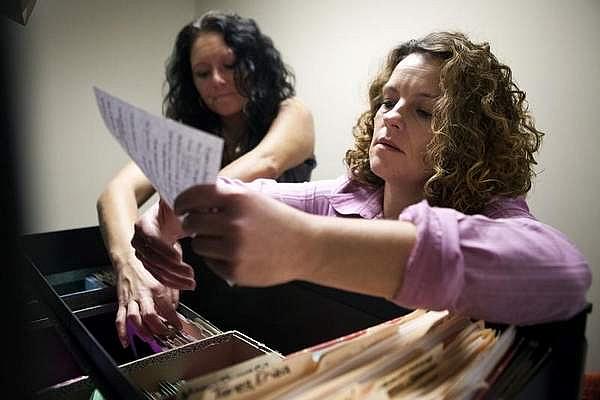 Published on
December 18, 2012
Crystal Copley fields calls from desperate women seeking help for their addictions at The Healing Place in Louisville — and is haunted by the voices of those she must tell to wait.
"It breaks my heart because I understand the pain they're in," said Copley, 35, a recovering prescription-drug addict from Louisville who helps keep the center's waiting list. "One of the thoughts that goes through my head is, 'A lot of people die from this disease.' That's my biggest fear, that they will die."
Copley's own month-long wait before arriving at The Healing Place in January 2011 left her feeling "doomed," she said, and she attempted suicide by taking an overdose of aspirin.
Like Kentucky's other residential recovery sites, The Healing Place has a waiting list that can stretch two to three months or more, depending on demand. It reflects Kentucky's lack of beds in a state with one of the nation's worst prescription-drug abuse problems.
"People are dying every day because the need is so great," said Karen Kelly, president and chief executive officer of Operation UNITE, an Eastern Kentucky anti-drug organization.
Mike Mitchell, a 45-year-old recovering addict from Lexington who came to the center in 2011, is Copley's counterpart for men's treatment at The Healing Place, keeping a blue ledger with a waiting list filled with names. Copley said she and Mitchell screen people over the phone, give the paperwork to the detoxification supervisors and then must share the bad news when there are no beds available.
They tell callers to try back once a week so they stay on the list.
"Women who call the most, those are the women who get a bed first," Copley said. "It shows they truly want to be here."
Copley said she and Mitchell also refer callers to new centers in the Recovery Kentucky program, in the hopes that a bed might become available. But Copley realizes that many callers will give up and go back to abusing prescription drugs.
She said she knows from experience that it's nearly impossible for longtime addicts to stop using without help.
Copley was an entrenched addict who drank as a teenager and became addicted to pain pills as a nurse. A stay in a 30-day residential center failed to end her addiction.
She said she needed an intensive, long-term program such as The Healing Place, where clients typically stay seven to nine months, and go through four stages of the program: detoxification, the motivational stage, the recovery phase, and a transition and peer-mentorship stage.
Copley has been at The Healing Place for 18 months, about half that time as a peer mentor and supervisor.
She said the program has given her the time and the knowledge to truly realize the errors in her thinking and build supportive relationships with other recovering addicts.
She said there are too few places to get that kind of help.
"There's definitely not enough centers," she said. "I don't know if there would ever be enough."
So Copley must continue to urge her callers to stay clean as they wait for beds. But ultimately, she said, there's little she can do except "pray for them a whole lot."
This series was first published in the Courier-Journal on December 17, 2012
Photo Credit: Alton Strupp/Courier-Journal