Will feds bring consistency to Mississippi's disjointed mental health system?
A landmark court decision gives hope to people with mental illness in Mississippi, who are caught up in a dysfunctional mental health system, and their families.
Image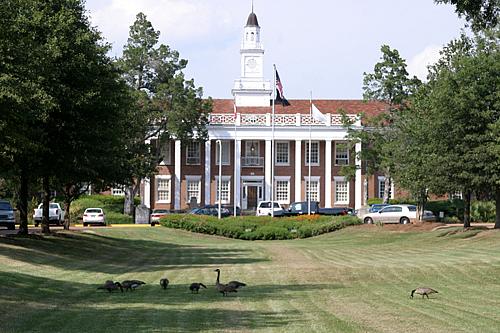 (Mississippi Department of Mental Health)
Published on
September 8, 2019
Mississippi Center for Investigative Reporting
People who care for and advocate for individuals with severe mental illness gained something this week: hope.
U.S. District Judge Carlton Reeves, issued a long-awaited ruling on Sept. 3, in favor of federal oversight of Mississippi's mental health system, which gives people with mental illness "hope that the inconsistencies in community-based services that currently exist across the state will become a thing of the past," said Angela Ladner, executive director of the Mississippi Psychiatric Association.
The court held that Mississippi is pushing people with severe mental illness into segregated psychiatric hospitals, tearing them away from their families, when they could have provided them appropriate outpatient care in a community setting.
While Ladner is pleased with the court's decision, she said, "Our state cannot resolve the issues raised in the lawsuit until we are ready to admit that they exist. People that suffer from brain disorders deserve the same level of care and opportunity that exists in the approach to other medical illnesses."
The ruling was a culmination of a court battle that began in 2016 after five years of "fruitless negotiations" between the U.S. Department of Justice and Mississippi to try to reform the state's mental health care system. A four-week trial was held in June and July.
Reeves found that Mississippi is discriminating against people with serious mental illness by violating Title II of the Americans with Disabilities Act and failing to provide adequate community-based mental health services.
"On paper, Mississippi has a mental health system with an array of appropriate community‐based services," Reeves said. "In practice, however, the mental health system is hospital‐centered and has major gaps in its community care."
"The United States' experts provided dozens of examples of individuals who were unnecessarily hospitalized or hospitalized too long because they were excluded from community‐based services," Reeves said in his ruling.
"In 2018, a total of 2,784 Mississippians were institutionalized across the four hospitals" at a cost of between $360 and $474 per person per day, Reeves said in his 61-page ruling.
The Department of Justice argued during the litigation that committing someone to a psychiatric hospital should be a "treatment option of last resort," after all non-restrictive options have been exhausted. But in Mississippi, the court determined that state-run psychiatric hospitals are the only option of care for countless number of mentally ill people. 
People with serious mental illness should be afforded the same rights as other U.S. citizens, the right of "independence, freedom of choice, control of their lives, [and] the opportunity to blend fully and equally into the rich mosaic of the American mainstream," Reeves said.
In response to the court's decision, Attorney General Jim Hood, whose office represents the state and had to defend the lawsuit, didn't disagree with the ruling.
"Since February 2013, I have been warning the Legislature about their underfunding of community mental healthcare," he said in a news release. "The Legislature continuously chose to put money towards big corporate tax cuts rather than meet the needs of those among us who need our assistance. The result has been a lawsuit and a federal court order that will cost us more." 
Hood's statement did not explain why he didn't settle the case to avoid the trial.
Several advocates say the lawsuit should have been settled a long time ago and that the $8.5 million in taxpayer money Hood's office paid the Phelps Dunbar law firm to defend the suit could have been used to increase community-based services.
Hood, who is the Democratic candidate for governor, has advocated for the expansion of Medicaid, so the state can use federal funds to pay for more community mental health services.
"I think the biggest challenge for the Mississippi Department of Mental Health is limited resources, that includes a limited number of practitioners in our state and a finite budget," said Stewart Rutledge, a board member of the state's Department of Mental Health
 "No honest state would claim that it provides perfect mental health coverage to all its citizens all the time, and Mississippi is no different. However, given its resources the Department of Mental health efficiently provides outstanding service and is continually searching for ways to expand and improve," Rutledge said.
In his ruling, Reeves acknowledged that the state had made strides in improving its system, and that "Mississippi has its own unique challenges due to its rural nature and limited funding."
Nevertheless, Reeves said, "the State has known for years that it is over‐institutionalizing its citizens. Eleven years ago, the Mississippi Legislature's PEER Committee found that "[a]lthough the mental health environment in the United States has dramatically changed from an institution‐based system to a community‐based system in recent years, Mississippi's mental health system has not reflected the shift in service delivery methods."
Reeves pointed out that testimony showed that the Department of Mental Health didn't begin moving money from hospitals to community services until 2018.
"The State's own experts admitted that institutional and community care cost the system the same amount of money, so the state cannot claim that the resources are not available or that the costs constitute an unreasonable accommodation," Reeves added.
Additionally, Reeves said, "community-based services receive federal Medicaid reimbursement that hospitalization does not. The worst case is that the State would spend the same amount of money it does now—just redirected to more cost-effective services. The best case for the State is that the movement from hospitalization to community-based services would save money."
Joy Hogge, executive director of Families as Allies, a mental health advocacy organization in Mississippi, said the state's poorly constructed and poorly coordinated mental health system is the root of the problem.  
"The problems with a lack of infrastructure and accountability need to be addressed before we know if (and) what types of funding changes are needed," Hogge said. Otherwise, she said, it does not matter how much money you pour into the system, people will continue to fall through the cracks and cycle in and out of institutions, emergency rooms and jails. And, without adequate accountability, there is no way to "know what's actually happening to people and how taxpayers' money is being used."
There is no singular government agency that oversees the different components of the state's mental health system to prevent inconsistencies in care and services, which advocates say has led to disparities in the system especially in rural areas.
"Everything is so decentralized," said Micah Dutro, legal director for Disability Rights Mississippi. "In any other state, the community mental health centers would be run by the Department of Mental Health.  I think there is too much decentralization and not much in the way of standardization of care. The core services list needs to be expanded."
The disconnect between DMH and the regional mental health centers became clear earlier this year. With less than a month to respond, the Department of Mental Health was informed on July 16 that the Gulf Coast Mental Health Center in Region 13 would be closing on Aug. 11. The region has an estimated population of about 328,000, and it serves Hancock County, Harrison County, Pearl River County and Stone County.
The DMH was apparently blindsided but was able to negotiate an agreement with the counties to provide $1.5 million in advance funding to the Gulf Coast center to avoid a lapse in service, according to a Memorandum of Understanding between the state and county officials 
The court also noted that the gaps in community care has had a devastating impact on people with serious mental illness and resulted in lengthy hospital stays. In FY 2018, DMH officials say the average length of stay for acute psychiatric care in Mississippi was 38 days.
Reeves seemed to be particularly moved by the fact that "a single hospitalization can result in you losing custody of your children."
The lack of coordination between the state and the community centers when people are being discharged from psychiatric hospitals, have also resulted in people being committed multiple times, the DOJ said.
"I had a patient committed 20 times," said Julie Teater a clinical psychologist who does mental health evaluations for Region 13.
"A significant number of patients end up being committed several times because they are discharged with inadequate follow up, medication and community-based supportive services," Teater said.
One of her patients killed herself, she said, because the system failed her. She was unable to get the care she needed in the community and in the hospital, Teater said.
The Mississippi Center for Public Policy reported in May that the DMH is the largest employer in the state. As of July 31, DMH officials say the department had 6,158 employees, most of whom work in state-run institutions.
The Department of Mental Health is an autonomous government agency that operates six inpatient facilities for people with serious mental illness and six inpatient facilities for people with intellectual and developmental disabilities.
As an alternative to institutional care, individuals with intellectual and developmental disabilities can apply for a waiver to receive support services at home. These services are funded through Medicaid and are available as long as the services do not exceed the cost of care at an institution and the person qualifies for Medicaid. 
Mississippi's mental health system also includes 14 independent Community Mental Health Centers that are responsible for providing community-based mental health services to the state's 82 counties. DMH officials said these centers are part of county government, but the court held that, "it is ultimately DMH's responsibility to manage the expansion of community-based services at (community mental health centers)."
Reeves ordered the state and the DOJ to work with a special master – a person appointed by the court to make sure judicial orders are followed – to expedite and prioritize community-based care. The parties have to submit potential candidates for the position to the court along with a proposal of how they plan to move forward. A hearing on the matter will be held this fall.
Report for America corps member Shirley L. Smith is an investigative reporter for the Mississippi Center for Investigative Reporting, a nonprofit news organization that seeks to hold public officials accountable and empower citizens in their communities. This piece was original posted here. 
Email her at Shirley.Smith.MCIR@gmail.com