West Virginia is among the top five on just about every national chronic disease list. The state leads the nation in diabetes and obesity, according to the Gallup Healthways poll.
Surveys show that many West Virginians do not realize obesity is a leading cause of many chronic diseases. Many also feel those diseases are hereditary, and there is nothing a person can do to prevent them.
The state's children raise major red flags for the future. West Virginia University screens thousands of schoolchildren every year. In 2010-11, they found that 24 percent of fifth-graders have high blood pressure, 26 percent have high cholesterol, and 29 percent are obese. Eighteen percent of kindergartners and 23 percent of second-graders are obese.
There has been little public discussion of this problem. "The Shape We're In" project aims to stir up that discussion. Written and photographed by Annenberg fellow Kate Long, it will be divided into three parts in The Charleston Gazette, the state's largest newspaper:
• Children at risk
• Programs that work
• Communities making a difference
Some segments will be accompanied by West Virginia Public Radio pieces.
Part 1: "This is a public health emergency"
Part 3: Putting the pieces together
Part 4: Health officials say W.Va. can reverse its chronic disease numbers
Part 5: W.Va. man: diabetes programs work
Part 7: Daily activity affordable, Department of Education says
Part 8: Wood researchers: Active kids do better academically
Part 9: Rocking the gym at 7:30 a.m.
Part 10: Nebraska school district lowers obesity rate
Part 12: 'Everyday heroes' saving own lives
Part 13: W.Va. ranks first in heart attack, diabetes, eight other categories
Part 15: Great Kanawha food fight
Part 17: W. Va. slammed with sugar
Part 18: Glenda and Jill vs. diabetes
Part 19: This is how bad diabetes can be
Part 20: Recognize diabetes before it's too late
Part 21: Logan hardest hit by diabetes
Part 22: Even if your relatives had diabetes, you don't have to
Part 24: American Diabetes Association is MIA in W.Va.
Image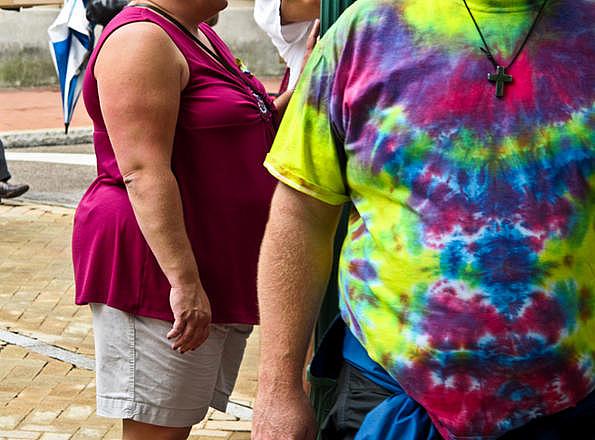 Published on
April 28, 2012
CHARLESTON, W.Va. -- Think about this: More than 200,000 West Virginians have contracted a disease that kills people. About 69,000 of them don't know they have it.
It is spreading fast. Another 125,000 West Virginians already have symptoms, the federal Centers for Disease Control says.
This disease causes heart attacks and leads to strokes, blindness, arm and leg amputations, nerve damage, kidney failure, liver failure. It kills people early. It's starting to attack children. About 25 percent of 11-year olds have high blood pressure and cholesterol and are obese.
Obesity is driving this disease. In 2007, 2,459 West Virginians died from it and its complications, according to state records.
All this is true. "The lack of public concern is staggering," said Gina Wood, manager of the state's Diabetes Prevention and Control Program.
"There is absolutely reason to be alarmed," she said. "Our health care system is not going to be able to handle all these folks."
If this was bird flu, killing two thousand people a year, wouldn't state government blanket the airwaves with ads that tell people how they can prevent it and control it? Wouldn't they set up a website that tells citizens where they can get help? Wouldn't we plaster the state with billboards and posters in store windows, telling people how to prevent it?
One in six West Virginians is now diabetic, according to the 2011 Gallup Healthways poll. In 2010, the CDC estimated it was one in eight.
Uncontrolled, diabetes kills people slowly and expensively, attacking most of their organs, shutting them down. Many West Virginians don't know this is an epidemic. They don't know it can be prevented.
"Type 2 diabetes is exploding right in front of us, yet people act like nothing unusual is going on. It's bizarre," said Parkersburg native Dr. Frank Schwartz, who directs Ohio University's diabetes program.
Because it's not a sudden epidemic like bird flu, it doesn't make headlines. "We've gotten so used to diabetes, we don't take it seriously anymore," Schwartz said.
West Virginia leads the nation in diabetes, according to the 2011 Gallup Healthways ranking. "This is a genuine epidemic," said Evan Jenkins, director of the West Virginia State Medical Association. "It affects a quarter million West Virginians."
Of those, nine out of 10 have type 2 diabetes, the kind that can be prevented and controlled with exercise and weight loss. Type two starts inside a person's body years before symptoms appear: constant thirst, blurry vision, frequent urination, sweating, unexplained weight loss.
Overweight people can cut their risk in half if they lose 7 percent of their weight and are physically active for just a half hour three times a week, solid research shows.
"We've got to let people know that," said Beckley pharmacist Arnie Vaughn, past president of the state diabetes educators association. "The number of type 2 diabetics is growing beyond anything we can possibly affect if we don't get ahead of this problem."
Diabetes has tripled in West Virginia since 1994, according to the CDC.
It already costs West Virginia more than a billion dollars a year, mostly in medical bills, according to the American Diabetes Association. It drives up the cost of everyone's healthcare and torpedoes the Medicaid and Medicare budgets.
As the obesity epidemic grows, one in three Americans will be diabetic by 2050, the CDC predicts. West Virginia will be hit harder: Many more West Virginians are already obese, adults and children, compared to the national average. Many more have low levels of income and education, which, research shows, puts them at greater risk of contracting all chronic diseases.
We can prevent this
"The first thing we teach in diabetes class is, you can get your blood sugar down to normal level, no matter who else in your family had it," said Pat White, director of  Charleston's West Virginia Health Right. "It's up to you. We'll show you how. Exercise and diet."
Health Right serves 8,500 diabetics and has a proven track record of lowering blood sugar. People who live in the Charleston area have a choice of about six programs. But on a county-by-county map, it is clear that rural counties have the highest diabetes rates and fewer services.
Where are the West Virginia programs to help them? Nobody really knows. Nobody is keeping track.
The state's Diabetes Prevention and Control Program is housed in the cubicles of the Department of Health and Human Resources. It is tiny, with three staffers and a budget under a million dollars to combat the epidemic.
They used to have an online county-by-county list of diabetes programs, but they quit keeping it up about six years ago. "It took too much staff time to keep it current," Wood said.
Fewer than half of West Virginia diabetics (44 percent) have ever taken a class on ways they can control their disease through lifestyle changes, according to a 2010 CDC survey.
 "We have some good programs in various places, but it's not clear where they are, and they're disconnected," said Delegate Don Perdue, chairman of the House Health and Human Resources Committee. Since nobody is keeping track, it's impossible to tell where the areas of greatest need are, he said.
"Access to diabetes education, care and management is limited and/or non-existent in many rural areas of West Virginia," says the website of the Diabetes Prevention and Control Program. "People who are poor, undereducated, and live in rural areas are therefore more likely to have devastating diabetes consequences."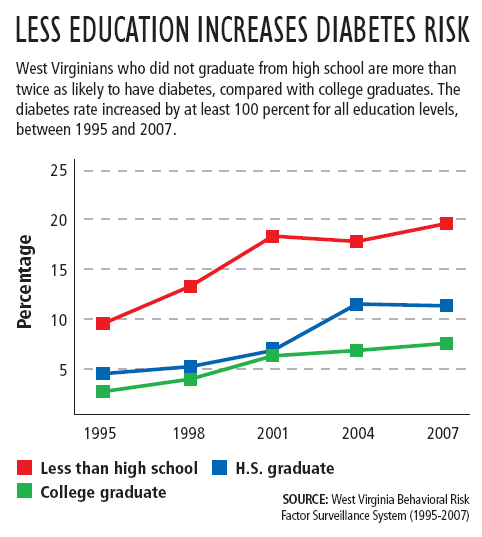 In Logan County, which has the state's highest rate, more than one in six people have diagnosed diabetes, but there are no diabetes education programs for the public, according to Logan social service sources.
 "We need some kind of overarching vision of what's needed and what's working and where the greatest needs are," Perdue said.
In the face of rising statistics and need, the CDC is pushing states to create diabetes education classes statewide. Since nobody is keeping track statewide, the programs are like jigsaw puzzle pieces that may or may not fit together to create a cohesive whole, Perdue said.
Other agencies are also expanding their efforts:
• State Schools Superintendent Jorea Marple is pressing for healthier school meals and daily physical activity. West Virginia does not require daily physical education or activity in the schools, even though one in four fifth-graders is obese, and one in four 11-year-olds has high blood pressure or abnormal cholesterol, according to West Virginia University measures.
• The state Public Employees Insurance Agency is expanding its diabetes offerings to include online prevention and control tools for its 200,000 members. In the past two years, PEIA's diabetes claims increased 44 percent. "That's quite an incentive," said Ted Cheatham, the agency's director.
• The West Virginia State Medical Association plans to offer doctors, statewide, continuing education classes on ways to talk with patients about obesity and help them control and/or prevent diabetes. "It's a very serious situation, and it's going to get worse," Jenkins said. "Diabetes has to be attacked on many fronts."
• Most of the state's 28 community health centers, health rights, many hospitals, and a few county health departments offer diabetes self-management help in some form and with varying consistency. Many programs started in the last three years.
• Eighty of more than 700 state schools now have school-based health center services. Only a few are creating obesity/fitness programs for at-risk students, but they will be models for the rest.
• The West Virginia University Extension Service plans to offer the National Diabetes Prevention Programs through some of their county offices this year.
• Marshall University has trained people to offer chronic disease self-management classes in their communities for several years.
• Last year, former state senator Mike Ross personally gave West Virginia University $1 million to create a childhood diabetes program.
Almost all these things are in beginning stages. How do they fit together? The programs do not necessarily talk to each other. West Virginia has no state diabetes network like Kentucky has.
Without an overarching vision, Perdue said, services are likely to cluster in Charleston, Morgantown, Huntington and other cities, leaving rural people to drive a long way or go without.
"And we're still missing a lot of high-risk people, even in the cities," said White, director of West Virginia Health Right. "We need a way to reach people who don't or can't go to doctors or programs unless they have to. We need good, plain-language billboards and TV ads."
She wants billboards that say, "Even if your mama had sugar diabetes, you don't have to."
"I can't tell you how many of our patients come into their first visit and say, 'People in my family had sugar, so I'm going to get it, and there's not a thing I can do about it," White said. "If they believe that, they won't try."
West Virginia has two ads now, paid for by the state Diabetes Prevention and Control Program. In one, a doctor tells diagnosed diabetics to go to the doctor to get their blood sugar and feet checked. Neither ad says people can prevent diabetes or kidney disease.
"The Centers for Disease Control won't let us put prevention messages in ads until we have prevention programs in place to refer people to," program manager Wood said. This coming year, she hopes some prevention programs will be up and operating.
"People don't have to wait for a program to start," White said. "It doesn't cost a lot of money to quit drinking soda pop and start walking. In fact, it saves you money. But we need to be telling people these things statewide."
Two years from now, in 2014, as part of federal health reform, more than 125,000 West Virginians are scheduled to get health insurance. "A lot will go to the doctor for checkups, and that may be the best prevention of all," White said. "We'll head off a lot of diabetes that way.
"But if the Supreme Court shoots it down, then we're going to be in the same situation we're in now, with tens of thousands of diabetics who can't get any insurance because they've got a pre-existing condition."