Fellowship Story Showcase
Shots in arms increase but Kern's COVID-19 vaccinations still low compared to other counties
This story is part of a larger project led by Stacey Shepard, a 2020 Data Fellow reporting on why Kern County was so vulnerable to  widespread viral transmission during the pandemic.
Her other stories include:
Vaccinating the masses is underway in California, but Kern County continues to lag behind almost all other counties in its vaccination rates, as it has since the start of the vaccine rollout more than two months ago.
A Californian analysis shows Kern County ranks 33rd out of 35 of the state's most populous counties in terms of doses of vaccine administered per 100 residents. That is despite a recent visit here by Gov. Gavin Newsom and pledges by his administration to make vaccine distribution more equitable.
In Kern, 18 out of every 100 people in the population targeted for vaccination (16 and over) have been vaccinated. That compares to 40 percent in Contra Costa and San Francisco counties, and more than 50 percent in Marin County. Even the California prison system has now partially vaccinated more than 50 percent of its inmate population.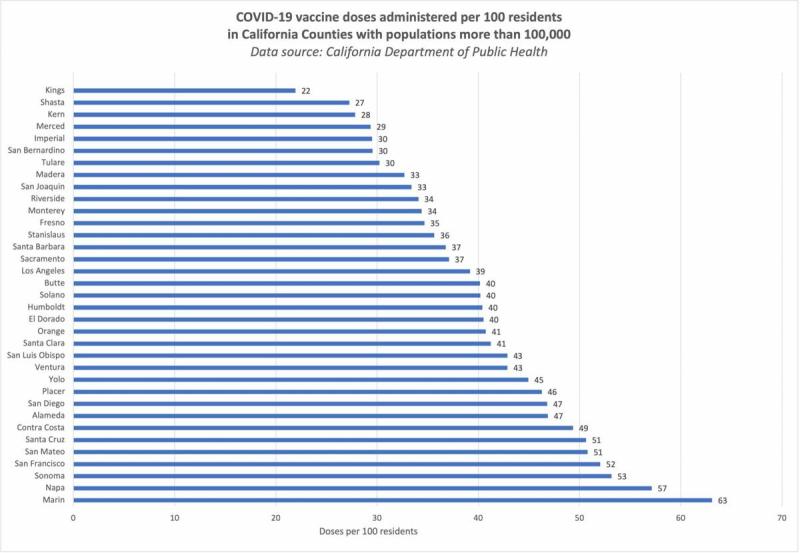 The reason Kern is so far behind seems to hinge on the formula the state uses to divvy up doses among counties. The vaccine allocated to Kern is going into arms but the county is receiving fewer doses than elsewhere, so overall fewer people are being vaccinated here than in other — in many cases, wealthier — parts of the state.
"We're using all the vaccine we receive when we get it," said Brynn Carrigan, the county's public health director. "Our vaccination rates are great as far as what's been received and what's been given to our residents."
County government has mounted a massive effort to get people vaccinated. It opened a major vaccine clinic at the fairgrounds and diverted county employees to staff it. It has partnered with Bakersfield College and Cal State Bakersfield, and local hospitals and health systems, to open other clinics and deploy a mobile vaccination fleet to reach hard-to-get-to areas in Eastern Kern and rural communities outside Bakersfield. Kern County was even the first, and for a while the only, county in the state to sign onto the new centralized My Turn vaccination system, run by Blue Shield, which was touted by Newsom as a way to fix problems that arose with the early method of vaccine delivery. 
"I'm as befuddled as you are," said Kern Medical Chief Medical Officer Glenn Goldis, when asked why Kern has such a low rate of vaccination. The reason Kern County so quickly signed on with Blue Shield, Goldis said, was because it expected to get a greater quantity of vaccine once it did. 
However, despite handing the reins over to Blue Shield, the state's system for allocating doses hasn't changed much. That formula is based on the number of people within a county currently in an eligible tier to receive the vaccine.
According to a state document that explains the formula used, 70 percent of the allotment is based on those eligible by age (currently individuals 65 and older) and 30 percent is based on those eligible by workforce sector.
Kern, apparently, doesn't have large populations in either category. 
Kern's population is young compared to other parts of the state. About 10 percent of the county's residents are 65 and over, compared to 15 percent statewide and 23 percent in some places, like Marin County, according to the most recent census data.
Kern also was hurt, initially, by its chronically low number of health care workers, who were the first workforce sector eligible to receive the vaccine. Areas that were larger population centers with more health infrastructure and facilities, therefore, received larger quantities of vaccine from the start.
"We know the Central Valley has a shortage of health care workers in general. Obviously there's no shortage of health care workers in Beverly Hills," said Rachel Linn Gish, director of communications for Health Access California, a consumer advocacy coalition that holds one of the seats on the state's vaccine advisory committee.
But in late February the tier opened for employees in education and child care, the agriculture and food industry and emergency services sectors. It was thought that Kern had a sizable population of those workers and would therefore see a bump in vaccine allotment. 
Around the same time, in early March, the Newsom administration announced that 40 percent of the state's available vaccine would go to people in the state's most disadvantaged communities to better address fairness and equity in vaccine distributions. Data was showing that those communities made up 40 percent of COVID-19 cases and deaths statewide yet they were receiving the least vaccine.
The disadvantaged communities included 16 ZIP codes in Kern. 
And vaccine supplies did increase. 
In early March, Kern received 30,000 doses, its highest weekly allotment to date, Carrigan said. Prior to that, the county had been receiving an average of about 7,000 doses a week since January.
However, in the past three weeks, the doses allotted have dipped slightly, ranging from 20,000 to 25,000 per week.
That's still not enough to move the needle on vaccination rates. As it did in late January, Kern still sits at the bottom of the rankings for doses of vaccine administered locally. 
The California Department of Public Health did not respond to emails requesting information on the vaccine allocations.
"You might just have a much younger population in Kern that hasn't been in a (eligible) tier yet," is how Gish described the combination of dynamics that have put Kern behind so many other counties. 
Kern isn't alone though. Other counties with low vaccination rates tend to be rural, inland and poor. They include the seven other counties in the San Joaquin Valley — Tulare, Kings, Fresno, Merced, Madera, Stanislaus and San Joaquin — as well as San Bernardino and Riverside. Those that top the list are counties in the Bay Area and San Diego. Carrigan noted that the Bay Area also benefited from a FEMA vaccination site set up in Oakland, which could have helped to boost their numbers. Those supplies of vaccine came directly from the federal government.
Addressing the Kern County Board of Supervisors last week, Carrigan said it could take another 45 weeks to vaccinate the entire 16-and-over population in Kern County at the current pace of vaccine allotment. But that could soon change.
On Thursday, the age criteria for a vaccine drops from 65 to 50 and over. And on April 15, anyone 16 and over can get a vaccine. Those changes were made last week in anticipation of a massive increase in vaccine availability that has been predicted to happen nationwide in the coming weeks.
Those changes will initiate more tinkering with vaccine allocations to counties. And Kern may yet work its way up in the vaccination rankings.
Stacey Shepard reported this story while participating in the USC Annenberg Center for Health Journalism's 2020 Data Fellowship.
The Center for Health Journalism supports journalists as they investigate health challenges and solutions in their communities. Our online community hosts an interdisciplinary conversation about community health, social determinants, child and family well-being and journalism
[This story was originally published by Bakersfield.com.]
Did you like this story? Your support means a lot! Your tax-deductible donation will advance our mission of supporting journalism as a catalyst for change.