Is California's hospital overcrowding leading to worse health outcomes?
Image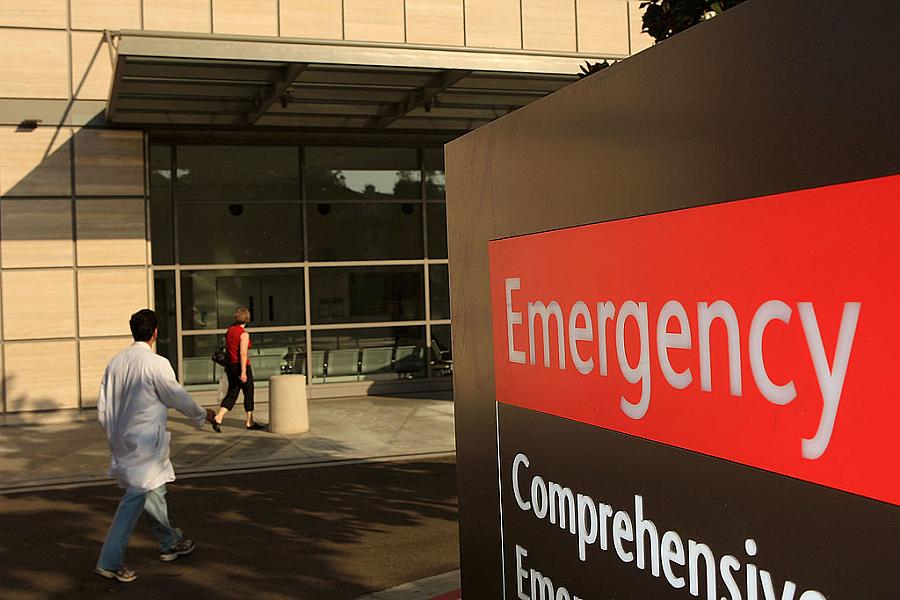 (Photo by David McNew/Getty Images)
Published on
October 17, 2023
From 1993 to 2003, there was a 44% increase in emergency department visits nationally, according to a 2016 study. The COVID pandemic only intensified the problem. 
In 2020, the overall rate of ED trips increased to 40 visits per 100 people, with the rate of ED visits for Black people was 70 visits per 100 people, the highest of any racial/ethnic group, according to the Centers for Disease Control and Prevention. 
In Los Angeles, the nation's second-largest city, patients can wait for hours to be seen in the emergency department, while some lie in hallways for days at a time, according to a recent Los Angeles Times report. Even when there is a legitimate need to divert ambulances to contend with overcrowding, such diversions can exacerbate health disparities, including maternal mortality, especially in low-income communities. 
People in low-income communities face longer wait times, travel times and even death in pursuit of care for time-sensitive conditions, like heart attack and stroke. Studies connect ambulance diversion to delayed cardiac care and higher mortality rates for Black Americans. Moreover, when safety net hospitals — hospitals primarily serving low-income communities and communities of color — close or turn away ambulances, nearby wealthier hospitals shutter, exacerbating delays in care.
These problems only deepened when hospitals became overextended and overcrowded during the COVID-19 pandemic, according to reporting published nationwide over the last year, California EMTs I've spoken with, and leading experts on the topic. 
Renee Monge, an EMT who works with L.A. County, describes overcrowding and severely understaffed hospitals as a strong predictor of delays in care. He also says there are differences in care delays between public ambulance services and private ambulance services.  
Delays in care due to hospital overcrowding are not unique to Los Angeles. Dave Carillo, a retired EMT who worked out of Sacramento during the COVID-19 pandemic, said diversions were mainly due to overcrowding, and with each diversion, patients in transit were deprived of hospital care. Patients with complex care needs would need to travel farther, he said. If a patient was burned, the only hospital equipped with a burn unit was UC Davis, sometimes hours away from patients' homes. If heart attack patients were in critical condition, there was effort to take them to a suitable center near home, but hospitals properly equipped were not always nearby. 
When Carillo was working, it was common for ambulances to go on diversion, especially due to hospital overcrowding. When transporting a patient, ambulances would often need to wait until they could pass off a patient to a nurse or trauma unit before being free to pick up other patients. In times of severe overcrowding, that meant longer times waiting in ER parking lots caring for patients until Carillo and his team were assigned a new diversion location.
"When I was transporting [a patient] sometimes we would have long wait times, sometimes it was 20 minutes, sometimes it was six hours," he said. 
Overcrowding, in Carillo and Monge's experience, delayed hospitals' ability to adequately care for patients. Overcrowding impacts people with more severe medical histories, regardless of race. In other words, anyone could be impacted. 
Although maintained by hospitals, data on ambulance diversion is tightly guarded. With the support of the Center for Health Journalism's 2023 Data Fellowship, I will examine the local effects of hospital overcrowding in Los Angeles and explore why research lags behind on-the-ground experiences of overcrowding. I will strive to tell data-rich narratives that combine the stories of people impacted by overcrowded hospitals with data on how and where these problems are occurring.
David Tan, president of the National Board of EMS Physicians, said that research often lags because researchers do not feel the need to update findings when the original problem remains. Tan explained that outsiders and researchers have misconceptions about the type and extent of overcrowding. 
"It is not emergency department overcrowding but, more honestly, hospital overcrowding. ERs cannot get patients out the back and upstairs to the inpatient services, which makes getting patients through the front door of the ER next to impossible," said Tan.
Many ERs are on "disaster" status as a matter of routine, said Tan, underscoring the need for more research on the subject.  
"Hospitals have no incentive to rapidly discharge patients who are ready to go, clean rooms, and get patients up from the ER ASAP," said Tan.
Through interviews with researchers and experts on overcrowding and its effects, and conversations with families, patients and EMTs who have been impacted by ambulance diversions, I will delve deeper into why the gaps in research on hospital overcrowding in California exist, and how those gaps contribute to overcrowding at state and local levels.